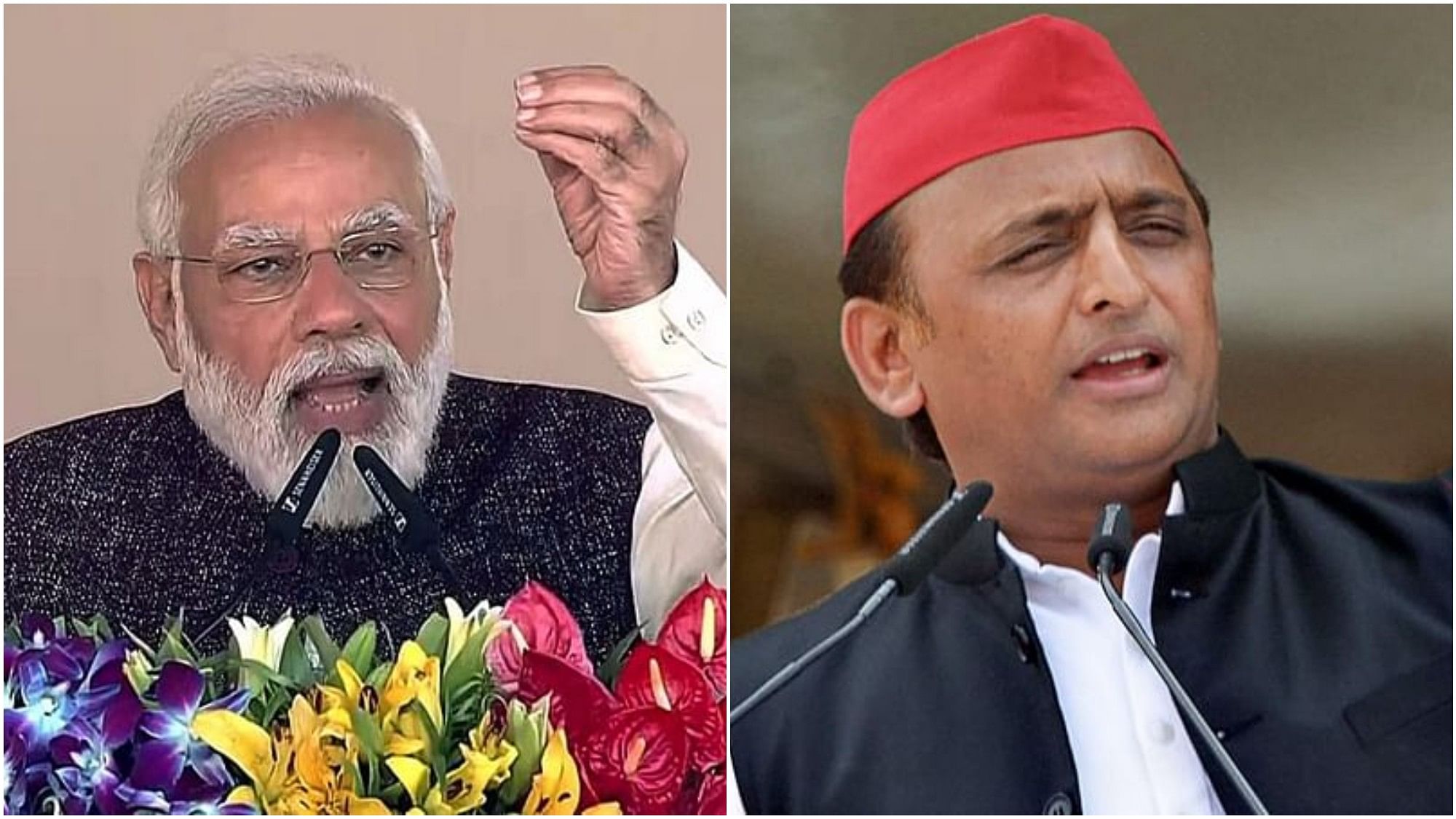 Riding a chariot laden with hopes of victory, Uttar Pradesh's former chief minister and Samajwadi Party president Akhilesh Yadav has begun his campaign for the 2022 assembly election across the state. Whether he will reach the destination or not remains to be seen, but he will have definitely collected a treasure trove of memories. Akhilesh, who once relied on the tried and tested 'MY' (Muslim + Yadav) formula, is today shying away from even speaking about the interests of minority community because he fears intense counter aggression from the Bharatiya Janata Party. While he is promising development, he can also be seen talking about establishing a "Vishnu Nagar", or installing a 108-feet-high idol of Lord Parashuram on the sidelines of the Purvanchal Expressway.
According to social thinker Zubair Alam, "He has inducted leaders like Sunil Singh of Hindu Yuva Vahini, who is quite (in)famous for his staunch Muslim opposition, in the party fold so that the majority faction can be appeased… Samajwadi Party's founder Mulayam Singh Yadav was unfit in this developmental man (Vikasvadi Purush) frame. That is why, instead of being called a vikasvadi, he was derogatorily referred to as Mulla Mulayam. Akhilesh Yadav seems to be in a hurry to get rid of his father's image. That's why he is shattering the older moulds."
---
Also read: Akhilesh Yadav's SP isn't giving up against Yogi Adityanath's BJP. They have a 3-point plan
---
Dalit-Bahujan voters and 2022 UP election
Ever since the mass movement spearheaded by Bahujan Samaj Party (BSP) founder Manyavar Kanshi Ram and Mulayam Singh Yadav, most of the Dalit-Bahujan voters have either supported the Samajwadi Party or preferred to go with the BSP led by Mayawati. But during the 2014 Lok Sabha election, lured by the 'Acche Din', a vast majority of voters from non-Yadav backward castes and non-Jatav Scheduled Castes joined the BJP bandwagon.
Now, by promising a caste-based census, reservation, development, checking inflation and "uchit sammaan' (proper respect), Akhilesh Yadav seems to be successfully wooing back the Dalit-Bahujan community to the Samajwadi Party fold. A sample of this can be seen in the crowd thronging at his Vijay Yatra rallies.
'Kaun Kehta hai ki aasman mein surakh nahin ho sakta, ek patthar do tabiyat se uchalo yaaron' (Who says you can't make a hole in the sky, at least throw a stone properly, my friends)! Akhilesh Yadav seems to be doing exactly that. It all started with a series of challenges when his father and Samajwadi Party patriarch Mulayam Singh Yadav expelled him from the party. There was a time when Akhilesh was seen crying while addressing party workers. That tragic period of the ugly family discord playing out in the open is now over. Witnessing the new speed of the 'cycle', his uncle Shivpal Yadav too has buried the hatchet and boarded the vijay rath. This has intensified the politics in Uttar Pradesh.
Now the question that arises is: will it be easier for the Bharatiya Janata Party (BJP) to counter Akhilesh Yadav's new social engineering? In all his election meetings, Akhilesh is promising to hold a caste census if his party comes to power. It's an issue that bigger political parties like Congress and BJP have remained silent on because they fear losing the dominant caste votes. Workers of BJP ally Nishad Party also seem to be dissatisfied with the Yogi Adityanath government over their pending demand for including the Mallah community in the list of Scheduled Castes. In such a scenario, Akhilesh Yadav is emerging as the last option for them.
Akhilesh's argument is that 'the more participation a caste has, the more respect it will get'. However, a large number of people have their doubts about his promise of conducting a caste-based census. This is because parties led by leaders from backward classes have been in power in Uttar Pradesh since the early 1990s, yet no one took any initiative in this regard. So Akhilesh's promise is bound to make the Bahujans wonder if this is just another electoral gimmick to woo the non-Yadav backward castes like Maurya, Kushwaha, Kewat, Koiri, Gaderia, Nai, Kurmi, Nishad, Kashyap, Bind, Kewat, Rajbhar, etc.
---
Also read: The big move behind Akhilesh Yadav's alliances with smaller players in Uttar Pradesh
---
Economic interests behind grand-coalition
Akhilesh Yadav is inviting parties and leaders from all sections. So, parties like Mahan Dal, which has major influence in pockets like Kasganj, Firozabad, and Agra; and Jayant Chaudhary's Rashtriya Lok Dal, which has made deep inroads into the Jat community vote base, are strengthening Akhilesh Yadav's school of social engineering in the Western UP. On the other hand, Omprakash Rajbhar's Suheldev Bharatiya Samaj Party, Sanjay Singh Chouhan's Democratic (Socialist) Party, Krishna Patel's Apna Dal (Communist), Rajesh Siddhartha's Political Justice Party, Ram Prakash Baghel's Labor Party, and Ram Raj Singh Patel's Akhil Bhartiya Kisan Sena are also aligning with Akhilesh Yadav while calculating the caste equations and keeping their interests in mind.
In UP, the primary source of occupation for the Nishad community is boating and sand extraction from the riverbeds. The Adityanath government's mining department banned the practice of extracting sand, which led to a large number of Nishad community members losing their jobs. The BJP government also did not take any meaningful step regarding the community's long-standing demand to be included in the reservation quota marked for the Scheduled Castes in government jobs. Although Union Home Minister Amit Shah had said his party would try to find solutions to the problems faced by the Nishad community during a joint rally held by BJP and Nishad Party in Lucknow on 17 December, there was nothing specific in his announcement. As such, several Nishad organisations have held protests and demonstrations.
Dr Mulayam Yadav, founder of the Samyukta Pichda Varg Chhatra Sangathan (United Backward Classes Students' Organisation), says, "If any government wants to ensure equal participation on the basis of castes' numerical strength, then it would have to rely solely on the 1931 Census. Therefore, in order to give concrete shape to the concept of social justice, there must be a census in Uttar Pradesh on the lines of similar censuses conducted in southern states."
Several OBC organisations hold more or less similar opinions. They argue that big political parties like the Congress and the BJP are afraid of losing their grip on the dominant castes' vote bank, so they consider it better to remain silent on this issue. Kiran Kumar Gowd, a research scholar at the University of Hyderabad and representative of an OBC organisation, says, "if Akhilesh Yadav fulfils the promise of conducting caste-based census after coming to power, then quota in jobs and educational institutions for other backward castes may have to be increased on the lines of Tamil Nadu."
---
Also read: Why Mulayam Singh Yadav is no longer part of the UP poll campaign 
---
Direct dialogue with the populace  
During the course of Akhilesh Yadav's Vijay Yatra, the large gathering of youth is more visible, with whom he has learned to communicate well. While showering flowers on them, he often says, 'Badon ka haath, yuva ka saath; nai hawa hai, nai Sapa hai' (Blessings of elders, support of youth, it's a new wave, new SP). Most psephologists now believe that the upcoming 2022 assembly election in Uttar Pradesh has become a direct contest between the Samajwadi Party and the BJP. National parties like the Congress and the BSP seem to be struggling to take the third spot. And Akhilesh Yadav's new strategy has much to do with it. He has learned that it will not be easy to win the 2022 UP assembly election on the basis of old slogans like 'Kaam bolta hai' (My work speaks for itself). Therefore, along with the leaders of backward castes, he has also kept his party's door open for disgruntled leaders of other parties.
On the one hand, more than half of BSP MLAs have switched over to the Samajwadi Party under the leadership of Akhilesh Yadav while influential local leaders like Yogesh Verma, Inderjit Saroj, Mithai Lal Bharti, Tribhuvan Dutt, etc. have also joined the party. On the other hand, popular leaders like Ganesh Pandey, Mata Prasad Pandey, Shivakant Ojha, etc., who hold great sway in the Brahmin community of eastern Uttar Pradesh, are also now riding pillion on Samajwadi 'cycle'.
These dissatisfied dominant caste leaders don't forget to remind voters about the 'excesses' committed by the BJP on the Brahmin community and present Akhilesh Yadav as their 'true friend'.
---
Also read: 'Khela Hoi': SP's UP poll prep is all about songs & slogans — some original, some 'inspired'
---
The net result
As a result, Akhilesh Yadav's campaign has given a new edge to the politics of social justice in Uttar Pradesh. He also cautions people to be aware of 'paper tigers' and the so-called 'backward leaders'. Prime Minister Narendra Modi has himself said that the growing support base of 'lal topi' (red cap, symbolising Samajwadi Party) is a 'lal batti' (red signal) for UP. If the Modi-led central government wants to return to power, it will have to conquer Uttar Pradesh first. Modi's dozens of visits to the state clearly indicate that the Adityanath government has failed on important and crucial issues like education, employment, and health. While the tragic death of innocent children in Gorakhpur's government hospital made headlines, the dead bodies floating in the Ganges also showed the failure of the government in dealing with the Covid-19 pandemic. Then there were incidents like paper leaks in many state-level examinations and tampering with the reservation quota for the backward classes. The net result was that the Samajwadi Party got a thumping victory in the panchayat elections, after which the Adityanath government could only do damage control.
Over the last five years, parties like the Congress and the BSP also appeared to be quite inactive. That is why the overtly populist promises being made by them are failing to attract the public and their vote bank seems to be slipping by the day. Taking a jibe at this, Akhilesh Yadav says that the "real benefits of gathbandhan (coalitions) have started to accrue only now". On the one hand, Omprakash Rajbhar has been entrusted with the responsibility to be the coalition's flag-bearer in Uttar Pradesh, and on the other hand, Rashtriya Lok Dal president Jayant Chaudhary and recently inducted Shivpal Yadav have been entrusted with crucial responsibility to cash in on the anger among farmers in the western Uttar Pradesh.
In his election meetings, Akhilesh Yadav is also seen reminding the public that in his previous tenure, laptops were given to 18 lakh youth, girls benefitted from the Vidya Dhan scheme, and farmers were strengthened economically. He considers the BJP as his main political adversary, which is why he is also seen talking aggressively on the policies of the Adityanath government in the state and the Narendra Modi government at the Centre. While Akhilesh never forgets to remind people about the atrocious incidents of Gorakhpur, Hathras, and Unnao, he also continues to take potshots on the poor health system and the dead bodies seen floating in the Ganges during the second Covid wave.
The author is a Doctoral Fellow, Department of Sociology, University of Hyderabad. He tweets @deviprasadPhD. Views are personal.
To read this article in Hindi, click here.
(Edited by Prashant)