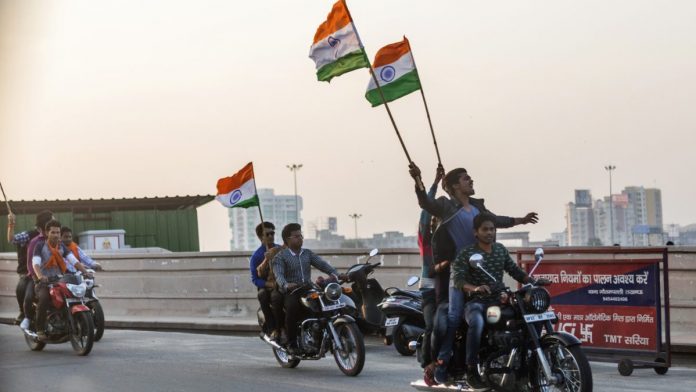 Text Size:
Just remember if patriotism is not properly documented it is meaningless.
In the old days, one had to prove one's patriotism in many difficult ways. Some went to jail. Some marched to the sea to make salt. Some burned foreign clothes and spun khadi.
Luckily, achhe din requires no such onerous sacrifice from us. The latest directive says students in Gujarat have to register attendance with a hearty "Jai Hind Jai Bharat'" in school instead of the colonised "Yes, Sir/Ma'am".  That comes on top of listening to the national anthem before settling down to watch Simmba at our local multiplex and singing Vande Mataram once a month at government meetings. After that we can shop at Gucci, eat at Pizza Hut and use our made-in-China, designed-in-America iPhones with a clear conscience.
These days, patriotism is not just something to be worn on one's sleeve. It's really about checking and enforcing whether everyone else is wearing it on their sleeves.  It's a communal sport now like the old drill display from our school days where we are required to goose-step in patriotic unison.
---
Also read: Kangana Ranaut in Manikarnika is the perfect Bharat Mata for Modi's India
---
Actually, the government should just issue a Citizen's Guide to Being a Good Patriot though it is always a work-in-progress especially in an election year. Most of these guidelines focus on cinema-goers, school children, and government employees because they are clearly the ones most likely to be led astray by anti-national temptations unlike politicians who are naturally patriotic. The current guide has come up with some simple, easy-to-follow rules. Here is a selection.
Play Jana Gana Mana at movie theatres. Audience must stand and watch a rather poorly rendered CGI flag flutter while the national anthem plays. No deviations allowed.
Subclause 1: Lock movie theatre doors while "Jana Gana Mana" is being played.
Subclause 2: Beat up people not standing while you sing "Jana Gana Mana" at movie theaters. Attack first and check later if they are disabled or sick.
Hoist flags during national calamity. Nothing says we are proud to be Indian like school children standing chest-deep in flood waters and saluting the national flag on Independence Day. Then send the photo, as required, to the cluster resource centre coordinator who monitors the schools  who can forward them to the block officer who can forward them to the education department. Just remember if patriotism is not properly documented it is meaningless. Oddly our patriotism is stirred more by this than by miners trapped in flood waters whose names no one seems to know.
Administer the BMKJ test at every opportunity. "Bharat Mata ki Jai" is a quick pithy test to check if our tires are properly inflated with the patriotism gas. For example, try and get a separatist on trial to chant BMKJ in court to prove his patriotism.
If you are mocked for saying "Bharat Mata ki Jai" when you should be saying "Anil Ambani ki Jai" or "Nirav Modi ki Jai", deliberately misunderstand it and make it a referendum on Bharat Mata. Recite it ten times.
Push comes to shove remind everyone that the soldiers on the border carry out surgical strikes chanting "BMKJ". That's always the trump card to end any argument. Also remember saying "Bharat Mata ki Jai" will energise you, especially while passing a Triple Talaq bill. You could also actually serve Bharat Mata by working as a doctor in the villages or protecting forest land or combating air pollution but chanting "BMKJ" is easier.
Any time is good time for  Vande Mataram. Yes, it's a separate issue that some of those who go around asking others to sing "Vande Mataram" themselves come up short when challenged to sing it even while squinting at the lyrics on their mobile phones.
But never mind, one can recite it on the first working day of every month or before cabinet meetings just to get the patriotism juices flowing so that nothing like a Vyapam scandal happens. Also it works as a biometric test, for example when civic employees in Jaipur were required to clock in with "Jana Gana Mana"  at 9:50am and clock out with "Vande Mataram" at 5:55pm so that every employee could "go home with the positive energy of the national song and give quality time to his family".
---
Also read: Chants of Bharat Mata and choreographed children: How modi gave exam advice
---
Nothing says Present like Jai Hind Jai Bharat. By saying "JHJB" during roll-call, students in Gujarat can kill two birds with one slogan. "A student says yes sir/ yes madam at least 10,000 times during their schooling. If they replace this with 'Jai Hind, Jai Bharat' it will harbour sentiments of patriotism." Like everything else in school, patriotism, it seems, can be learned by rote because repetition makes perfect.
Apparently patriotism is just like multiplication tables. If asked what it really achieves describe it as "best practices in education".
Dissent is always D-grade. Remember that everything the government does is a masterstroke, whether it's demonetisation or GST or large statues. Or a young man used as a human shield strapped to an Army jeep. Anyone who raises questions about it should be dubbed a traitor/anti-national, given one-way tickets to a neighbouring country or be hauled to court and beaten up by lawyers in the court precincts in an outburst of patriotism. Deliberately misunderstand satire and send someone to jail for derogatory remarks about state pride.
When all else fails, create a social media firestorm.
Through all of this remember the golden rule. John F Kennedy once said, "Ask not what your country can do for you, ask what you can do for your country." The Indian corollary says, "But first make sure your neighbour is doing it too and smack sense into them if they are not." Or send them to Pakistan.
---
Also read: In the run-up to 2019, Modi govt to track social media to boost nationalism
---
This is the fascinating thing about performance patriotism as it is practised in India today. It's not about you standing during the national anthem. It's more about punishing those who dare not to. It is thus no longer just about anyone ostentatiously performing patriotism. It is now about policing others to make sure they are doing it according to your standards.
Once we wanted to be patriots. Now we just want to be the patriotism police.
Sandip Roy is a journalist, commentator and author.
Check out My543, our comprehensive report card of all Lok Sabha MPs.