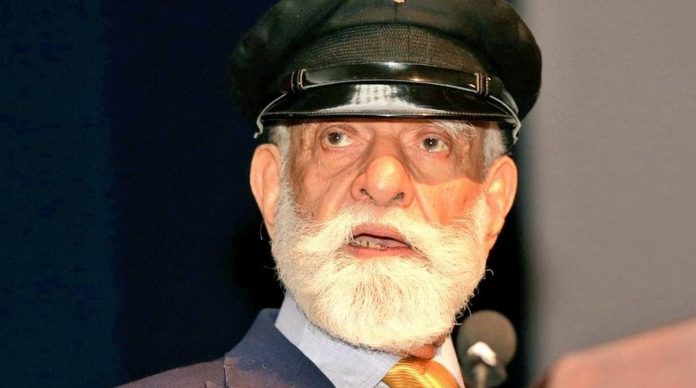 Text Size:
Vice Admiral M.P. Awati was probably the best role model for the Indian Navy.
Vice Admiral M.P. Awati, PVSM, a decorated war hero, passed away at the age of 91 in his hometown Vinchurni in Satara district Sunday. As Captain of INS Kamorta in 1971, he steered the capture of three hostile naval units carrying contraband, leading to the destruction of Pakistan submarine, and was awarded Vir Chakra for this heroic action.
Hailing from the land of Kanhoji Angre, the legendary Koli Admiral in the Maratha fleet of 18th century, Manohar Pralhad Awati was not only a role model for generations of naval officers but he literally shaped the destiny of many like us. I owe a personal debt of gratitude to him.
I was in NDA Khadakwasla as the sixth and final termer, when he took over as the commandant in March 1976. He was probably the best role model for the Indian Navy. He looked every inch an Admiral and a 'top Sea Dog' with his trademark beard, majestic gait and incisive but benign sense of humour. He introduced us to many naval stories and punch lines like, "Vice of Vice Admiral is the rear of Rear Admiral".
Our new commandant seemed to be omnipresent as we saw him making way to Service classes in remote hill slopes on his horse, something which was unheard of. My first encounter with him was at an outdoor class, where I answered two questions and that too after failed attempts by others. This proved to be a blessing for me as nothing seemed to miss the Admiral's horizon scope.
---
Also read: A naval visionary and father of the Indian solo circumnavigation project
---
The next encounter had most ominous portents as I was marched up to the commandant. In NDA, when you are hauled up in front of the top boss, it is after strenuous routine of sessions with Squadron and Battalion Commanders and Deputy Commandant. A cadet is marched in after a bugler sounds 'the call', which invariably means relegation (loss of six months) and even expulsion from the Academy in some serious cases. For me, it was to be 'double whammy' as we were in our final month before the passing out parade (POP).
In the Academy, handling and accounting of service stores like compasses and binoculars is most rigorous and the charge against me was that "a compass was misplaced during an outdoor class, while on my charge, till recovered 20 minutes later". As I stood in front of the commandant, he blared, "Come on, you have a five-star torch, you are heading for topping the humanities academic stream, how can you be so irresponsible?"
The real issue was that service weapons are issued in bulk to Sergeant, who in turn sub-allocates them. The compass had been misplaced albeit temporarily, while on charge of someone else and the system wanted to fix accountability but I had refused to name him. I explained this to the commandant, and he asked, "Do you wish to name him now?" I chose not to answer. He asked a supplementary, "Khalsa ji, did you answer those questions in service class". I muttered, "yes, Sir". He said, "You are lucky, that morning, I wanted to go somewhere else but my horse was obstinate and brought me to your class". The next direction was most baffling. The commandant ordered, "March him out".
As I came out, Adjutant was most amazed and asked me to wait. He went in and I heard the Admiral say, "Let him pass out, he doesn't snitch, you can remove his Sergeant stripes". Due to an unprecedented deluge, the Golden Jubilee course had the dubious distinction of passing out without POP. While everyone was flapping for an indoor ceremony, the commandant in his characteristic manner remarked, "When you have a commandant from the Navy, the sea comes to you".
---
Also read: Did IAF win 1971 war? Pak scholar says no. Ex-Indian Navy chief says debate with facts
---
Vice Admiral M.P. Awati, you were not only omnipresent but also omniscient and omnipotent. You were considerate to listen; took trouble to be present, where most commandants never went and above all dared to be bold and compassionate in dispensing justice. We will continue to feel your presence and across domains, for I am from the tribe that you affectionately referred to as 'Pongos'.
The author is PVSM, AVSM & Bar and was general officer commanding-in-chief of Western Command.
This is an updated version of the article.
Get the PrintEssential to make sense of the day's key developments