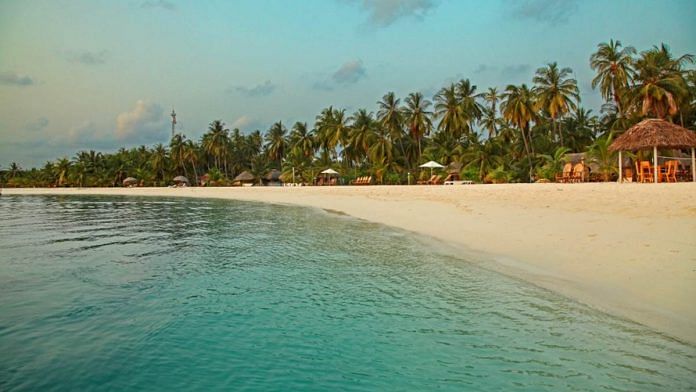 Text Size:
New Delhi: Lakshadweep Administrator Praful Khoda Patel, who is facing stringent criticism over a slew of regulations that he intends to bring to the islands, claimed he has no malafide intentions, and that his decisions will only usher in development.
The draft Lakshadweep Development Authority Regulation (LDAR) 2021 introduced by Patel, a former Gujarat BJP leader who was also the state's home minister, has invited criticism from several quarters, including from some members of the BJP Yuva Morcha who even resigned in protest, calling the draft "anti-people".
The draft regulation grants the administrator the power to "declare any area to be a planning area" on the islands, for the purpose of development, and will also allow the administrator to acquire any land required for a public purpose under the Right to Fair Compensation and Transparency in Land Acquisition, Rehabilitation and Resettlement Act, 2013.
Speaking to ThePrint, however, Patel said he intends to develop Lakshadweep like neighbouring Maldives, a renowned international tourist destination. 
"The draft Lakshadweep Development Authority Regulation will usher in development and go a long way in improving the social and economic indicators on the islands, which have so far lagged behind despite having the potential," he said over the phone.
"Tell me, how will these policies benefit me? I am here as long as I hold this charge. I will not live here forever."
Patel added: "The islands are similar to Maldives and we want to develop them on similar lines. We want to develop sustainable infrastructure and promote sustainable tourism. You see Maldives…. tourists are waiting in a queue to visit there."
On an average, 5 lakh travellers land on the islands every year, according to officials in the UT who said the island has huge potential for tourism. At present, tourism activity is restricted to only government operations and an entry permit is mandatory for all tourists visiting the islands.
Patel's contention that Lakshadweep has lagged behind in key development indicators is also not too off the mark.
Lakshadweep is an archipelago of 36 islands, of which 11 are inhabited. They have a total geographical area of 32 sq km and the population of approximately 70,000 has a low per capita income and high unemployment level of 13 per cent, according to the statistics made available by the authorities in the UT. 
In 2007, the then Planning Commission prepared a 'Lakshadweep Development report', in which it noted that while the neighbouring island countries like Maldives developed their tourism potential and prospered, the UT could not. 
"Despite its small size in terms of geographical land mass, it has a large territorial water (20,000 square km) and exclusive economic zone (4 lakh sq km), which makes it strategically important for the country," the report notes. 
Elamaram Kareem, the CPI(M)'s Rajya Sabha MP from Kerala, which neighbours Lakshadweep, however, alleged that the draft LDAR was meant for big corporates. 
"In the name of development, what the administrator Praful Patel wants to do is acquire land from the islanders and give it to big corporates," Kareem told ThePrint. "At the behest of the Centre, he is working for the corporate houses and wants to bring them to the island to develop tourism potential."
Bitterly opposed to the draft LDAR, Kareem had Tuesday shot off a letter to President Ram Nath Kovind Tuesday, demanding Patel's removal. 
---
Also read: Rahul Gandhi writes to PM on Lakshadweep, calls draft regulations anti-people, anti-democratic
---
A growing region
S. Asker Ali, the Lakshadweep Collector, told ThePrint that the absence of a development master plan and town and country planning norms have proved to be a major bottleneck. 
"Land development authority regulations will help us plan where an educational institution or a hospital or other public amenities should be set up," he said. "The island is growing but we lack the infrastructure to sustain it. In the absence of adequate health facilities, if somebody is seriously ill, he has to be flown to Cochin."   
After the 2011 Census, Ali said, six of the 11 inhabited islands were notified as census towns — areas that have urban characteristics such as a minimum population of 5,000 people, at least 75 per cent male working population engaged in non-agricultural activities and a population density of at least 400 people per square kilometre. 
The collector said there has been a change in the nature of the islands over the years but there has been no holistic planned development. 
"It was only in 2017 that the Centre constituted the Island Development Agency under the home minister for the development of the islands," Ali said. "Since then, we have been working on developing town and country planning norms." 
He added that it is the public works department that formulates development plans as of now. 
"But they lack the expertise to plan for, say, the next 20 years," he said. "We need a development authority, which is there in many states and UT's including Chandigarh to plan where a road or a school or a hospital be built."     
Lakshadweep has only one airport, on Agatti island, and only one flight, the ATR-72, currently operates in the union territory. Inter-island connectivity, both by road, sea and air, is inadequate and needs to be developed if tourism is to be promoted. This connectivity becomes even more restricted during the monsoon, to the level of hardly one or two touches per island by all-weather ships in a fortnight, according to figures provided by the UT administration.
Ali said the public outcry that the government will grab people's land under the garb of draft LDAR and undertake rampant commercial development, destroying the islands' ecology, is "ill-founded". 
"We have also implemented the Integrated Island Management Plan at the direction of the Supreme Court, which is there to prevent any wanton destruction of the fragile ecology of the island," he said. "Nobody can just go and do rampant commercial development by turning a blind eye to all the existing regulations in place." 
But Lakshadweep administration officials admit the controversy surrounding the other three legislations has now cast a shadow on the draft LDAR.
The three policies, which have drawn the ire of local populace and politicians include the proposed cow slaughter ban, the Prevention of Anti-Social Activities Act, which allows the police to detain a person without any public disclosure for a period of one year, and the draft panchayat notification, where a person with more than two children is disqualified from being a panchayat member.
"Everything is being given a communal angle now and could jeopardise the implementation of policies, which will actually go a long way in boosting the economy of the archipelago," said an official, who did not want to be named. 
---
Also read: Zero cases in 2020 to nearly 5,000 now — how Covid-free Lakshadweep got infected by virus
---
'Land development regulations are standard town planning tools'
Urban development experts and town planners told ThePrint that there is a "disproportionate paranoia" among the public over the land regulations. 
They, however, highlighted what they said was a major drawback of the regulation — it does not involve local bodies in planning and is "non-participatory".
A.K. Jain, former planning commissioner, Delhi Development Authority, said the biggest drawback of the Lakshadweep draft regulations is that they will have no role for local municipalities. 
"Town planning is a function of local civic bodies, which are participatory in nature," Jain said. "But in the proposed regulation, all the power vests with the island administrator. This is in contradiction to the 74th Amendment of the Constitution."  
Vidyadhar Pathak, former chief planner of Mumbai Metropolitan Region Development Authority, said the purpose of town planning is to bring in orderly development. He, however, added that considering the fragile ecology of Lakshadweep, it's important that any development that is done is balanced.    
"Be it Navi Mumbai, Chandigarh or Gandhinagar, the government has acquired land for development of services and basic amenities. It gives the owners benefit of land appreciation, not only now but in future also," Pathak said, adding that sections of the draft LDAR 2021 have been borrowed from the Mumbai and Gujarat town and country planning norms.
The regulations specify that land will be acquired under land acquisition Act, which clearly requires for the public purpose to be specifically established before a land is acquired, added Pathak, a noted urban planner who has been a member of the erstwhile Planning Commission Task Force on Urban Development and the National Commission on Urbanisation. 
Paresh Sharma, former chief town planner in the Gujarat government, said the LDAR is only an enabling tool. "It has to be associated with other development schemes that are inclusive and has to be linked with the environmental plan of the island. It will not work in isolation."  
Jain said the regulations also do not talk of environment, climate and disaster-resilient plans for the islands. "This is a basic requirement for any development plan involving islands like Lakshadweep," he said. 
'Urgent need for boosting economy' 
Sharma said fishing and agriculture are the mainstays of the island but the sectors are underdeveloped. "There is not much economic activity around," he said. "Within the framework of the draft regulation, the authorities will have to come up with ways to boost economic activity." 
Ali said Lakshadweep exploits just 10 per cent of its fishing potential. "Fishing practices are still traditional, which does not improve their income," he said. "Modern ways and technologies need to be developed. Similarly, there are 10 lakh coconut trees on the island but earning from coconut cultivation continues to be low." 
Ali said the administration will wait for comments and suggestions from the public before finalising the draft Lakshadweep Development Authority Regulation. "We will then send it to the Union home ministry for final approval."   
---
Also read: When Rajiv Gandhi had a whale of a time in Lakshadweep… and performed a 'heroic' act
---
Subscribe to our channels on YouTube & Telegram
Why news media is in crisis & How you can fix it
India needs free, fair, non-hyphenated and questioning journalism even more as it faces multiple crises.
But the news media is in a crisis of its own. There have been brutal layoffs and pay-cuts. The best of journalism is shrinking, yielding to crude prime-time spectacle.
ThePrint has the finest young reporters, columnists and editors working for it. Sustaining journalism of this quality needs smart and thinking people like you to pay for it. Whether you live in India or overseas, you can do it here.