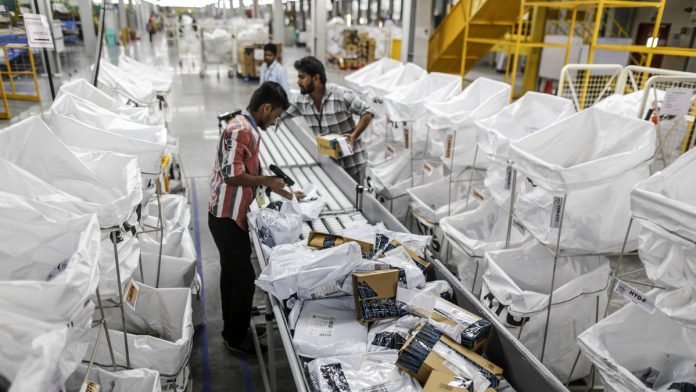 Text Size:
New Delhi: Even as the tightened e-commerce norms in effect from 1 February caused widespread disruption among online marketplaces operating in India, including Amazon and Flipkart, Rashtriya Swayamsevak Sangh (RSS) affiliate Swadeshi Jagran Manch has now asked the Modi government to seek more disclosures and further tighten the rules for such overseas firms.
In a letter to Commerce and Industry Minister Suresh Prabhu Thursday, the Manch has sought compulsory registration of such entities with the government, compulsory local presence in the form of an office and an annual inspection mechanism, among others, to regulate the operations of these e-commerce firms and ensure effective implementation of the revised FDI policy in e-commerce.
The Manch has long opposed the operations of foreign e-commerce firms in India arguing that the presence of these companies is impacting local offline traders and having an adverse impact on job creation.
---
Also read: Amazon, Flipkart hit by Modi govt's refusal to extend deadline for new e-commerce rules
---
Suggestions
"Restrictions on e-commerce entities could only be monitored, if there is complete information of various e-commerce entities operating in India. Unfortunately, the government have limited information of e-commerce websites and portals, about their location et al (sic)," the Manch wrote in its letter to the ministry.
"There are many prominent offshore entities operating portals in India, about which nobody knows the details of actual promoters of these entities. Consumers are facing challenges in the absence of regulation on these e-commerce apps/websites," it said.
It added, "Even traders who are selling through these entities are facing problems of arm twisting and unfair trade practices while dealing with these unregulated operators."
The Manch also sought a code of conduct for marketplace model and tightening of the definition of what constitutes an e-commerce entity as well as accounting standards and disclosure norms for these entities.
It also sought the constitution of a committee to study the impact of the e-commerce sector on local manufacturers.
Some of these suggestions may not be well received by the consumers. The Manch has sought doing away with cashbacks offered to buyers by the group firms of such marketplace.
---
Also read: US Secretary of Commerce Wilbur Ross cancels India visit at the last moment
---
Revised policy
The revised FDI policy for e-commerce firms has already caused a lot of consternation among the big global firms who had aggressively invested in India to tap the massive potential market.
India allows 100% FDI in the marketplace model. A marketplace provides a platform linking the buyer and the seller. However, many of these marketplaces also own the vendors or supply to these vendors through complicated structures.
The Modi government has sought to crack down on this mandating that one vendor cannot account for more than 25 per cent of the sales annually on that platform. It has also barred these marketplaces from holding an equity stake in any of the vendors or from entering into exclusive partnerships with merchants for sale of any products.
This has forced the e-commerce players to drastically redraw business plans and existing structures to comply with the regulations.
For ThePrint's smart analysis of how the rest of the media is doing its job, no holds barred, go to PluggedIn