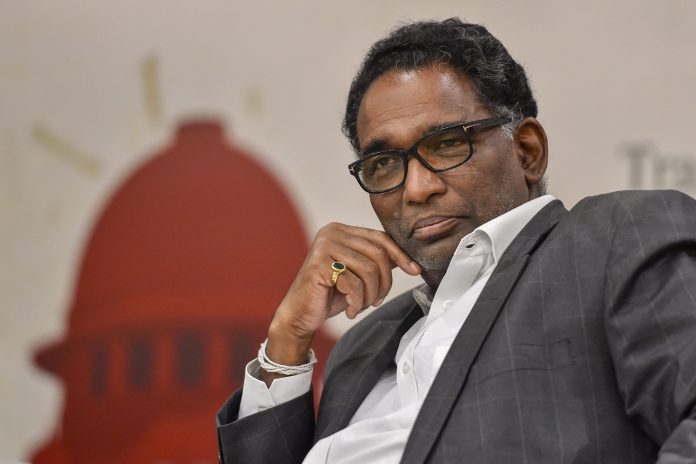 Text Size:
In an exclusive interview on his last day as SC judge, Justice Jasti Chelameswar talks about Justice K.M. Joseph, his career high point and Justice Gogoi as CJI.
New Delhi: The reasons offered by the Narendra Modi government to return Justice K.M. Joseph's file were "completely untenable", Justice Jasti Chelameswar said Friday, a parting shot to the administration he has taken on during his time in the Supreme Court collegium.
The judge, who has carved a niche for himself through his judgments, was speaking to the ThePrint on his last day as judge of the country's top court.
Chelameswar is one of the rare judges who vacated his official accommodation within hours of his retirement and made it quite clear that he would not accept any post-retirement job from the government.
The Uttarakhand high court chief justice's name was recommended for elevation to the top court by the collegium in January. The government rejected it four months later and returned Joseph's file to the collegium for reconsideration.
Chelameswar said the collegium had reiterated its choice, and it was now up to Chief justice of India Dipak Misra to send it to the government at the earliest.
"I wish and pray that he becomes a judge of the Supreme Court. I haven't stalled it. I have been repeatedly asking for it. The collegium has unanimously reiterated its recommendation," said Chelameswar.
But why hasn't the collegium's reiteration — the decision was taken on 11 May — been communicated to the government?
"I can't answer that. What I can say is that I had put my views (with regard to Joseph's elevation and the government's stand on why he shouldn't be elevated) in writing to the CJI way back on 15th of May. I gave full reasons why the objections raised by the government are not sustainable. I gave it in the shape of a document running into eight-nine pages."
Chelamewar refused to share the details of his letter but said it seemed the government had tried to find some reason to somehow stall Joseph's appointment.
"I don't know why they (government) are so resistant to his name. But in my view, the reasons given by them are completely untenable. In my letter, I have responded to each and every objection raised by the government. They are completely untenable," he said.
During the exclusive interview to ThePrint, Chelameswar touched upon several other issues as well.
The press conference
On the 12 January, 2018, a press meet was called by four senior judges — Justices Chelameswar, Ranjan Gogoi, M.B. Lokur and Kurian Joseph — where they were critical of the manner in which CJI Misra was running the Supreme Court.
Chelameswar said he does not regret the move.
"I don't want to comment on why we decided to hold that press conference. People can draw whatever conclusion they want to draw. Every action by every individual can be scanned and interpreted. People have the freedom to do that… but if you want to ask me if I regret having done that (hold the press conference), sorry, I don't."
The judge said he received many calls from former judges after the press conference who offered support and said they had done the right thing, "but nobody spoke up".
"It is the silence of the right-thinking people that causes more damage. One very respected judge, whom I don't want to name, told me I wish you more strength. I asked him why don't you speak up? He said I can't. They know something is wrong but something pulls them back. It's lack of boldness, I believe," said Chelameswar.
Will Gogoi be CJI?
There has been speculation that Gogoi — one of the four judges who questioned the working of the higher judiciary — may not be appointed CJI in October when Misra retires. But Chelameswar dismisses such conjecture.
"I don't know. You ask somebody in the government what they will do. But I don't think it will happen (that the government will supercede Gogoi, who is the next in line to become CJI)," he told ThePrint.
Judiciary in peril?
Chelameswar said he doesn't think the judiciary is in danger and recalled his time as a law student during the Emergency to drive home the point.
"All these are temporary things, phases in history… At the height of the Emergency, I was in law college. Like any other young man of the day, I was greatly perturbed, particularly being a law student, I was worried over its implications. I went to my professor Gopal Krishna Shastry, who taught me constitutional law, and expressed my distress to him. He smiled at me and told me, young man, I understand these are difficult days. But there have been phases in history you have not seen like Hitler. I was born much after Hitler's death while he belonged to the generation that had watched that phase in history. Nothing is permanent. Surely there are some problems, there are some distressing features. But these are not permanent features. Things will change," he said.
But will the change be for the better?
"It will be for the better, only if people change it for better. If you keep silent, nothing will happen. Nobody will come from the heaven and change things for you. You have to do it yourself," he said.
Chelameswar signed off saying the high point in his career is that he was a Supreme Court judge.
"I think, I was the 231st or 232nd judge of the Supreme Court. Many more will come. I did my job, I was honest to my oath. That is the high-point."
Get the PrintEssential to make sense of the day's key developments