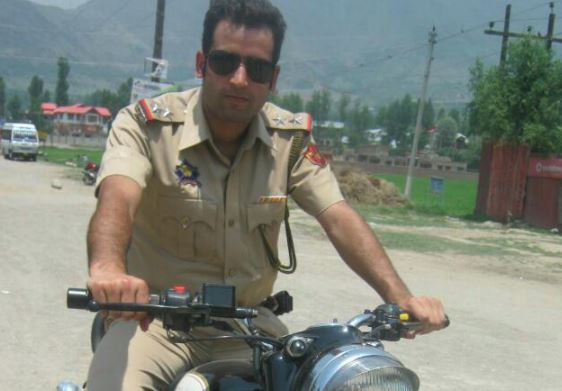 Text Size:
Kashmir sub-inspector Mir Imtiaz was shot dead by suspected militants Sunday when he was on his way home in Wahibug, Pulwama.
New Delhi: The killers of Kashmir sub-inspector Mir Imtiaz murdered not just a policeman, but a son, a brother and the love of a young woman, says an anonymous open letter posted on the slain officer's Facebook page.
Imtiaz was shot dead Sunday by suspected militants on his way home in Wahibug, Pulwama, in the restive south Kashmir. The letter, posted Monday by someone "close" to Imtiaz, is addressed to the murderers.
"When you killed Imtiaz, you killed a loving son of an aged mother, obedient son of an old father and their only hope of old-age," reads the "Open letter to the murderers of Sub Inspector Mir Imtiaz".
"You killed a brother who was the only support of his brother and sister. You killed every dream of a young girl whom he wanted to marry," it adds.
The letter challenges the assailants to "come, kill us".
"We all just want to ask his killers why did they not kill us all? Please come and kill us all," it adds. "We can't live without him. Why didn't you kill his mom, dad, sister and brother? The woman he wanted to spend the rest of his life with?
According to the post, Imtiaz was a devout Muslim who excelled in studies as well as his profession, and was deeply inclined towards Sufism.
"You killed a deeply religious man whose every endeavour was to offer Sallah (Muslim prayer) in time and never ever miss a single Roza (fast) in the month of Ramadan," it says. "You killed a man who had Sufi thoughts and read Sufism vastly."
Imtiaz topped his master's course, the letter says, as well as his sub-inspector batch. He also read communist philosopher Karl Marx, the post said.
---
Also read: 10 people, all relatives of policemen, kidnapped by militants in south Kashmir
---
'Loved Kashmir'
"Most importantly, you killed someone who loved his Kashmir and its people like anything," the letter reads. His "only wish was to see a happy Kashmir", it adds.
"You killed a man who just wanted to visit his family," says the letter. "His aged parents and his troublestricken sister… His little niece is repeatedly saying 'mey chu momyun pheran (I am missing uncle)'."
There is no clarity on who wrote the letter, with the writer just identifying him/herself as someone "close" to Imtiaz.
---
Also read: Son of Kashmiri cop killed by militants is now a celebrated officer himself
---
Imtiaz's killing comes as security personnel, especially local policemen, find themselves increasingly under attack in Kashmir amid a recent spurt in militant activity. At least 30 policemen were killed in Kashmir between January and August, many of them the victims of targeted killings reportedly aimed at dissuading local cooperation with the security forces.
For ThePrint's smart analysis of how the rest of the media is doing its job, no holds barred, go to PluggedIn.