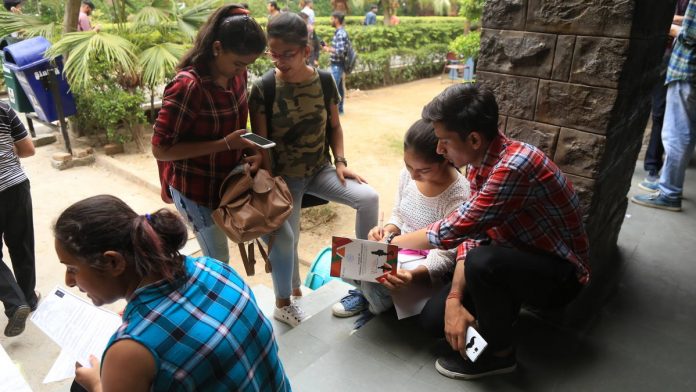 Text Size:
New Delhi: Picture a LinkedIn-like social network dedicated to connecting students with notes, teachers, online lectures and even job opportunities. The All India Council for Technical Education (AICTE) has introduced exactly such a network, called LetzConnect, across all its affiliated colleges.
LetzConnect is a free-to-use, artificial intelligence-enabled student platform that brings together academic material — including e-books, video lectures, notes and research journals — as well as contacts of teachers and subject experts. Using intranet, students can network with their own college-mates, students from other colleges, share notes and information about upcoming events. They can also get live lectures from teachers enrolled on the panel by fixing up a time with them.
The AICTE has written to all the institutes, urging students and teachers to use the platform. Non-technical colleges under University Grants Commission are expected to follow suit soon.
---
Also read: To make engineers 'employment ready', India's technical colleges draw inspiration from IITs
---
What it aims to do
LetzConnect was started by a Chennai-based engineer, Praveen Ganesh, who explained its aims to ThePrint.
"Our aim is to provide academic support to students and help them improve their chance of employment. The first step for us is to get the student with us, which we do by providing them reading material and connecting them with a network. Once that happens, our platform tries to understand a student's choice, likes and dislikes and needs, to provide him/her content accordingly," Ganesh said.
"Our system is an AI-based system which keeps collecting data on the interest of a student and curates content."
The AICTE's letter to colleges said the portal would help students in access to library, opportunities for internships, jobs and higher studies, and information on grants and government schemes.
For faculty members, the portal can be used to digitally share notes with each classroom, monitor administrative aspects such as attendance and time table, and get access to a library for research projects.
For institutions, it will be real-time intra-college communication via digital media, which will also give access to administrative services and help in effectively reaching out to the alumni network.
"We got in touch with all the colleges and asked them about their requirements before curating content for them. We have various content providers who curate content specific to the needs of a college and a student," Ganesh said.
The AICTE has been signing MoUs with private players to improve the quality of education in technical colleges across India. Before this, it had also urged colleges to switch to flip classroom mode.
---
Also read: Govt plans higher education revamp — study at one university, get your degree from another
---
Get the PrintEssential to make sense of the day's key developments