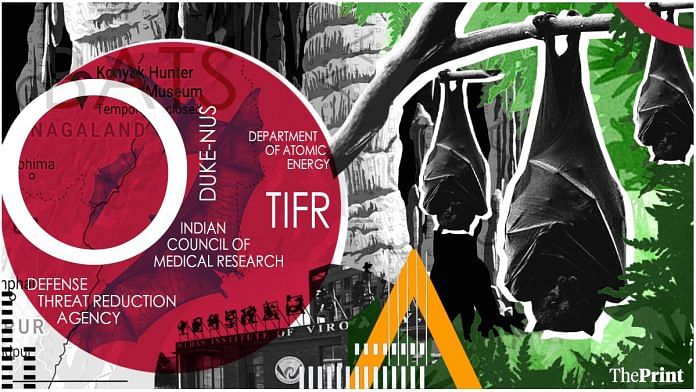 Text Size:
New Delhi: It's an Indian scientific research mystery with some dotted lines to the hot-button controversy that has the world asking fresh questions about the origin of the coronavirus, or SARS-CoV-2.
It involves a study of bat-to-human transmission of deadly viruses — the same mode which is one of the suspects in the case of Covid — in the remote jungles of Nagaland by the prestigious National Centre for Biological Sciences (NCBS) in Bengaluru.
Partnering NCBS are Duke-NUS Medical School in Singapore and the Uniformed Services University of the Health Sciences (USUHS), an institution funded by the US Department of Defense (DoD) and located in Bethesda, Maryland. The study itself is funded by the US Defense Threat Reduction Agency (DTRA), also an agency of the US DoD.
And among the co-authors of a paper already published on the study is Shi Zhengli of the controversial Wuhan Institute of Virology (WIV), now famous around the world as the 'Bat Lady'. Shi, who is the top researcher of bat coronavirus at WIV, had in March 2020 said that the genetic code of SARS-CoV-2 didn't match any samples in her lab after questions were first raised about the origin of the deadly new virus.
To be sure, the Nagaland study had nothing to do with SARS-CoV-2.
According to NCBS, it is supposed to be an "observational" study that shows that high-risk human-wildlife interfaces, like bat harvests in Nagaland, provide an opportunity for zoonotic spillover. Zoonosis refers to a disease that can be transmitted from animals to humans. Bat harvesting involves hunting bats for their meat, during a festival in October in the case of Nagaland, as it is believed to improve virility. The US DTRA funded many such studies on bats in the wake of Ebola, SARS and MERS outbreaks.
The field work for the Nagaland study was done in 2017 and its report was published in October 2019 by the scientific journal PLOS Neglected Tropical Diseases. And that was thought to be the end of it.
But curiously, in February 2020, just as the world was beginning to confront the Covid outbreak, the Indian Council of Medical Research (ICMR) announced a probe into the NCBS Nagaland study without elaborating on what triggered the investigation or what the apex medical research body was looking for. It was one arm of the government investigating another.
Even more curiously, 15 months on, ICMR has not made public its findings and refused to share any details when contacted by ThePrint. And the study that was thought to have concluded is still ongoing, ThePrint has learnt, because "further work is necessary" according to the lead researcher of the NCBS project.
But no one in the government is willing to own it up.
---
Also read: Don't demonise bats, we need them: Researchers explain why 'mass hysteria' is uncalled for

---
What was there to 'gain'?
The big question that has arisen — especially in the aftermath of similar questions related to SARS-CoV-2 — is whether the NCBS study was a gain of function research or had any gain of function elements.
'Gain of function' is a field of research focused on growing generations of microorganisms, under conditions that cause mutations in a virus. These experiments are termed 'gain of function' because they involve manipulating pathogens in a way that they gain an advantage in or through a function, such as increased transmissibility.
Gain of function has been making global headlines these past few weeks in connection with reports from Wuhan and the US about the origins of SARS-CoV-2 and the possible role played by the WIV. Particularly disconcerting has been a series of reports that traced the gain of function research on bats being conducted in Wuhan to the US government's National Institutes of Health (NIH) via British zoologist Peter Daszak's New York-based non-profit EcoHealth Alliance (EHA).
Daszak is also under a cloud as he had drafted, signed and got 12 more scientists to sign an open letter to The Lancet as early as in February 2020, burying any discussion on any possibility of SARS-CoV-2 having escaped from a lab.
EHA, as ThePrint reported, has worked in India as well but in the fields of animal husbandry and the Nipah virus.
Prof. Satyajit Mayor, director of NCBS, is categorical that the Nagaland study is not a gain of function project and is not in any way connected to the controversies currently swirling around the origins of SARS-CoV-2.
"It is a completely legitimate research and is not in any way gain of function research. It is simply an observational study. We have very high standards of institutional safety and ethics committees in the country. They are not just rubber stamps. We have obtained all those relevant clearances," Mayor told ThePrint.
NCBS, Mayor said, has never collaborated with the Wuhan Institute of Virology.
"Our collaborators in Singapore received the reagents from WIV — they use reagents received from all over the world. That is how science works. We build on each other's knowledge. If we cannot do that then we would be back in the stone age and reinventing the wheel. The grant was approved by the DAE," he added.
Reagents and tools for studying bats are not easily available and reagents could include synthetic recombinant parts of the bat virus that is under study.
NCBS is part of the Tata Institute of Fundamental Research (TIFR), which in turn comes under the Department of Atomic Energy (DAE).
Mayor also said he has not heard from the ICMR on the probe. "Since it is approved by the DAE, it really amounts to one part of the government investigating another," he added.
---
Also read: Bat coronavirus found in two Indian species of bats for the first time: ICMR study

---
Why Nagaland was chosen for the study
Bats, as it is now well known, are reservoirs for several zoonotic pathogens, including filoviruses. Filoviruses include the deadly Ebola, and are known to cause haemorrhagic fever in human beings. Filovirus is a family of virus that is different from coronavirus in structure as it has a filamentous structure.
The NCBS study took researchers to Nagaland, more precisely, a tiny village, Mimi, in its Kiphire district on the border with Myanmar. There, nestled in the foothills of Mount Saramati, live the Bomrr, a clan of the Longpfurii Yimchungii sub-tribe.
For the last seven generations, the Bomrr have held a bat-harvesting festival every October, where they smoke out entire caves in which the bats roost. The hunters are often scratched and bitten by the bats, exposing them to viruses.
It is this spillover that was the subject of the NCBS study.
NCBS has been working on this bat-to-human transmission since 2012. According to a 2015 article in the Economic and Political Weekly, the Bomrrs believe in the medicinal value of bats, that their consumption can cure ailments such as diarrhoea, body pain, as well as increase virility.
The interest of researchers in the mechanism of transmission in Mimi village peaked in the wake of the 2014-15 Ebola outbreak. The Ebola virus is thought to have come to humans from bats, possibly through an intermediate animal.
Dr Uma Ramakrishnan, lead researcher in the project at NCBS, confirmed the project was ongoing. "The study is ongoing, but we do not have any definitive findings to share at this time. Further work is necessary," she said in response to questions from ThePrint.
"The study shows that these high-risk human-wildlife interfaces, like bat harvests, provide an opportunity for zoonotic spillover," Ramakrishnan said. "We are currently in the process of including several other viral families, including coronaviridae. Broadly, understanding spillover dynamics in areas such as the Northeast, where there are very large human-wild animal interfaces, is important for future pandemic preparedness."
Coronaviruses belong to a sub-family of coronaviridae.
The study, Ramakrishnan said, "looked at the possibility of spillover of certain filoviruses, as measured through shared serological response (to filoviruses) in bats and people". Filoviruses are distinct from coronavirus, which has caused the present pandemic.
In a statement issued on 3 February 2020, after ICMR announced that the research would be probed, NCBS had said: "In 2017, NCBS and Duke-NUS entered into a collaboration in which researchers based at NCBS collected samples of serum from bats and humans. These samples were tested at NCBS using the technologies supplied by Duke-NUS. The test results were shared with the Duke-NUS team, to compare with the data obtained from their Southeast Asian studies."
It added: "This study was published in Oct 2019 in a paper entitled 'Filovirus-reactive antibodies in humans and bats in Northeast India imply zoonotic spillover'. It appeared in PLoS Neglected Tropical Diseases, a highly regarded peer reviewed open-access journal whose articles are available without any subscription fee, to all readers. Researchers from the Wuhan Institute of Virology were not directly involved in the study. They were listed co-authors ONLY because they supplied reagents critical to the study to Duke-NUS. This is standard practice for scientific authorship."
It had also said that since the corresponding author of the study is affiliated to Duke-NUS, the funding statement of the paper mentions funding obtained by Duke-NUS from the U.S. Defense Threat Reduction Agency (DTRA). "NCBS is not a direct recipient of research funds from DTRA," it said.
---
Also read: How do bats stay safe from the thousands of viruses they host? New study holds some clues

---
'Opportune place'
On its part, the US DTRA says it funded many studies on bats in the wake of the Ebola, SARS and MERS outbreaks.
A look at DTRA's science programme shows at the same time as it was funding the NCBS Nagaland study, it was also funding bat research in several other countries, including the US, Jordan, Uganda, Tanzania and Cambodia. Some of them were on coronavirus.
"Bat harvesting is a common practice across India, as concentrated efforts can yield high numbers of bats. This contact and processing of bush meat is an opportune place for cross species transmission to occur," the 2017 Science Programme Review of DTRA says about the NCBS study.
"By sampling the bat populations where harvesting occurs before, during and after the trapping, we can determine if that harvest increases the sharing of viruses and what medically important viruses are circulating in these bat populations, this will allow us to generate risk models to understand which species maybe natural virus reservoirs in India," it adds.
Curiously, though, no one in the Indian government wants to publicly own up either the study or the probe conducted into the study.
ThePrint reached ICMR through phone and email, the Prime Minister's Office through email and Principal Scientific Advisor Prof K. VijayRaghavan seeking details and conclusions drawn by the ICMR probe. VijayRaghavan said: "Please contact Chairman, DAE, and Director NCBS-TIFR. They are best placed with details."
The PMO did not respond. An email to DAE Secretary K.N. Vyas was not answered.
Previous Health Secretary Preeti Sudan said she had no idea about the probe findings. Dr Balram Bhargava, DG, ICMR, did not respond to emails, phone calls and WhatsApp messages.
"Yes, a probe had been commissioned but we cannot reveal the findings because a probe of this nature is usually commissioned either by the PMO or by MEA. It is for them to reveal the findings," said a senior ICMR official, who spoke on the condition of anonymity.
ThePrint also reached the study's lead author Ian Mendenhall of Duke-National University of Singapore Medical School, Programme in Emerging Infectious Diseases. There was no response until the time of publishing this report.
---
Also read: Covid possibly came from bats to humans via another animal, WHO-China joint study says
---
Swamy's allegations 
ICMR's former DG Dr N.K. Ganguly, a veteran of India's health and scientific establishment, said the US NIH does fund projects in India but it is not normal practice for the US DoD to do so. The spillover of viruses from bats is not dangerous, he said, but any such project in India needs to be cleared by the health ministry screening committee (HMSC) that is headed by the ICMR DG.
"I do not know how they got funding," Ganguly said.
ThePrint reached Dr Soumya Swaminathan, the World Health Organization's chief scientist in Geneva, to understand the HMSC clearance as she was the ICMR DG between August 2015 and November 2017. "I am not aware of any research funded by ICMR on bats," she replied when asked about foreign-funded bat research in India.
The study, however, got a political twist when it was raised by BJP MP Subramanian Swamy.
"I will file with CBI a complaint on the Nagaland bat virus illegal study conducted by Tata's NCBS in collaboration with Wuhan University and PLA. The US Army may also been involved with NCBS. It is completely anti-national & illegal since mandatory clearance from ICMR was not taken," he tweeted on 3 January 2021.
I will file with CBI a complaint on the Nagaland Bat Virus illegal study conducted by Tata's NCBS in collaboration with Wuhan University and PLA. The US Army may also been involved with NCBS. It is completely anti-national&illegal since mandatory clearance from ICMR was not taken

— Subramanian Swamy (@Swamy39) January 3, 2021
"Nagaland bat virus study was not submitted to ICMR of Health Ministry-which is mandatory. The Report of the illegal study was signed by Bat woman She Zhengli of Wuhan U and Uma Ramakrishnan of Tata's NCBS. This was admitted when questioned by me during a Standing Committee hearing," he said in a second tweet the same day.
When ThePrint reached him, he declined to comment.
(Edited by Y.P. Rajesh)
This report has been updated to correct an error in the name of Uma Ramakrishnan of NCBS, who was referred to as "Uma Radhakrishnan". The error is regretted.
---
Also read: Here's why scientists claim the coronavirus came from bats and not a lab

---
Subscribe to our channels on YouTube & Telegram
Why news media is in crisis & How you can fix it
India needs free, fair, non-hyphenated and questioning journalism even more as it faces multiple crises.
But the news media is in a crisis of its own. There have been brutal layoffs and pay-cuts. The best of journalism is shrinking, yielding to crude prime-time spectacle.
ThePrint has the finest young reporters, columnists and editors working for it. Sustaining journalism of this quality needs smart and thinking people like you to pay for it. Whether you live in India or overseas, you can do it here.