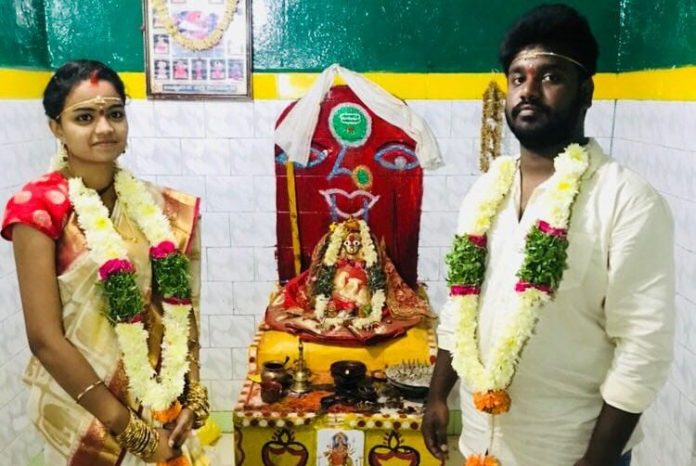 Text Size:
Madhavi, 20, had reportedly been promised in marriage to someone else by her 'drunkard' father.
Hyderabad: When Madhavi, 20, was brought to Yashoda Hospital here on Wednesday, her left forearm was attached to her body by just three inches of skin. She had deep cuts to her neck and face, and she was fighting for her life.
Madhavi, who belongs to the other backward classes, had been attacked with a sickle that afternoon by her father, a week after she married her Dalit boyfriend Sandeep, 21, at an Arya Samaj temple.
"Her father, Manohar Chari, could not believe she had married without his knowledge or permission," assistant commissioner of police (Banjara Hills) Vijay Kumar told ThePrint.
The attack came five days after a Dalit man named Pranay Kumar was hacked to death with a machete by a contract killer in Miryalaguda town of Nalgonda district, three hours from Hyderabad.
Pranay was allegedly murdered on the instruction of his upper-caste wife's powerful father Maruti Rao, who has since been arrested along with six other suspects.
Although Chari is believed to have been "inspired" by Rao, police say the intended target of Chari's wrath wasn't his lower-caste son-in-law, but his daughter.
Chari has reportedly told police that he was deeply attached to his daughter and was enraged by the fact that she got married without his permission.
He only found out about the relationship the day the couple got married, 12 September. Over the next week, Chari reportedly showed up drunk at Sandeep's house every day and repeatedly asked Madhavi to come home. He allegedly blamed Sandeep for not telling him about their relationship.
However, just before the attack, Chari reportedly struck a conciliatory note. According to Sandeep, Chari called him earlier that day to set up a meeting with Madhavi, saying he had come to terms with their marriage and wanted to mend fences.
---
Also Read:'Progressive' south India is catching up with the north when it comes to honour killings
---
Kumar, who is the overseeing officer of the case, told ThePrint that Chari had set out with the intention to kill Madhavi, and had not expected Sandeep to show up with her.
"The father's attack was not so much centred on the caste of Sandeep," said Kumar.
"When he asked her to come home, she said no. It was his intention to attack her only," Kumar said, adding that Chari had bought the sickle from a coconut vendor an hour before the attack.
The attack
Sandeep and Madhavi, who met at an exam centre during their Class 10 boards five years ago, eloped after her mother rejected the union, allegedly citing Sandeep's caste.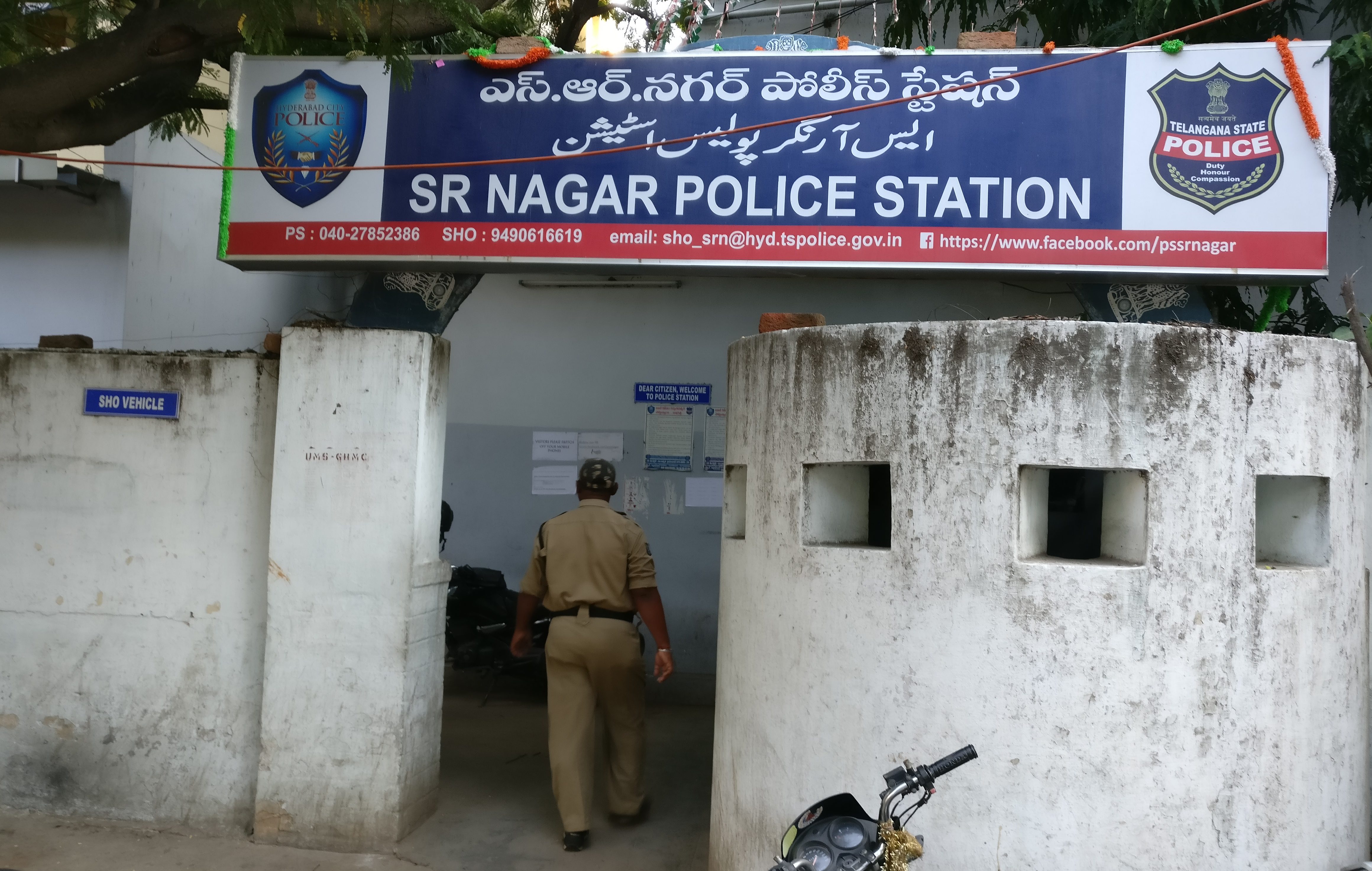 After their wedding ceremony, they went to Hyderabad's S.R. Nagar police station to seek protection from Madhavi's parents.
Police then arranged a counselling session involving the couple, Madhavi's parents and Sandeep's widow mother Ramadevi. According to police, Madhavi's parents left the session disappointed, but seeming calm.
Sandeep recalls that on the afternoon of 19 September, he was having lunch with Madhavi and Ramadevi when he got the "conciliatory call" from Chari.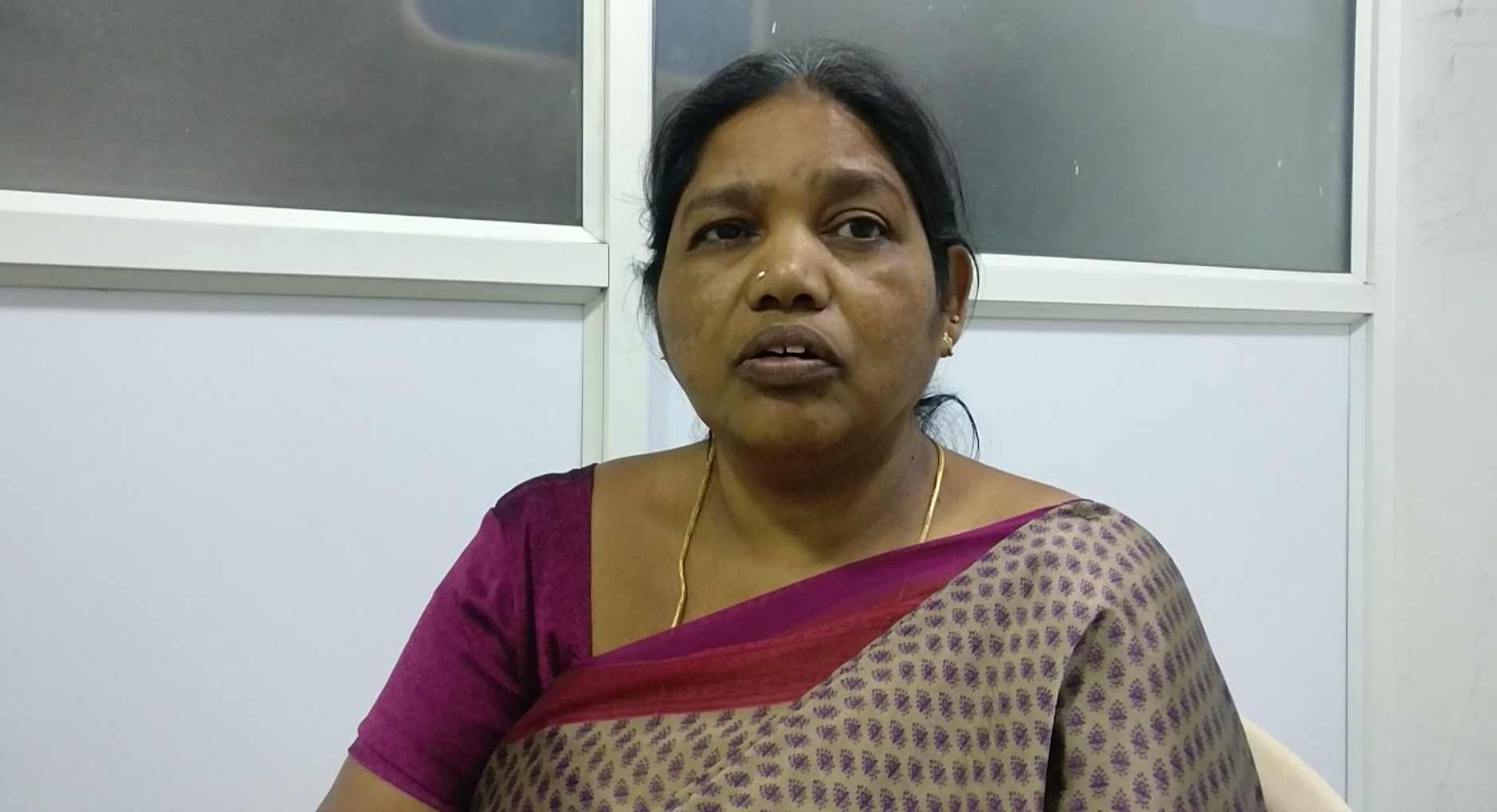 When the couple arrived at the meeting point discussed, outside a car showroom in Erragada, they found Chari sitting on the roadside. Evidently, he had been drinking.
"We spoke properly first," said Sandeep, "About how great Madhavi is and how he shouldn't worry about her since she was now in my care."
According to him, they had almost left when a sudden worry stalled them.
"Madhavi and I had started the bike to leave, but then I worried that her father would fall asleep by the road in his drunken state and get run over," he added.
"So we stopped the bike and looked back, and saw that he was approaching us," Sandeep said.
The CCTV cameras in the area caught everything: Footage shows Sandeep and Madhavi, seated on a bike, looking back as her father approaches them on his own motorcycle.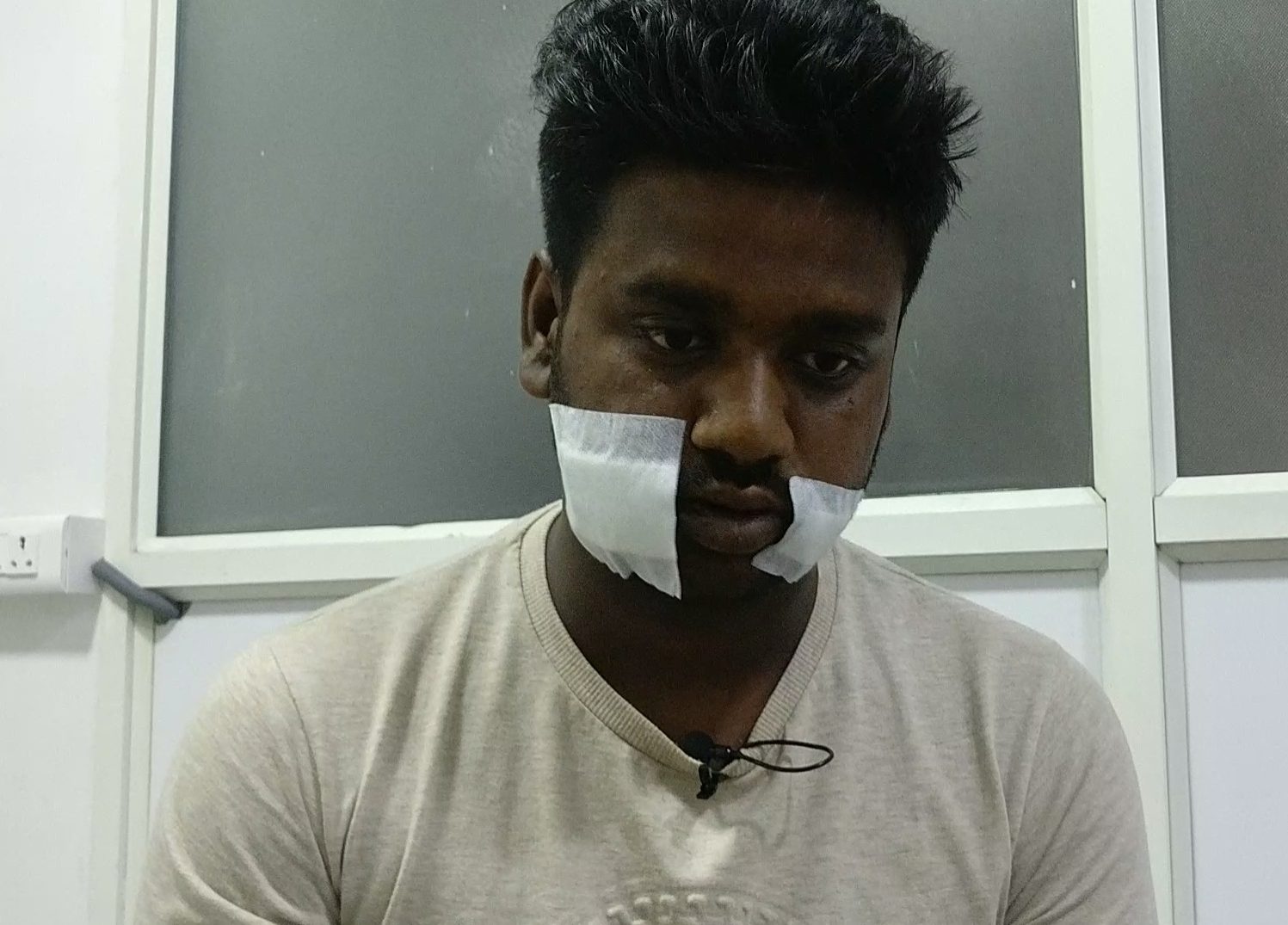 He parks next to them, reaches into his bag and takes out the sickle. He then raises his arms in the air and slashes Sandeep's face twice before Madhavi is able to intervene. She pulls her father to the ground, while Sandeep flees the scene.
The father continues to attack Madhavi, who tries to defend herself. He nearly cuts her left arm in half, she falls. He continues attacking her with the sickle until a passerby kicks him in the back. He then leaves the scene while Madhavi bleeds on the street.
Sandeep said the only reason he ran from the scene was because the video of Pranay's murder – the latter was attacked while taking his pregnant wife for a medical check-up – was still fresh in his mind.
"I thought he was coming for me. I never thought a father would attack his own daughter," he said.
Chari was arrested by police from a relative's house the same evening and booked for attempted murder and under the SC/ST (Prevention of Atrocities) Act.
According to E. Rajesh, S.R. Nagar police station-in-charge, Chari's blood-alcohol level at the time of arrest was over eight times the legal limit for driving.
A long road to recovery
Ganesh Chaturthi celebrations have Hyderabad in a festive mood. Inside Yashoda Hospital, Madhavi's condition is improving with each day, a miracle in itself.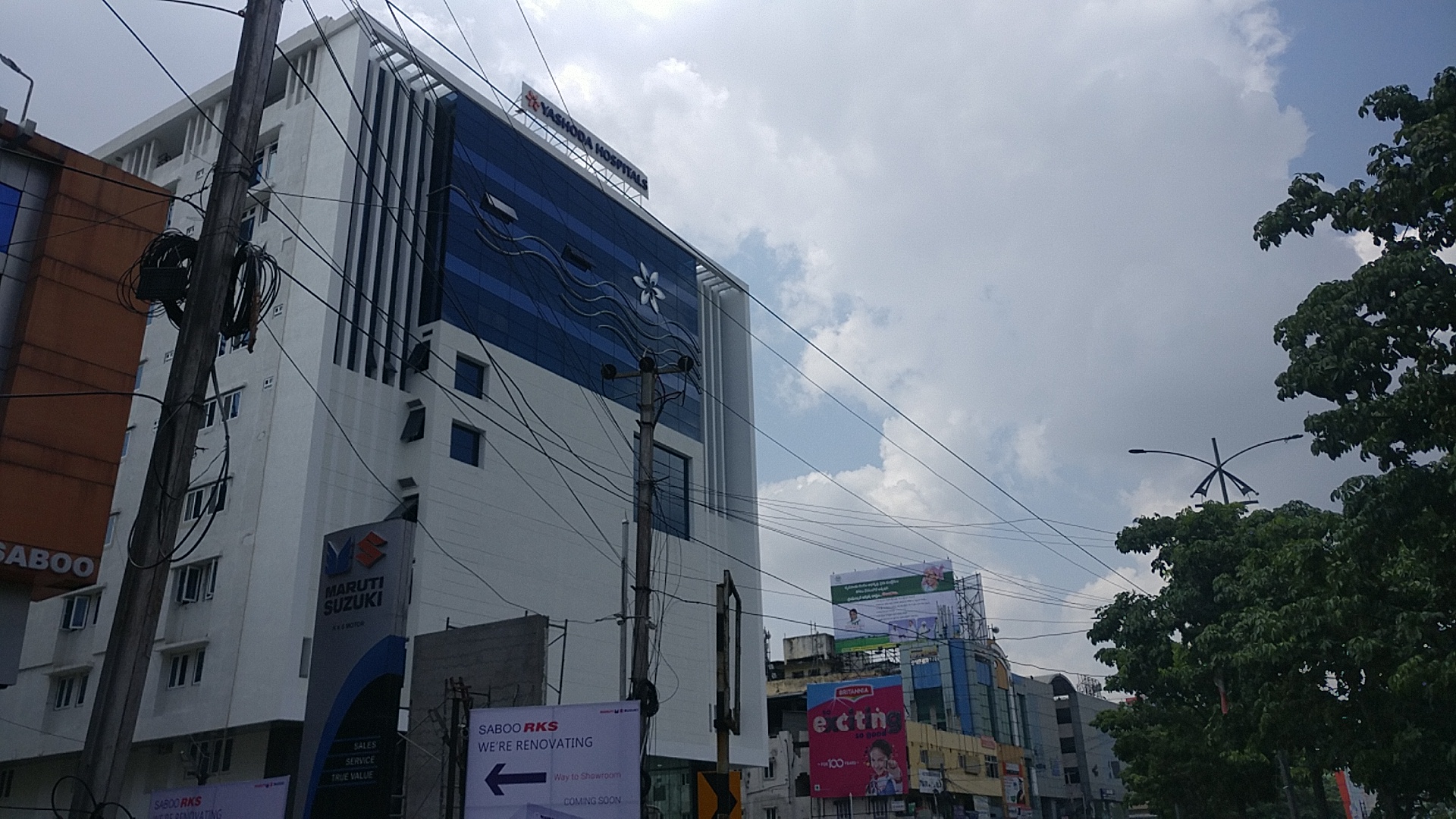 "She had a deep laceration on the neck, in which the arteries and blood vessels were also compromised," said Dr Sridhar, the resident medical officer.
"There were intense cuts to the face as well, which required her muscles and vascular system to be repaired during surgery, after we controlled the initial bleeding," he added.
Madhavi had lost a lot of blood by the time she was brought to the hospital. Her haemoglobin was 3 when she was admitted. After multiple transfusions, it has now risen to 10.2, still short of the normal count, which is 12.1-15.1 for women.
---
Also Read: If you care about a woman's 'honour' fight for her safety, not over 'Padmaavat'
---
"In her left fore-arm, both the bones were cut through, with the arterial veins," Dr Sridhar said.
"The bones and the arterial system needed to be repaired. The tendon in her right wrist was also cut," he added, saying it was difficult to gauge yet if her left arm would ever be fully functional again.
"You have to understand, the arm was nearly amputated. It was hanging by 2-3 inches of skin," he said.
However, the danger of infection persists, which is why Madhavi is currently still in the ICU ward, although off the ventilator. She is tolerating a fluid diet, and has also opened her mouth to speak.
It will take at least a few months to recuperate from her facial palsy (muscle weakness) – a result of the injuries to her face.
Madhavi's surgery lasted more than 10 hours and required a vascular, orthopaedic, and plastic surgeon. Representatives of the caretaker Telangana government have approached Sandeep with offers to bear all medical expenses.
Chari's 'inspiration'
The Miryalaguda murder had made big news, and Sandeep suggests Chari was probably inspired by Maruti Rao.
Statements made by Ramadevi also indicate that Rao was playing on Chari's mind. According to a media report, she told journalists that Chari had come to her house the day before the attack and assured the family that "he was not as cruel as Maruti Rao".
According to S.R. police station in-charge E. Rajesh, Chari had been drinking regularly with his "peg-buddy" over the week before the attack.
During these drinking sessions, Rajesh added, he would tell his friend that he wanted to find his daughter and kill her. Chari had promised Madhavi's hand in marriage to someone many years ago.
Not about caste?

Reiterating ACP Kumar's statement, S.R. Nagar station house officer Venkateshwara Rao told ThePrint, "Caste is not the concern in this case."
"He was a drunkard and his daughter did not listen to him," he added, "Sandeep is in a better economic position than Chari, who lives in a basti and barely earns."
Ajay Mishra, chief secretary of the Scheduled Castes Development Department, under the Telangana social welfare ministry, said the two successive 'honour assaults' were "more the undue excessive reaction of one of the parents than an act of society".
"They are isolated incidents," he added.
"Khap panchayats or their equivalent do not exist here," he said, "I'm also from the north so I understand that sort of psyche, but there's no community angle to this incident," he told ThePrint.
'You're from a lower caste'
Sandeep currently juggles between his final-year studies for a B.Com degree from Vivekananda College and a hotel job that earns him Rs 5,000 a month.
The 20-year-old, who also has a brother, lost his father eight years ago. Ramadevi then began cooking and cleaning in people's homes to provide for her family, but quit after her sons started earning.
Police say Chari is a daily-wage labourer, but Sandeep and Ramadevi identify him as a goldsmith.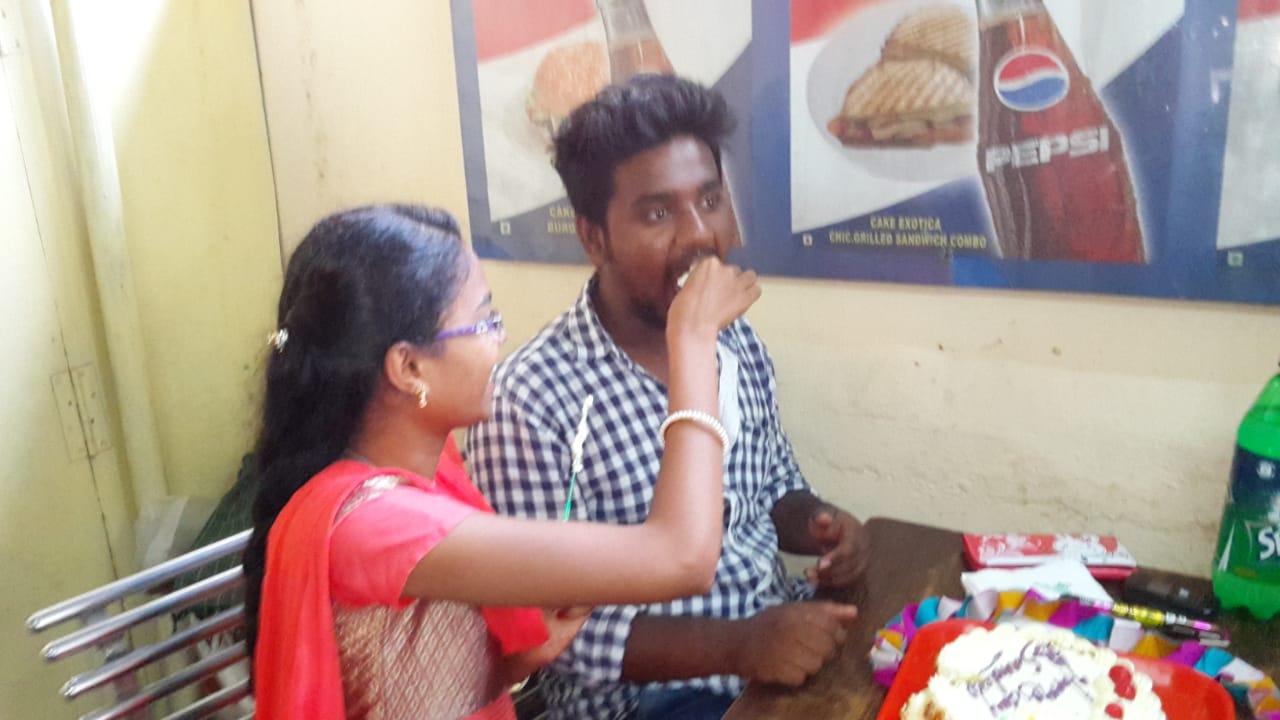 For Sandeep, the attack is definitely about caste. Sitting in the crowded ICU waiting area at Yashoda Hospital, he told ThePrint that Madhavi's mother repeatedly reminded him of his caste.
"The main person against our marriage was her mother," he said, "Madhavi told her in 2015 that we intended to marry, but her mother didn't tell her husband (Chari)."
"She was against it from the start. 'He's from a lower caste,' she would say. Madhavi's mother and her brother also beat and abused her a lot about it," he added.
Read Global Pulse for a sampler of the big international stories, and why they matter.