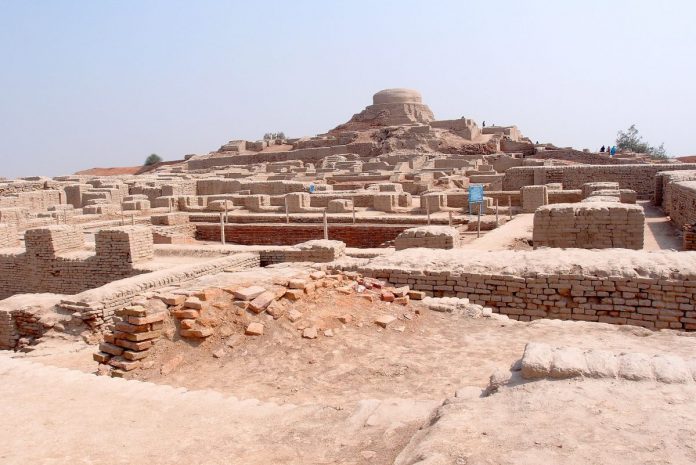 Text Size:
Here's what's happening across the border:  Hundreds of couples get hitched at a mass wedding in Karachi; Pak cruise missile Babur sails through test.
NGO organises mass wedding
Hundreds of couples got married at a 'shadi mela' (mass wedding ceremony) organised by an NGO in Karachi Wednesday.
"My father had been ill for a long time, and the treatment had a huge expenditure. There was no money left to get me married. We heard about this organisation and took the opportunity," one of the brides told Al Jazeera.
This is the 21st annual mass wedding organised by NGO Al Ghousia Youth Welfare Organization Pakistan (AGYOP), with the intention to wed those couples off who do not have the finances to arrange ceremonial functions for themselves. The mass wedding saw a musical band and couples dressed in bridal suits for an authentic ceremony.
'Mohenjo-Daro largest settlement of its time'
Sindh's culture minister Syed Sardar Ali Shah announced Thursday that analysis of cores obtained from Mohenjo-Daro in 2015-16 suggested it to be the world's largest settlement dating back to 2600-1900 B.C.
Speaking at a press conference, the minister explained that fresh interpretations about the site were offered by experts from University of Technology, Muscat. The technical consultative committee (TCC) for Mohenjo-Daro headed by Sindh University's Prof. Sarfraz Solangi partnered with UNESCO to drill approximately 60 cores that were aligned along transects crossing the site and its general vicinity.
"Interpretations offered strong indications that the site was considerably larger than formerly acknowledged by archaeologists and that the sediments that blanketed the terrain near the known city centre were both deep and of alluvial (floodplain) origin," said Shah in the press conference.
"Based on earlier fieldwork and remote imagery, it was hypothesised that major (and intact) portions of the settlement lay buried beneath many metres of flood deposit," he added.
Cruise missile Babur clears the test
Pakistan test-fired its indigenously-developed submarine launched cruise missile (SLCM), Babur, having a range of 450 km and received a green signal Thursday.
Babur can deliver a variety of payloads, with top-notch technological aspects such as underwater controlled propulsion, advanced guidance and navigation features among others.
The president and the prime minister of Pakistan also conveyed their felicitations to the scientists, engineers and Naval Strategic Force Command (NSFC) personnel involved in the effort.
Lahore hospital removes brain tumour with patient awake
A 28-year-old patient went through a brain tumour operation via 'awake craniotomy' method at the Lahore General Hospital Wednesday.
The surgical procedure was performed by Dr Khalid Mahmood from Punjab Institute of Neuro Sciences along with Dr Aneela Darbar, Dr Tariq Imtiaz, Dr Nabeel Chaudhry and Dr Muhammad Akmal. The surgery was screened live to participants in a workshop held at the institute in connection with the ongoing SAARC Neurosurgical Conference.
The patient, Hassan, was selected by Dr Mahmood to perform this new surgical procedure after his tumour was detected and he conversed with the patient during the procedure as well.
"Conversation continued with the patient during this surgical procedure and if something unusual was observed in speech or movement of hands or feet of the patient, immediate remedy was provided," he told Dawn. He also said that this modern procedure would help patients receive better treatment in an affordable manner.
Get the PrintEssential to make sense of the day's key developments