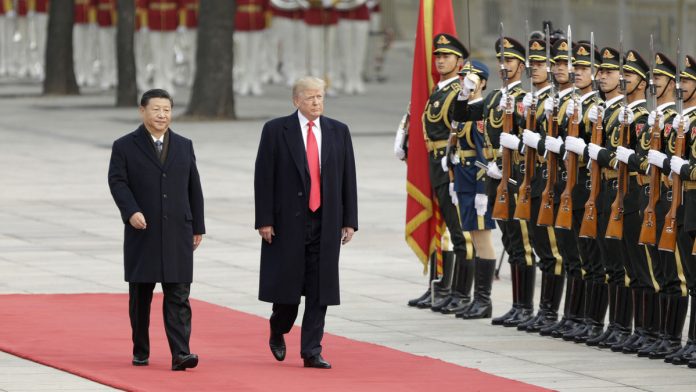 Text Size:
Both sides will suffer due to trade war, says US
About ten days ago, the US and China were on the verge of signing a trade deal to put a halt to their trade disputes. There wasn't any anticipation that over the course of the next ten days, the US would hike the tariffs from 10 to 25 per cent on $200 billion worth Chinese imports. These hikes were met by retaliatory Chinese tariffs.
According to Financial Times, the US government is expected to release the details of further tariff hikes on $300 billion worth Chinese imports. The anticipation is the US government would threaten to hike tariffs on these imports from 10 to 25 per cent if there is no progress on the bilateral trade negotiations.
These developments have, however, rattled the financial markets across the Asia-Pacific region. By late Monday morning, Chinese premier CSI 300 Index was down by 1.2 per cent, Korea's Kospi was down by 1 per cent, Australia's S&P/ASX 200 by 0.4 per cent and Japan's Topix by 0.2 per cent.
US Director of National Council Larry Kudlow, however, seemed to adopt a moderate line as he said both the US and China have to incur the costs of the on-going trade war.
"Both sides will suffer on this…You've got to do what you got to do. We have had unfair trading practices all these years and so in my judgment, the economic consequences are so small," said Kudlow.
He further talked about the prospect of the US and China Presidents Donald Trump and Xi Jinping, respectively, having one-on-meeting at the G20 summit in Japan in the end of June.
Meanwhile, Trump continued on his escalatory path. On China having backed out of the previous deal, Trump said, "I think that China felt they were being beaten so badly in the recent negotiation that they might as well wait around for the next (US Presidential) election, 2020, to see if they could get lucky and have a Democrat win."
In other news:
Julian Assange: Sweden to announce decision on rape case, BBC 
Mina Mangal: Outcry over killing of Afghan TV presenter, BBC 
Get the PrintEssential to make sense of the day's key developments