Text Size:
New Delhi: In India's premier restaurants, a revolution has reached its tipping point.
As of Monday evening, 1,638 restaurants across the country — in Delhi, Pune and Mumbai — declared that they had collectively 'logged out' of Zomato Gold and other online discount platforms such as EazyDiner, Dineout's Gourmet Passport, Nearbuy and MagicPin.
While the mammoth conglomerate of restaurants, under the umbrella of the National Restaurant Association of India (NRAI), says its larger fight is against a culture of "deep discounts", Thomas Fenn, partner at Mahabelly and member of the managing committee of NRAI, tells ThePrint, "Zomato has had to face a lot of heat for this because it had a lot of fingers in a lot of pies."
At the centre of this revolt lies the understanding that "Zomato's divide and rule policy of pitting restaurants against each other in an unethical discount race wasn't going to work anymore", Fenn says, adding "the #logout was an organic understanding by a few restaurateurs" at a meeting held in Gurgaon last week.
"Evidently, it struck a chord with business owners everywhere and spread like wildfire at the grassroots level," he adds, "There was no need to plug or push this movement, everyone was just tired of incurring losses."
On Saturday, as the movement picked up steam in metropolitan cities, Zomato founder Deepinder Goyal stepped in to offer a public olive branch to restaurants.
In a series of tweets, Goyal urged restaurant owners to stop the logout campaign "in the interest of consumers" and acknowledged that the company had made mistakes. "Things haven't gone as planned. This is a wake-up call that we need to do 100x more for our restaurant partners than we have done before," he wrote.
Goyal posited his company's vision as one of democratising the dining-out experience by lowering prices.
"Take a look at this data — the average price of a delivery order in India is just about the same as that of China. However, per capita income in China is 4.5x as that of India. It's important we bring down prices to find sustainable growth in the food sector in our country," he had tweeted.
"Zomato is a dream for consumers, it really is," Fenn says, "but when something is too good to be true, you have to know that someone's paying the price. Restaurants became the battlefield in which these wars were being fought. On one hand, you have consumers who want to pay less and on the other you have Zomato that is accountable to its investors, struggling to make profit. In the bargain, it is the restaurants which suffered."
ThePrint independently tried to reach Zomato for comment but was told that the company needs 48 hours to respond with an announcement, after having a detailed discussion with the parties concerned. This report will be updated when Zomato responds.
Meanwhile, on Thursday, two days after this report was published, Goyal put out a tweet where he accused NRAI president Rahul Singh of "embracing the Gold standard at his own restaurants". A screenshot of Beer Cafe's app, showing the option of a 1+1 deal for 12 months, was attached to the tweet.
"This proves that Rahul Singh is not really against deep discounts, as these discounts are being offered on his own brand, on his own app," Goyal wrote, adding, "On a democratised platform like Zomato, large restaurants owners have to compete with independent restaurants on a hyperlocal basis, and are not able to leverage their large presence to pull more distribution/profits."
Here's what I think is going on – pic.twitter.com/bo4DQTe3Qb

— Deepinder Goyal (@deepigoyal) August 22, 2019
"Zomato is logging out of the logout campaign. We have said enough and we are getting back to work. I am confident better business sense will prevail at the end," Goyal added.
I welcome the NRAI president, Rahul Singh embracing the Gold standard at his own restaurants. Welcome to Gold, Rahul! @NRAI_India pic.twitter.com/3TusMm0d3s

— Deepinder Goyal (@deepigoyal) August 22, 2019
Fenn, who has been working as the NRAI's interface with individual restaurants, says he expects the number of restaurateurs pulling out of Zomato Gold to double in the coming days. "Zomato said they have 6,500 restaurants under the Gold scheme, but I think this is likely to become half."
---
Also read: In Zomato episode, CEO Deepinder Goyal comes off as a vulture who makes money from conflict
---
A fairytale gone wrong
Zomato wasn't always the villain in this battle. In fact, when it started in 2008, the company was heralded as a restaurant discovery platform built on the noble vision of developing a culinary community in India.
Within the euphoric atmosphere of India's start-up culture, the likes of Goyal and Pankaj Chaddah (co-founder of Zomato) were championed as examples of true home-grown entrepreneurs.
"Nizam's Kathi Kababs was one of the first 1,000 restaurants to come on board Zomato when it first came to Delhi," says Kabir Chugh of The Turkey Project, whose family owns Nizam's. He recalls how the "company's vice president would go from door-to-door saying 'Hey please put my sticker here'."
"If, for example, I was the guy who had a stall behind a mosque — inside a small gully — serving the best food but no one knew about me, then to be discovered by Zomato was like heaven," says Chugh.
But as the company expanded, incurring significant operation and marketing costs, and recording steady losses — as much as $294 million in the 2019 financial year — "its tone began to shift", says Fenn.
"Zomato Gold was supposed to be an exclusive reward programme in limited restaurants," Riyaaz Amlani, CEO of Impresario Entertainment & Hospitality and former NRAI president, tells ThePrint. "But in the past seven to eight months, Gold subscribers have gone from 1,000 people to a million, and the discounts went from being time-bound to anytime, from one person to many using it and finally Infinity Dining. It was just too much."
He also says these policy shifts were never made in consultation with the restaurateurs who started to feel "less like stakeholders, and more stuck in the system".
"We were told certain things about Zomato Gold in the beginning. But at the 2017 September summit, when it was finally introduced, we saw the company already speaking a different language," Fenn says, explaining that it "suddenly went from a premier membership scheme to a 'making dining affordable to everyone' programme".
"We didn't know when the terms and conditions changed. They send you top-down diktats saying 'If you don't honour these conditions, we will charge you Rs 2,000′. 'If the order is not delivered by 12:23 pm then we will charge you another Rs 450′ etc," Amlani adds.
ThePrint accessed one such 'diktat', dated 19 August. The communication from Zomato to its partner restaurant reads: "We would be updating our terms and conditions located at www.zomato.com/o2terms/india in the manner set out below, which shall be effective and applicable to your restaurant on and from 12 August, 2019."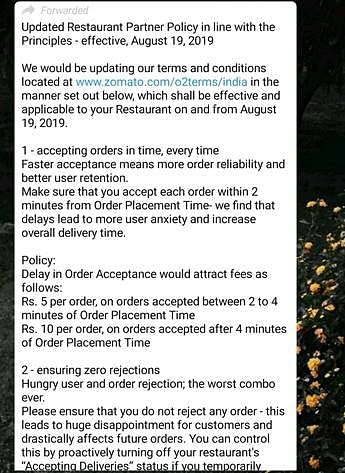 ---
Also read: Zomato App gets 1-star ratings as backlash for 'being biased against Hindus'
MagicPin, in the meanwhile, has responded to ThePrint with an official statement and presented a counter-campaign of their own called #logintomagicpin.
Anshoo Sharma, CEO and co-founder of the restaurant discovery app, said they had a "very productive discussion with key members of NRAI Tuesday, including its president Rahul Singh (Beer Cafe), Priyank Sukhija (BoomBox, Lazeez Affaire, Flying Saucer and more), Vikrant Batra (Cafe Delhi Heights) and Nitin Saluja (Chaayos).
"We agreed on how technology has a key role to play in driving engagement and discovery for retailers versus deep discounting," Sharma said.
MagicPin unlocks discovery and experiences for offline retailers through local content, engagement, and rewards.
The full statement of MagicPin read: "We work at a base margin of 10 per cent and allow our partners to top-up anywhere from Rs 2,000 to Rs 20 lakh according to their marketing needs for the month while delivering guaranteed RoIs to them. We are fully supportive of NRAI's cause and are looking forward to working together to create sustainable impact for its members through the use of technology".
---
Rise of an 'evil' monopoly
One could argue, and people have, that opting to be a part of the Zomato Gold and Infinity Dining scheme is a choice offered to restaurants and not mandatory.
"But when a firm can reach out to the entire country and it is the only restaurant discovery platform in India, what choice does one really have?" Chugh asks.
For start-ups, market disruption is a compliment — phrases like 'changing the game', and 'revolutionising the hospitality industry' are thrown around conferences and news articles as markers of accomplishment. But restaurateurs believe that when this disruption goes as far as to disrupt the normal competitive functioning of an economy — built on the principles of demand and supply — then such an intervention is "unethical".
"Zomato is everywhere, trying to be everything — it is dine in and delivery and it even has a vertical called Hyperpure where it has started to sell cooking ingredients to restaurants — so they're aiming to become an all-encompassing, an all-seeing eye that runs the entire industry," Fenn says.
"They're evil," adds Chugh.
Amlani feels Zomato has "journeyed from a community platform to a diabolical corporation that will do anything for money".
Referring to Goyal's 17 August tweets, Fenn also asks, "Do you think the company is responding now because it has suddenly become aware of the problems?"
"The NRAI has been talking to the firm about these issues for the past nine months, but it did absolutely nothing. Now that over 1,500 restaurants have rejected Zomato Gold, they're waking up to take notice."
---
Also read: Zomato wants to close India's gender pay gap, one of the worst in the world
---
This copy has been updated with relevant quotes.
Subscribe to our channels on YouTube & Telegram
Why news media is in crisis & How you can fix it
India needs free, fair, non-hyphenated and questioning journalism even more as it faces multiple crises.
But the news media is in a crisis of its own. There have been brutal layoffs and pay-cuts. The best of journalism is shrinking, yielding to crude prime-time spectacle.
ThePrint has the finest young reporters, columnists and editors working for it. Sustaining journalism of this quality needs smart and thinking people like you to pay for it. Whether you live in India or overseas, you can do it here.