New Delhi [India], March 9 (ANI): Union Finance Minister Nirmala Sitharaman on Thursday met US Secretary of Commerce Gina Raimondo in New Delhi to discuss India's G20 priorities and other issues of mutual interest.
During the deliberations that followed, FM Sitharaman and the US Secretary of Commerce also exchanged views on enhancing bilateral cooperation to further boost investment and trade in mutually agreed areas, according to a tweet posted by the official handle of the Union finance ministry.
The two leaders also appreciated the substantial and multifaceted India-US relations, which are centred on strong economic and financial engagements.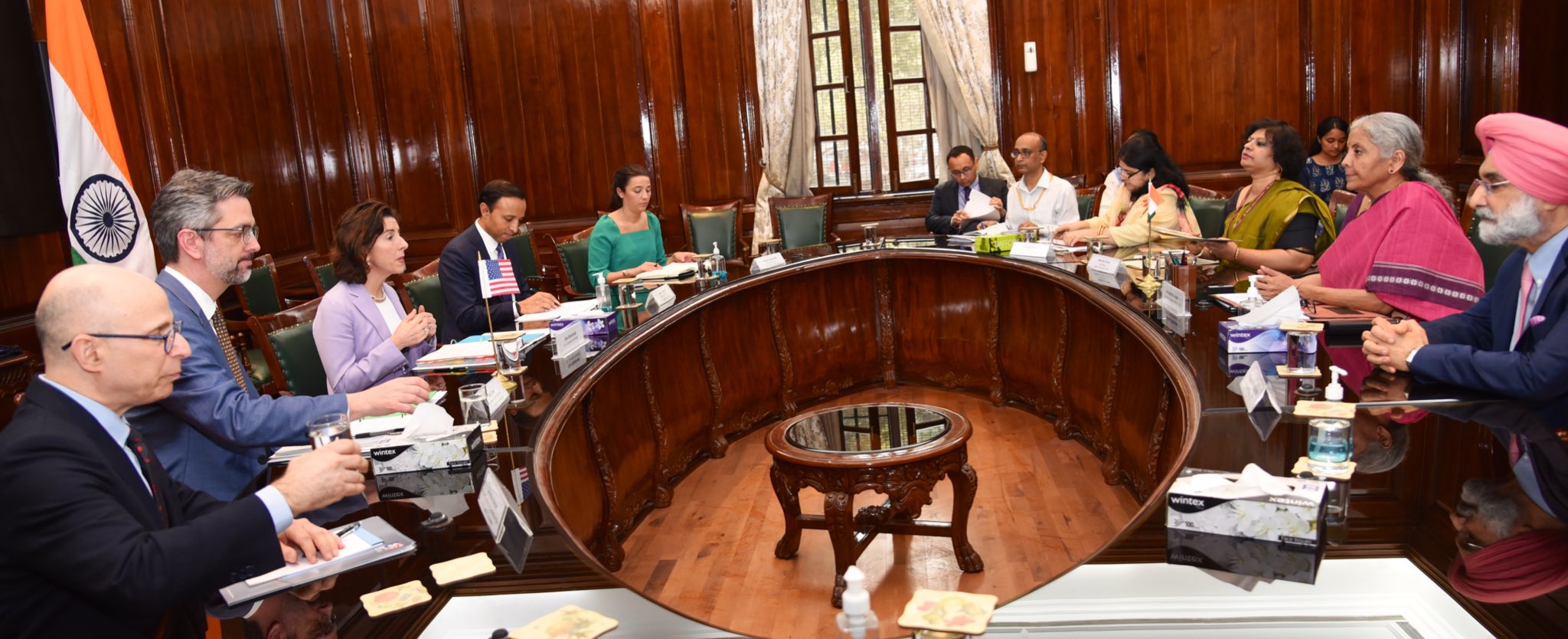 Union Education Minister Dharmendra Pradhan on Thursday also held a meeting with the US Secretary of Commerce, discussing strengthening of cooperation between the two nations in the spheres of education and skill development.
The office of Dharmendra Pradhan shared details regarding the meeting between the Union minister and Gina Raimondo on Twitter. Office of Dharmendra Pradhan tweeted, "Minister @dpradhanbjp and United States Secretary of Commerce, @SecRaimondo meet in New Delhi to boost educational and skill development linkages between India and the U.S."
Raimondo, who is in India on an official visit, will participate in the India-USA Commercial Dialogue and CEO Forum on March 10 to discuss cooperation in various sectors that could unlock new trade and investment opportunities between the two nations, the Union Ministry of Commerce and Industry stated in a press release.
Further, according to the release, "Commercial Dialogue is a cooperative undertaking encompassing regular government-to-government meetings to be held in conjunction with private sector meetings, with an aim to facilitate trade, and maximize investment opportunities across a broad range of economic sectors."
Raimondo also visited Defence Minister Rajnath Singh's residence to take part in a Holi celebration. Speaking to ANI, Raimondo expressed happiness at joining in the Holi celebration, saying, "It's an honour for me to be here on such a holiday. I felt so welcomed by the Minister, it's fantastic. Happy Holi!"
External Affairs Minister S Jaishankar, Union Commerce minister Piyush Goyal, Union Minister for Information and Broadcasting, Anurag Thakur and BJP MP Manoj Tiwari were also present at Rajnath's residence.
The US Secretary of Commerce was seen dancing and beating the drum. (ANI)