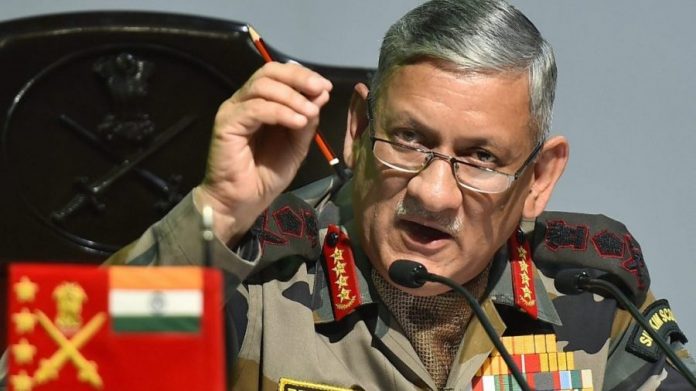 Text Size:
At annual press conference, Army chief General Bipin Rawat insists forces only "facilitator of peace" in Valley, says Kashmiris suffering due to violence from their own.   
New Delhi: Indian Army Chief General Bipin Rawat Thursday said forces are "gradually" moving towards bringing the situation in Jammu and Kashmir under "better control" and are following a policy of "hard and soft approach".
Addressing his annual press briefing in the national capital, he also said that the men in uniform are "facilitators" of peace in Jammu and Kashmir.
"We are gradually moving forward to bring the situation in Jammu and Kashmir under better control," Gen Rawat said. "We are following a hard and soft approach. Both need to be done."
The General also insisted that the approach is making headway. "We are working to bring peace in the Valley," he said. "We have been successful and moving forward. A large number of people are willing to talk on our terms."
General Rawat further said that the situation along the western borders with Pakistan and the northern borders with China has been "managed well" and that there was no need for concern.
He added that the armed forces have been working by the mandate that they have been given.
---
Also read: India facing complex security challenges, threat to territorial integrity & internal stability: Gen Bipin Rawat
---
Violence up in Kashmir
General Rawat's comments come at a time when the armed forces have stepped up their operations in Jammu and Kashmir with 2018 witnessing a record number of terrorists being killed in the past decade.
The big concern, however, is the radicalisation in the Valley, which saw about 200 local youth joining the terror ranks last year.
"Ultimately who is getting affected by all of this? The people of Kashmir due to the violence being perpetrated by their own," he said adding that the security forces are facilitators of peace.
He said multiple approaches are needed to tackle various situations.
"It is not that one size fits all. A policy can be working with one group. But the same policy may not be acceptable to the other group," he said. "I think that is what we need to understand."
---
Also read: General Bipin Rawat explains why restructuring the Indian Army is his top priority
---
Read Global Pulse for a sampler of the big international stories, and why they matter.