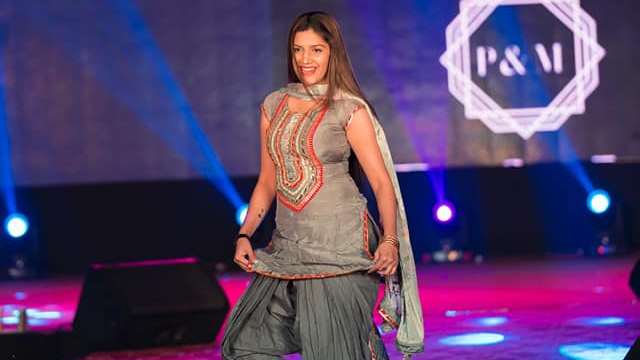 Text Size:
New Delhi: At first, poverty. Then, unparallelled fame and fortune, followed by controversy and attempted suicide. Then, a return to being the reigning pop queen of Haryana — Sapna Chaudhary's life has had it all.
It would be a surprise if you've never heard of her — a video of her dancing to Teri Aankhya Ka Yo Kaajal at a local stage programme has (at last count) over 378 million views on YouTube, putting it among the 25 most-watched videos in India, and probably the only one that's not a glitzy video produced by a top production house or a T-Series devotional track. In the video, a salwar kameez-wearing Chaudhary simply dances on stage in front of a largely male audience.
Her dancing style and on-stage persona have made Chaudhary a sex symbol as well as a cultural icon, within her state and outside. There are also those who consider her work vulgar and crass, but neither she nor her fans seem to care one bit about their opinion.
A dance tradition reborn
A journalist once asked her where she learnt the style of dance that has brought her so much fame and fortune. Instead of answering, Chaudhary took the mic and asked the audience, "how many of you know about Khodiya?" The journalist and the audience both looked bewildered, and Chaudhary clucked at them for their 'ignorance', saying: "Men are not allowed to watch women dancing the Khodiya, but you must've seen it by hook or by crook."
Khodiya is a women's-only dance tradition from Haryana that is performed behind closed doors before weddings. However, it is anything but conservative like the state's society — given its closed-doors nature, women dance to songs loaded with sexual connotations, in an overtly sexualised manner.
The form throws light on the repressed sexuality of Haryana's women — the songs often feature boasts about having slept with multiple men, and laments about husbands who can't satisfy them sexually. They also ridicule the 'lusty' nature of men and their 'incompetence' by giving vivid descriptions of sexual organs and erotic activities.
Interestingly, Khodiya is the exact opposite of Ragini, another Haryanvi form of dance and song which is performed in public for males only, and involves a mockery of female sexuality with an attack on exaggerated male virility.
Speaking to ThePrint, Chaudhary says she was introduced to Khodiya for the first time when her mother Neelam took her to one at a wedding. Little did they know at that time just how far the young girl would take the form.
---
Also read: Haryana dancer Sapna Chaudhary viciously trolled for supporting Congress party
---
The struggle for survival
The journey of a Haryanvi woman is difficult enough at the best of times, given the conservative, misogynistic practices that are ingrained in its society. But in Chaudhary's case, the journey was made tougher by the death of her father in 2008, when she was just about 18. Within a year, the harsh reality of poverty and a mortgaged house had forced her into performing on stage.
"I would have to dance for hours for as little as Rs 3,000. But the freedom that comes with the Khodiya style helped me turn it into a lucrative profession," Chaudhary says.
The leering male gaze did not deter her, and soon she was earning enough to support her mother, who, in turn, supported and even now manages her career.
Today, while Chaudhary doesn't want to divulge how much she charges per performances, people who have worked closely with her say she demands anywhere between Rs 3-10 lakh for a stage performance, depending on the means of the organisers. But for performances at local gaushalas (cow shelters), she doesn't charge a single rupee.
Stardom and negativity
The biggest turning point in Chaudhary's life came in 2015, when her song Solid Body Re with Mor Music Company went viral. The mainstream media still hadn't caught on to her, but she quickly made her way into the urban space.
However, with fame came the other side of the coin — controversy. Self-appointed guardians of Haryanvi culture blamed her for 'sabotaging' it through her unique dance moves, without ever bothering to specify what 'culture' they were guarding.
Then came an even bigger controversy in 2016. Chaudhary performed a Ragini called 36 Jaat Ragini, a reference to the 36 castes that constitute Haryanvi society. There were many casteist references in the song that hurt sentiments, and even violated hate speech laws.
Chaudhary, who hails from a Jat family, was targeted not just legally — a complaint was filed against her for hurting caste sentiments — but also online.
Soon, a series of fake and obscene videos appeared, purportedly featuring Chaudhary. Her YouTube videos were flooded with obscene comments. A rival singer even labelled her as a "dancer worth two paisa" and "everyone's darling".
The hate took a toll on Chaudhary's mental health, and she attempted suicide by consuming poison. She survived, and after being granted bail by the Punjab & Haryana High Court in September 2016, started getting her career back on track.
The year 2017 saw her roar back with Teri Aankhya Ka Yo Kaajal. She also participated in the reality TV series Bigg Boss, getting evicted in the middle of the season.
In 2018, Priya Prakash Varrier topped the list of most googled celebrities in India for 'that' wink that went viral. Behind her came newlyweds Nick Jonas and Priyanka Chopra, with Sapna Chaudhary sandwiched between them at No.3 — yes, Chaudhary was googled more times than international superstar Priyanka Chopra.
---
Also read: Human rights lawyer by day, Delhi's beloved drag queen by night
---
What does the future hold?
Chaudhary has effected a remarkable turnaround in her own confidence too — she brushes off questions about diet, weight or anything else that celebrities in general are anxious about.
"I have now started my own production house, which is going to produce web series. In one of them, my mother will feature in one of the lead roles," she says.
On Instagram, she has over 1.6 million followers, and engages with fans in very Narendra Modi-esque fashion by thanking '130 crore Indians'. Like a lot of today's stars, she wears nationalism on her sleeve — one can often find her calling for "revenge" against enemies of the country. She also visits gaushalas regularly.
As for her performing career, she shows no signs of slowing down. Being a dancer is a physically exhausting thing — "you cannot walk two or three days after a performance", she says. "But the love of dancing keeps me going."
Haryana has also witnessed some stage dancers, such as Harshita Dahiya, being shot dead. But Chaudhary is undeterred.
The YouTube comments that once called her names have got drowned out in the love and pride Haryanvis have shown towards her. And that's good enough for Sapna Chaudhary.
Get the PrintEssential to make sense of the day's key developments