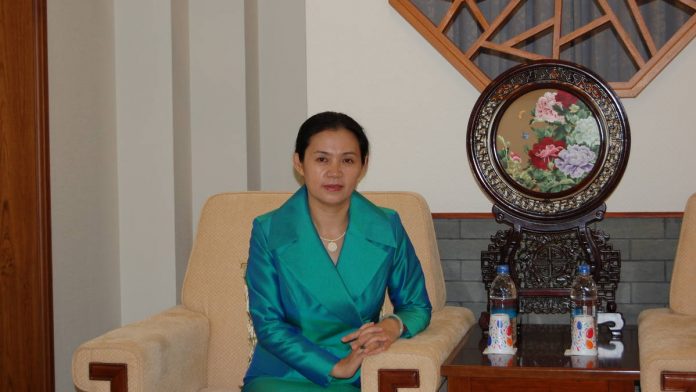 Text Size:
Jiang Yili, scholar of Indian philosophy, tells ThePrint that reports of China's tight control on religion are not all that true.
She keeps a beautiful house. An enormous bronze Nataraja statue greets you at the entrance, face to face with an enormous Chinese vase.
Later, when you sip green tea over a conversation on India and China relations, which includes an admission of a Peking University romance with her husband – she, a student of Indian philosophy, he a student of Indian history of fine art – you note that the tea cup is made of exquisite blue porcelain.
"A tea set like this was sent for use at the recent G20 meeting in Argentina," Jiang Yili, Chinese scholar of Indian philosophy, retired diplomat and wife of China's ambassador to India Luo Zhaohui, tells ThePrint.
It all speaks to a casual comfort with objects of expensive art. But Jiang, 60, is already waxing eloquent about the Ajanta-Ellora caves, the Golden Temple, and travels to both Agra and Assam.
"As a teenager I was very fond of the poetry of Rabindranath Tagore," she says. "Later I read Western philosophy and psychology, both Artistotle and Plato, as well as Fromm, Freud and Jung. Then I went to Peking University and majored in Indian philosophy and religion.
"I think Indian philosophy is more spiritual. They are more focused on the meanings of the truths of life rather than material goods," she adds.
Talking religion
Is there a contradiction here? Dr Jiang must be a card-carrying member of the Chinese Communist Party, which is officially atheist, but she's written several books on Indian religions, including one comparing Hindu Brahminical thought with Buddhism.
When she lived and worked in Pakistan in 2007, along with her ambassador husband, she translated Benazir Bhutto's autobiography, Daughter of the East, into Chinese. It remains a best-seller in the country.
Asked why she thought of translating the book, Dr Jiang says the Bhuttos – as well as India's Nehru-Gandhis – are still very popular in China.
The China-Pakistan relationship is special ("we describe it as 'taller than the mountains, deeper than the seas, and sweeter than honey", she says), and, as for the Gandhis, both Indira and Rajiv Gandhi remain "very popular".
Before the 1962 (conflict), she adds, "India and China had very good relations".
Q: This was the time of Jawaharlal Nehru and (former Chinese premier) Chou En-lai…
A: Yes. The Chinese paid a lot of attention to Indian leaders… You know, my husband had the privilege of receiving former Prime Minister Rajiv Gandhi when he visited China in 1988.
Q: What did he think of him [Rajiv Gandhi]?
A: He was a nice, handsome man. His behaviour was very polite, very gentlemanly. He made great contributions to China-India relations. Today, Prime Minister Modi has a mass of fans in China. We are very satisfied with the progress in our relationship.
Fast forward to the meeting this April in Wuhan — "President Xi told Prime Minister Modi that he had watched Aamir Khan's Dangal movie, and, as you know, Aamir Khan is very popular in China," Jiang says — and Delhi and Beijing agreeing to launch the high-level people-to-people and cultural exchange mechanism, for which Chinese state councillor and foreign minister Wang Yi is coming to Delhi later this week.
"Sometimes, politicians are the driving force to enhance bilateral relations," says Jiang. "We should make good use of this element to enhance people-to-people exchanges, whether in agriculture, high-tech, biotechnology, pharmaceuticals or just between people."
The Chinese know the US and Europe, but hardly India. "We only have one million tourists between us, but with Korea and Japan, more than 10 million people travel on both sides," she adds.
---
Also read: Sachin Pilot, the BBC intern who joked about joining the BJP
---
The DU days 
Jiang's most recent book is a memoir of her time at Delhi University in the early 1990s, where she studied at the department of philosophy. Called Fond Memories on the Campus — Stories of Chinese and Indian Exchange Students, it is due for launch later this week during the visit of Wang Yi.
Buddhism and the other Indian philosophies remain an abiding interest for Jiang.
The story of how Buddha renounced his royal life to seek the "meaning of life" is "very popular" in China, she says, adding: "All religions advocate people should do good things and avoid evil. People want to seek some spiritual goal. They want to realise the meaning of life."
Asked why so many ostensibly atheist Chinese, including herself, are visiting Buddha temples, she says, "You know many people in the outside world think the Chinese government is very tightly controlled, but really, we enjoy much more religious freedom than ever before."
Of course, Xi Jinping Thought, a political doctrine based on the Chinese president's thinking, doesn't officially proscribe or condemn the practice of Buddhism.
Xi, in any case, is far more interested in making China the most powerful country in the world. China acknowledges about 300 million Buddhists and, some say, even Xi's wife Peng Liyuan practises the faith.
Cynics point out that Beijing is smart enough to use Buddhism as a lever of its soft power to project international influence.
"Buddhism emerged as a faith of anti-Brahminism," says Jiang. "Buddha advocated that man was born equal. Brahminism advocated samsara, nirvana, karma, people will get liberation according to God's blessing. But Buddhism says, it's your own karma, what you did, your action will get results," she adds.
She points out that religion, or at least the culture of religion, has made a comeback in China. The church has returned and there's even a mosque on the outskirts of Beijing, on a road called Cow Street.
"I don't believe in reincarnation, but I really believe in causality," she says. "That is, results must have a cause. Your action will get results… In this sense, I believe.
"But I don't believe in life after death. In this life, you have bad behaviour, you get bad results. So people should do good things to get good results," she adds.
"Doesn't mean that if we go (to the Buddha temple), we become Buddhists. 'Bodhi' means enlightenment in Sanskrit, so Buddha is the one who got enlightenment.
Similar values
India and China, two ancient civilisations, bred on the banks of the Ganga-Yamuna and the Huang Ho, both disbelieving and also believing, their citizenry seeking help at the feet of their gods both on Earth and in 'heaven'.
"The Bodhisattva in India is male but in China, one of the Bodhisattvas, Avalokiteswara, is female…" says Jiang.
"Many people are spiritual, but some want material benefits. For example, she is believed to have the power to get barren women pregnant. So young couples go to her to worship and pray," she points out.
She admits that Indian and Chinese traditions and values are similar. The joint family system was common in China until the one-child norm forced change towards nuclear families. Preference for a male child remains common.
"Socialism is good because it makes everybody more equal…" says Jiang. "Today, in China, you don't need to pay dowry when people get married, but still people prefer a son because it is the son that inherits the family name," she adds. "Still, things have changed a lot."
---
Also read: German Ambassador to India is diplomat by day and concert musician by night
---
Pakistan memories 
She admits she wanted to remain a scholar but then her husband joined the foreign ministry, and "as women, we have to learn to adapt".
She accompanied him to Singapore, Thailand, the US, Canada and Pakistan (where she also worked at the Chinese embassy). Luo was posted to Pakistan in March 2007, a time of great tumult in the country. The lawyers movement for democracy was just beginning, Chinese women citizens were kidnapped, and the Lal Masjid siege took place. By the end of that year, Benazir Bhutto, a prime ministerial contender for the 2008 general election, had been assassinated.
"I really liked Pakistan," says Jiang. "People are very friendly. I really enjoyed my life there."
Talking about her translation of Benazir's autobiography, she adds, "As a famous female leader in the Islamic world, Benazir Bhutto was very popular in China."
That's why she and some embassy colleagues decided to translate the book. The Pakistani leader had just returned home after almost a decade in exile abroad. Benazir's arrival in Karachi was welcomed with a bomb blast, which she survived. But it wasn't to be.
"My husband visited her at her residence in Islamabad and requested her to write a preface for the book," says Jiang, "She agreed to do it."
But before the book could be published, Bhutto was assassinated. Jiang and her colleagues finished the translation quickly. It remains a best-seller in China to this day.
So, India should not worry about China's relations with Pakistan?
"It is not a zero-sum game," she says. "Both India and Pakistan are friends of China. We really wish the two neighbours remain peaceful and harmonious."
"It's not as if we want only Pakistan, or only India," she adds.
Read Global Pulse for a sampler of the big international stories, and why they matter.