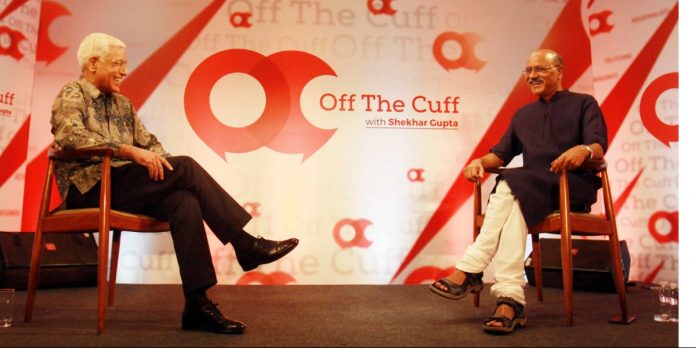 Text Size:
Veteran journalist says he never breached the trust of sources, calls 'boycott' by BJP ministers 'reprehensible'.
Mumbai: Not every conversation with a politician is a private one, and if they want it to be confidential they will specifically say so, television journalist Karan Thapar said amid the controversy over him having allegedly breached the trust of his sources.
Thapar was speaking at the Off The Cuff event in Mumbai, in conversation with ThePrint's founder and editor-in-chief, Shekhar Gupta.
"Not every conversation you have with a politician or a human being is a private conversation. It can by definition be private because it is between two persons but it is not a confidential conversation. They can say things to you and if they want them to be kept confidential, they can tell you so," he said
Live: #OTC with Karan Thapar, Journalist & TV Personality, in conversation with Shekhar Gupta

Posted by ThePrint on Friday, 3 August 2018
The senior journalist was speaking in reference to a conversation he says he had with Pavan Varma, national spokesperson and general secretary of the Janata Dal (United), in 2017. Thapar has reproduced it in his recently-published book, Devil's Advocate: The Untold Story.
---
Also Read: Karan Thapar on how his childhood friend Sanjay Gandhi took him on a daredevil jeep ride.
---
'Varma never said conversation confidential'
Thapar said that in October 2017, Varma was sitting in his office when he glanced at a picture on the wall in which Prime Minister Narendra Modi was removing his mic during an interview with Thapar in 2007 on CNN-IBN. The caption read, "I can't do this interview anymore."
Modi, then the Gujarat chief minister, had stopped the interview within the first two minutes after Thapar questioned him about the Godhra riots. Speaking at the Off The Cuff, Thapar said while Modi treated him with immense hospitality after cutting the interview short, he refused to resume the session despite Thapar's best efforts at convincing him.
Thapar said when Varma looked at Modi's picture, he asked if that was the moment when Modi walked out of the interview.
"I told him that this was the precise moment when he stopped the interview. He said 'I want to tell you a story about that interview', which Prashant Kishore, the expert election manager, had told him," Thapar said.
"Pavan said to me that Prashant Kishore told him that they made Modi watch that two-minute interview 20 to 30 times because they wanted Modi to learn from it on how to handle awkward questions. They felt that in the run up to the 2014 elections, he might face such moments again," he added.
Thapar further said, "Secondly, Prashant said Modi told him that after the interview ended, 'I kept Karan with me for a whole hour, gave him tea and dhokla because I wanted him to believe there is no enmity between us'. But, he added, 'I will have my revenge'. Pavan Varma told me this without any shape or form of swearing me into secrecy."
Varma has publicly denied having had the conversation in the manner in which it was reported. In an interview to ThePrint, Varma also said that going by journalistic ethics, the person being quoted should be intimated before publishing the information if the conversation is off the record.
---
Also Read: Is there a channel India can be proud of like British are of BBC or US of CNN?
---
Thapar insisted that Varma never made it known that the conversation was confidential.
"During my conversations with Pavan at that point of time, there were many things that we discussed that he specifically repeatedly said were confidential. But this was a conversation, which at no point through even hint or gesture, did he say was confidential."
He added that the conversation involved a certain measure of indiscretion on Varma's part and checking with him if it should be made public would have meant putting a friend in an embarrassing position.
'Reprehensible that BJP ministers boycotted show'
Thapar also expressed his grouse at facing a boycott by ministers and other leaders of the Bharatiya Janata Party (BJP).
"What is reprehensible is when ministers come to you and say that they cannot come to your show… I made a deliberate effort to find out what problem the BJP had with me. I would've had no problem apologising if I had done something wrong, but someone has to tell me first. I don't think I have done anything in any way to justify a boycott by the BJP," Thapar said.
Thapar added that the BJP's hostility towards him could not be because of his interview with Modi 10 years ago, especially when BJP leaders and ministers were giving interviews to him until recently.
"The only explanation I had is that it took them a while to realise that they can control journalists by simply not appearing on their shows," Thapar said, adding that this government is far more conscious of critical opinion and tries hard to ensure that it is not easily aired.
---
Also Read: Karan Thapar broke the cardinal rule of journalism and is too entitled to admit it.
---
He, however, dismissed suggestions that the situation is comparable to the Emergency era.
"What we are going through today, as reprehensible and deeply worrying as it may be, is not tantamount to Emergency," Thapar said, adding everything that is happening with Dalits, Muslims, Christians, the incidents of lynching, murders and the prime minister's silence on these events is concerning.
He also said he does not have any problem with the term 'Hindu fascism'.
"Do I think it is possible? Of course it is. Do I think it has happened? No, I don't think it has. Are we moving in that direction? Yes, there is a sense of danger that some of the things that are happening smack of fascist tendencies. I don't deny that," Thapar said.

Get the PrintEssential to make sense of the day's key developments