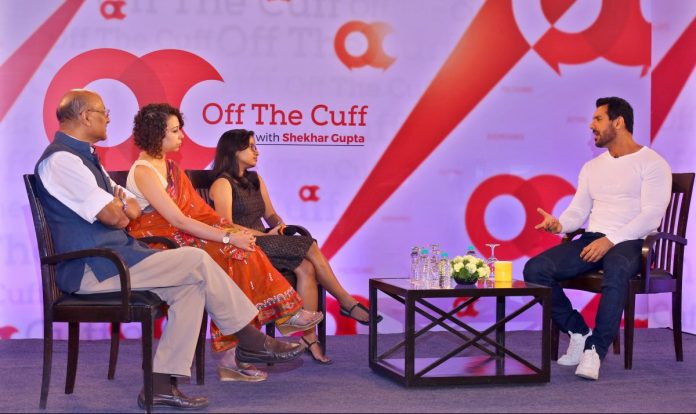 Text Size:
John Abraham says his latest Pokhran nuclear tests-based 'Parmanu' has not been made for the BJP.
New Delhi: Actor and producer John Abraham, who has featured in a number of contemporary events based political films, said he has no inclinations towards any party and stands apolitical.
"Someone asked me when I made Madras Cafe if I've made a film for Congress. After Parmanu, I asked them are you going to say I've made a film for BJP? I am politically aware, but I'm apolitical," the actor said during ThePrint's Off The Cuff event Tuesday.
Ready with Bollywood's version of the 1998 Pokhran nuclear tests in Parmanu, Abraham said the film won't be without a few creative liberties. "In our research, we found out that there were a couple of women who were involved in the process but not directly. We needed a female character so we took the creative liberty. We amalgamated the two or three characters and created our own Amabalika which was Diana," he said while in conversation with Shekhar Gupta, Editor-in-Chief, Ruhi Tewari, associate editor and Sharanya Munsi, web editor at ThePrint. He was referring to the inclusion of a female scientist played by Diana Penty as one of the brains behind the operation.
The actor also shared his upcoming line-up, RAW and Batla House, both of which echo the theme of nationalism. But Abraham refused to accept that projecting nationalism is a conscious decision. "When you walk out after the film, you are aware of what happened in India but patriotism is a by-product. You are not making an overtly patriotic, jingoistic film," said the actor referring to Parmanu.
The model-turned actor also dons the hat of a producer. In the empowering role of a producer, he refuses to enter the rat race of big budget films and their blue-printed frivolity. "Don't make a movie with five songs and a hero shaking his pelvis so hard that he doesn't know what's happening after. Make a sensible film and you'll find your audience," said Abraham.
He also highlighted the importance of Indian films not losing focus due to Hollywood climbing up the box office ladder. "Don't compete with Hollywood, complement them."
At a time when the entertainment industry is waking up to the potential of regional cinema, Abraham understands their advantage. "Some of the best movies in our country are in Malayalam and Marathi. They do really well because they have no budget, no crutches."
Bollywood celebrities have recently been called out for speaking and not speaking alike on pressing issues, but remaining neutral is not what Abraham believes in. "Celebrities must take a stand. Usually most don't speak up because we are linked by one common thread which is insecurity," Abraham said.

Separate fact from fiction, the real from the fake going viral on social media, on HoaXposed .