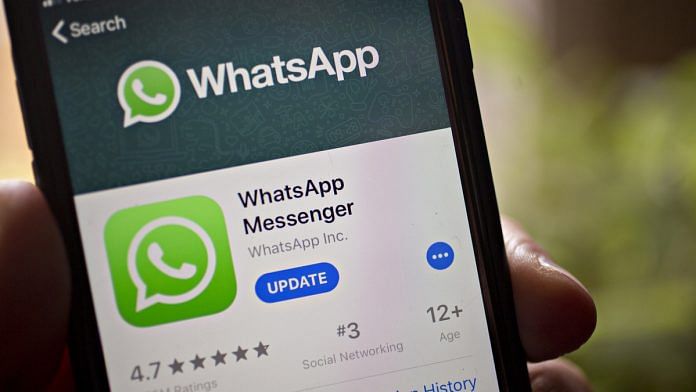 New Delhi: WhatsApp is all set to try and once again convince Indian users to accept its controversial service terms and privacy policy that had come under fire in January.
Starting Friday, the messaging application will begin alerting users about its policy updates, which will be enforced on 15 May, according to WhatsApp officials.
The Facebook-owned app had earlier planned to implement the policy in February and had started in-app notifications about the changes in January. However, the updates were met with intense backlash by users, who raised concerns about data privacy. Even the Government of India asked WhatsApp to withdraw the changes, citing data concerns.
A noticeable change in the proposed policy is the absence of a section that gave users the choice of sharing their information with Facebook.
The section, which exists in the current policy, reads: "You can choose not to have your WhatsApp account information shared with Facebook to improve your Facebook ads and products experiences".
The absence of this section implies that WhatsApp users will no longer have the choice to not share information with Facebook when the new policy kicks in.
WhatsApp clarified that the "update does not change the privacy of people's personal conversations" and is part of "optional business features".
While the details of the policy itself remain unchanged, WhatsApp has redesigned the in-app notification to give more information about the new privacy policy and service terms updates.
"Starting in a few weeks, some people will see a small banner that will invite them to check out these policies again. People prefer this approach over the full screen alert we previously provided," noted WhatsApp in a statement.
The small banner will appear at the top of the chats and will allow users to review the policy updates.
---
Also read: SC seeks reply from Centre, WhatsApp on plea alleging lower standards of privacy for India
---
For monetisation purposes
According to WhatsApp, the updates will offer new ways to "chat or shop with a business on WhatsApp that are entirely optional".
"Some shopping features involve Facebook so that businesses can manage their inventory across apps. We display more information directly in WhatsApp so people can choose if they want to engage with businesses, or not," the statement read.
It further noted that the updates address the ongoing monetisation efforts undertaken by Facebook to ensure that WhatsApp continues to be available free of cost.
"We also think it's important people know how we can provide WhatsApp for free. Every day millions of people start a WhatsApp chat with a business because it's easier to do so than placing a phone call or exchanging emails. We charge businesses to provide customer service on WhatsApp — not people."
The app also reiterated that personal messages on their platform will continue to be end-to-end encrypted and therefore, WhatsApp cannot read or listen to them.
---
Also read: Send 'hi', find job — govt's WhatsApp chatbot will help labourers look for work in home states
---
WhatsApp takes aim at Signal, Telegram
Without directly naming its competitors, WhatsApp also took aim at the messaging apps Telegram and Signal in its statement. Both these apps saw a surge in user downloads in the aftermath of WhatsApp's privacy update debacle.
"We've seen some of our competitors try to get away with claiming they can't see people's messages — if an app doesn't offer end-to-end encryption by default that means they can read your messages," the release read.
This was a possible reference to Telegram that offers end-to-end encryption only for messages sent using its 'Secret Chats' feature. Other messages have client-server/server-client encryption where messages are stored on Telegram's cloud storage and can be accessed by someone other than the message sender and recipient.
"Other apps say they're better because they know even less information than WhatsApp. We believe people are looking for apps to be both reliable and safe, even if that requires WhatsApp having some limited data," WhatsApp's statement added, in a likely aim at Signal.
Signal touted it is pro-privacy by constantly reiterating how it links no data to users unlike WhatsApp.
You can make an app used by many millions of people that has no data…Cool chart by @forbes & @UKZak 🙈🙊🙉 https://t.co/gWFqyIeoZ3 pic.twitter.com/Unngddaq5M

— Signal (@signalapp) January 5, 2021
---
Also read: How Google's deals with Murdoch's News Corp, other media could change how world accesses news
---