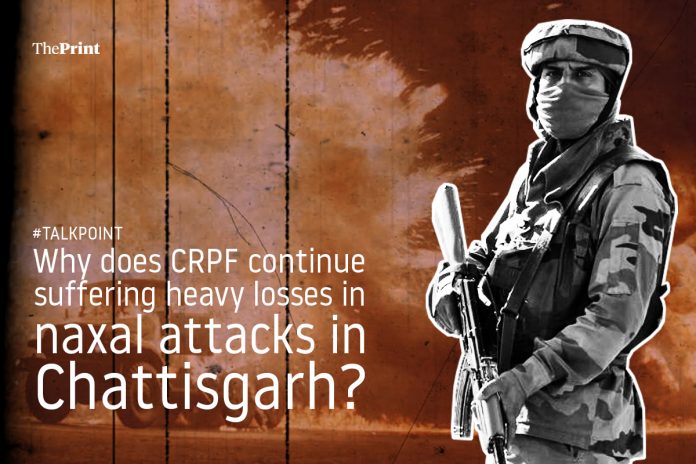 Text Size:
Nine CRPF personnel were killed in an attack on an anti-landmine vehicle in Sukma, Chhattisgarh, Tuesday. A year ago, on 11 March, a similar attack claimed 25 CRPF personnel's lives in the Bheji area.
ThePrint asks – Why does CRPF continue suffering heavy losses in Naxalite attacks in Chhattisgarh?
---
The Naxals have used IEDs for some years now, but mine attacks began only last year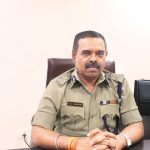 D M Awasthi
Special DG, anti-Naxalite operations
Why the CRPF is still facing losses is an answer only the CRPF can give you. But the fact is that they are brave enough to function on a day-to-day basis in areas that are completely conflict-ridden. They have set up camps there and are consistently working towards tackling the Naxalism problem in Chhattisgarh.
In conjunction with them, our state police force has managed to reduce the impact of Naxalites. Over the last six months, Naxalite camps have faced far more casualties than ours.
The incident at Sukma happened in one of the areas with a heavy presence of Naxalites. Sukma hasn't seen peace in a long time now; violence occurs in and around it almost on a daily basis. They have been using IEDs for some years now, but mine attacks began only last year.
They clearly had prior knowledge that the CRPF would be on the move Tuesday, and caught them in a vulnerable position. The CRPF perhaps thought they were moving through a protected zone.
What has happened is unfortunate but, overall, the security situation in the state has become a lot better of late.
---
CRPF is the primary anti-Naxalite operational force in Chhatisgarh, not the police, leading to more casualties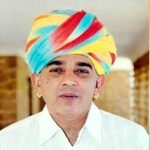 Manvendra Singh
Editor-in-chief of 'Defence & Security Alert', former MP and member of the Parliament standing committee on defence
The question is a bit trite. The elementary rule of combat says there is always a likelihood of casualties, simply for being in operations. And then there is the probability factor, which increases with deployment. It is a basic principle of combat operations that the more you operate, the greater the chances of getting hit. More so in insurgencies, where the initiative is almost always with the non-state actor.
In the art of operations, the Naxalites can most certainly be classified as insurgents.
So in Chhattisgarh, the CRPF takes more casualties simply because it is the one operating the most.
Obviously, an operational demarcation has occurred between the Chhattisgarh police and the CRPF, leaving more combat space for the latter. There was a period when the Chhattisgarh police took heavy casualties because their deployment was higher in operations. As the crisis became bigger, an informed decision led to the CRPF becoming the primary anti-Naxalite operational force.
When it comes to passing judgement on a force, the cumulative of all operations must be taken into account. In this case, the casualties came from an IED blast that took out a mine-protected vehicle, an ironical name. The only real antidote to an IED is a human road opening party. And better with combat dogs in company. There is no other way of avoiding an IED. Despite not resolving the contradictions in its leadership structure, the CRPF CoBRA battalions in Chhattisgarh are doing an outstanding job. Something which armymen readily agree too.
---
The Sukma ambush on CRPF personnel is a chilling reminder of flawed policies on several fronts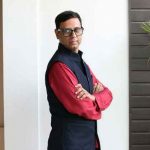 Kishalay Bhattacharjee
Teaches journalism at O P Jindal Global University, author of 'An Unfinished Revolution'
It is almost like an anniversary attack by the Naxalites on the CRPF. Last year, the armed group killed 25 soldiers. This time, they blew up a mine-protected vehicle or MPV, killing 9 men.
To send in forces to areas of guerilla warfare without a coherent policy directive is an unacceptable security measure. Their living conditions are inadequate and they are expected to operate in an administrative vacuum.
Unfortunately, if force is the inevitable recourse left to the government to address security concerns in India's heartland, they turn a blind eye to the consequences. If the backlash becomes politically painful, democracies are tempted to subcontract the violence to others. We have witnessed that in Naxalite areas when vigilante groups were organised and violence was privatised. The Sukma ambush is a chilling reminder of flawed policies on several fronts; for example, why doesn't the government send in the army like they do in J&K and the northeast, where the levels of violence are significantly lower in many areas?
The greatest dilemma of India's fight against what the government has repeatedly referred to as the "greatest internal security threat" arises when a terrorist group becomes a national threat, as the Naxalites have. Organised terrorism usually springs from and takes shelter in a community, usually a community that feels itself to be marginalised. The terrorists often become voices for groups denied basic rights.This means that the terrorists are, at least for a while, popular in the communities where they operate. Therefore, action against organised terrorism almost inevitably means action against the community that harbours them.
---
Repeated attacks by Maoists in Chattisgarh is an indicator of poor intelligence gathering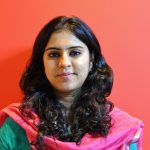 Ananya Bhardwaj
Special Correspondent 
The Maoists have struck again, this time killing nine CRPF personnel. In 2017, over 38 CRPF jawans were killed in ambushes in Chhattisgarh alone.
Despite the soaring toll, the administration seems to be in constant denial about the urgent need for a re-evaluation of strategies and a structural rejig. Instead, they are looking away from a problem that with far-reaching consequences.
Losing jawans to such attacks is demoralising for the force and requires serious introspection to identify the areas where they lack.
So, what leads to these casualties? Is it poor intelligence-sharing? Structural deficits within the force? Poor planning or lack of a proper strategy?
Clearly, the repeated attacks by Naxalites in these areas are an indicator of poor intelligence-gathering. Technology can help keep track of Naxalites' movement — through drones and the interception of phone lines and tower signals — but it is not being used adequately to develop a continuous stream of information.
What escalates the problem is the complete lack of coordination between the state police and the CRPF, which the Naxalites take advantage of. While the state police depend on the CRPF to carry our operations in the red corridor, the CRPF complains they don't get the support they expect from local police during operations.
The poor planning of these operations, inadequate training of CRPF jawans, and lack of a proper common strategy to combat Naxalites across states make things worse.
The government does not seem to be doing enough. In 2010, the ministry of home affairs sanctioned the purchase of 350 mine-protected Vehicles for the area, but only 58 were made available.
Tuesday's attack is another wake-up call. What is required now is a complete re-evaluation of strategies and a more responsible leadership, even though it means moving the internal security division out of the MHA and making it an independent ministry for better coordination and supervision.
Another thing needed is more units such as the Greyhounds, a special force built in undivided Andhra Pradesh that specialises in anti-Naxalite operations and is accomplished in jungle warfare, with a strike rate of 98 per cent. A proposal for the same has been pending with the MHA since 2012. It must be taken up, before the Naxalites strike again and more lives are lost.
---
Compiled by Deeksha Bhardwaj, Journalist at ThePrint.
Check out My543, our comprehensive report card of all Lok Sabha MPs.