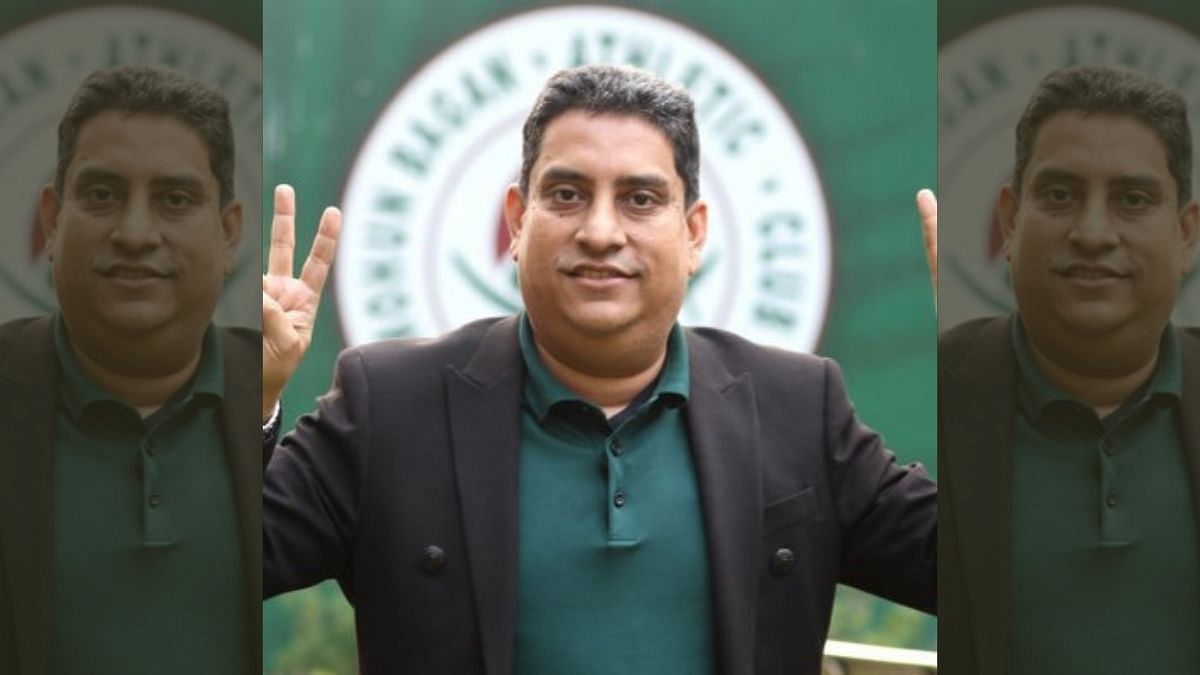 New Delhi: Journalist Boria Majumdar's claim of a 12-year-old friendship with India wicket-keeper Wriddhiman Saha doesn't give him the liberty to try to coerce Saha into doing an interview, or to send "intimidatory and threatening" messages to him, a Board of Control for Cricket in India (BCCI) committee report has said.
Dated 23 April and accessed by ThePrint Friday, the eight-page report elaborates on the decision to ban Majumdar for two years. In that period, he won't get press accreditation for any domestic or international cricket match in India, get any interview with a registered cricketer in the country, or be able to access any facility owned by the BCCI or a state cricket association. 
The controversy began on 19 February when Saha shared a screenshot of a purported "respected journalist" trying to pressure him into an interview and expressing his displeasure when Saha didn't return his missed call. 
After all of my contributions to Indian cricket..this is what I face from a so called "Respected" journalist! This is where the journalism has gone. pic.twitter.com/woVyq1sOZX

— Wriddhiman Saha (@Wriddhipops) February 19, 2022
Weeks of media speculation over the journalist's identity followed, during which netizens tried to identify him based on the typo "ypu" for "you" — an error Majumdar allegedly makes frequently in his tweets. Then, Majumdar revealed himself to be the journalist, accused Saha of doctoring the screenshot, and called on the BCCI for a "fair hearing" to resolve the issue.
There are always two sides to a story. @Wriddhipops has doctored, tampered screenshots of my WhatsApp chats which have damaged my reputation and credibility. I have requested the @BCCI for a fair hearing. My lawyers are serving @Wriddhipops a defamation notice. Let truth prevail. pic.twitter.com/XBsiFVpskl

— Boria Majumdar (@BoriaMajumdar) March 5, 2022
According to the BCCI report, both parties had hearings before the committee in New Delhi. Saha's hearing took place on 5 March, and he attended with his wife, Romi, while Majumdar's was on 11 March.
Having deliberated on the submissions sent in by Saha and Majumdar, the committee "feels that the aforementioned sanctions will create a precedent and going forward the cricketers will not be subjected to harassment by journalists," the report said.
The committee consisted of BCCI vice president Rajeev Shukla, treasurer Arun Singh Dhumal and Apex Council member Prabhtej Singh Bhatia. 
'Threat and intimidation' from a 'friend'
As part of its findings, the three-member committee said it needed to determine the journalist's identity and whether the text messages were of an intimidatory and threatening nature. Since his identity was already confirmed via social media, the remainder of the committee's findings are focused on the second question. 
A major discrepancy between Saha's and Majumdar's submissions was whether or not Saha consented to an interview. 
While Saha said he never consented and referred to Majumdar's tone and attitude as "always aggressive", Majumdar alleged that Saha accepted his request for an interview for 13 February, but never joined the Zoom link and "ignored calls", causing Majumdar to feel humiliated and express his disappointment in the text messages. 
"[Wriddhiman Saha] and [Boria] Majumdar have known each other and been friends for the last 12 years. Majumdar previously interviewed [Saha] and has helped him through thick and thin," Majumdar's version says.
However, the BCCI committee dismissed these discrepancies as being outside its scope "to determine the correct version", and focussed on Majumdar's texts themselves, finding that he had crossed a line in using a friendship as an attempt at coercion.
"It is always the prerogative of the cricketer if he wants to do an interview or not. The cricketer under no circumstances can be coerced…There has to be free will," the report added, referring to any possible friendship between the two parties as "immaterial". 
The report also singled out Majumdar as behaving in a particularly unprofessional manner, given his stature in the industry. "[Majumdar has] written many books and interviewed many cricketers. He has been in the cricketing ecosystem for more than a decade. He is wise enough to understand what is acceptable and what is not," the report stated. 
The BCCI committee also commended Saha for his conduct during the hearing, for not publicly naming Majumdar and "remaining tight-lipped after the hearing". It further took cognisance of, and condemned, "hate messages" directed at Majumdar and his family on social media since the controversy first broke out.
(Edited by Rohan Manoj)
---
Also read: Cricket in 2021 was more than just a game — racism, ICC indifference to BCCI influence
---