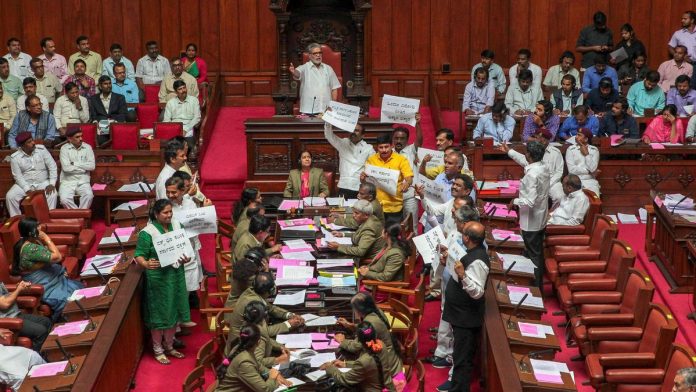 Text Size:
Bengaluru: Karnataka Speaker Ramesh Kumar, who had sought an SIT probe over his name figuring in the controversial Yeddyurappa audio tapes, Tuesday made insensitive rape remarks to describe his predicament, which he said was a result of the constant references to the controversy.
"Rape happens once but making reference to it multiple times makes the victim feel like she is being raped again and again. This is how I feel now," Kumar, who had been accused of allegedly accepting Rs 50 crore in the tapes, told the assembly.
However, instead of raising objections or even eyebrows, MLAs from both the treasury and opposition benches had a hearty laugh, including the likes of Anita Kumaraswamy, wife of Chief Minister H.D. Kumaraswamy.
The BJP's former president and frontbencher K.S. Eshwarappa even went to the extent of saying: "Since the chief minister released the tapes, he must know how many times you were raped."
---
Also read: Why the women's march for prohibition in Karnataka was bound to fizzle out
---
The tape controversy
Kumar has been in the thick of the debate in the budget session of the assembly since Monday, when he suo motu raised the issue of his name being mentioned in the audio tape in which BJP leader B.S. Yeddyurappa and a BJP MLA, Shivangouda Naik, are allegedly trying to entice the son of a Janata Dal (Secular) MLA to get his father to resign.
In the audio tape, Shivangouda Naik is purported to have told Sharanagouda Kandakur, son of JD(S) MLA Naganagouda Kandakur, that he need not worry about the Speaker not accepting the resignation because he has already been "bought" for over Rs 50 crore.
Kumar had Monday urged the CM to set up an SIT to ascertain the truth and clear his name.
Tuesday, the BJP continued to insist that a police inquiry was improper and that the matter should be referred to the assembly's privileges committee or a house committee.
---
Also read: Snoop on school bags for 'anything red' — Valentine's Day diktat for Karnataka schools
---
Check out My543, our comprehensive report card of all Lok Sabha MPs.