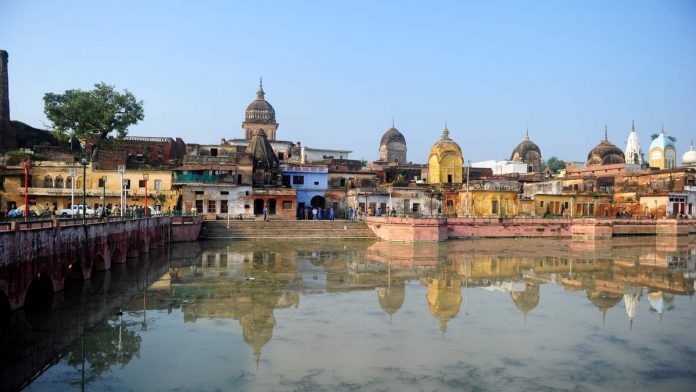 Text Size:
Front page
Ayodhya dominates the front pages, today — not because Supreme Court has finally decided to adjudicate the land dispute — but because the Modi government has decided to ask for "undisputed" parts acquired by the Centre, 25 years ago, to be returned to its owners.
In their lead stories, The Indian Express and The Hindu report the move in straightforward prose while The Times of India and Hindustan Times dwell on Bharatiya Janata Party (BJP)'s compulsions.
In "Govt moves SC to release land around Ayodhya site," HT calls it a "politically significant move".
TOI says it is "a surprise twist to the case." The request is audacious, since, as The Indian Express's page 1 analysis, puts it, "Thrice SC said: Don't disturb land till suits are over."
"In fact," observes The Hindu, "the application rides on the very shoulders of the court's Constitution Bench judgment of 1994 in the Ismail Faruqui case" — that stated the land's distribution depended on the government's discretion.
The Economic Times in "VHP backs move, Nirmohi Akhara disapproves," highlights differences of opinion between the Akhara and the Ram Janmabhoomi Nyas, the trust set up by the Vishwa Hindu Parishad and Rashtriya Swayamsevak Sangh. While the latter welcomed the Centre's intervention, the Akhara "which has claim over the actual Ram Janmabhoomi land" argued "it could lead to communal disharmony."
NSSO report
Express joins TOI on reporting "Govt sits on post noteban jobs report, two top statistics panel members quit." The National Sample Survey Organisation's report, the first by this government, "was expected to reflect job losses in the wake of demonetisation," but the government is holding back on its public release.
"…the government does not take the National Statistical Commission seriously," said career statistician P.C. Mohanan, who quit the panel.
Death of a rebel
Former defence minister George Fernandes's death finds ample space on the front pages (the most common adjective in the headlines being "rebel"), and tributes appear inside the newspapers — HT and Express dedicate half a page each, TOI pays tribute to his life with all of page 12.
Cobrapost
The "biggest financial scam" in Cobrapost's words gained little traction on the front pages — despite the media outlet's allegation that a damning Rs 31,000-crore was diverted by Dewan Housing Financial Ltd (DHFL). The news makes it to TOI's front page flap, but HT, Express, and Hindu leave it out.
Business Standard carries "Cobrapost stings DHFL" as a page 1 lead. It quotes the allegations, adding, DHFL stocks "went own more than 8 per cent."
Zee TV and its owner Subhash Chandra's fortunes maybe in a wobble but the media house is promoting its channels with full page 1 advertisements "Family ki Suno, Zee ko Chuno" in HT and TOI.
Opinion
Rahul Gandhi's minimum income scheme comes in for some comment, today — all the newspapers have been critical of the move.
Express, alone, writes on the Centre's Ayodhya push.
"Wait for the Court" counsels Express. The Centre's Ayodhya move in SC is "misguided and troubling", it writes, "The court must not succumb to this unsubtle attempt to exert pressure on the judges in a sensitive and consequential case". "An attempt is afoot to build a narrative around the temple issue in UP," despite the top court hearing the matter.
HT says "Rahul's income plan falls short" — "the economy needs structural changes, not just cash transfers."– "…the economics behind this (is) a warped version of Keynesianism."
The paper supports helping the poor through MGNREGS, which "if implemented scientifically has the potential to augment asset creation in India's villages," it feels. This is just "long established short-termism in India politics," it concludes.
Prime Time
All TV channels headed for Ayodhya, prime time, after the Centre's application in the top court.
Hindi news channels like India TV, Zee News and Aaj Tak hailed the move as a possible "end to wait — temple is here," (India TV) and "Modi's masterstroke" (Aaj Tak).
Studio debates saw some fiery opposition to the move.
On News 24 (Hindi), Samajwadi Party's Neeraj Sharma said BJP had fallen back on Ayodhya because of its failures. This was just a "jumla – but the public understands it is drama… a poll stunt," he added.
Anchor Rajiv Raghunandan asked BJP's Hero Bajpai why the Centre took so long to move Supreme Court? Bajpai evaded a direct answer: "Neeraj ji is looking very worried," he alleged.
Sharma looked angry, "Why not three years earlier?" he asked.
Journalist Piyush Pant felt BJP wanted to send out a message to its followers and had done so. However, "this is not so easy to do. …If the disputed land goes to the Muslims and you begin building around it, what will happen?"
Upfront Rahul Shivshankar read chapter and verse of the Ismail Faruqui judgment (Times Now). Saying it was only a title dispute, he asked All India Muslim Personal Law Board's Khalid Rasheed Firangi to give up objections and just say, `take it' to Hindus.
"Nobody has asked us to do so," replied a calm Firangi.
"So, ask him to hand it over," Shivshankar told panelist BJP's Subramanian Swamy, "matter over."
Swamy argued that a "masjid can be built anywhere."
"You are part of the delay gang." Shivshankar told Firangi, who tartly replied that the BJP "had also delayed… it could have taken this decision in 2014."
On NDTV 24×7, anchor Sunetra Choudhury questioned the timing of the Centre's move, too.
Valay Singh, author of the book Ayodhya: City of Faith, City of Discord said BJP was "under pressure to use Ram to shield it" from its failures.
Lawyer Dushyant Dave used stronger language: "I am seriously concerned… by the intense pressure on SC" from BJP and RSS, he stated. He called the application "very dangerous." "(I) won't be surprised… (by) a favorable response."
RSS ideologue Desh Raj Nigam, who routinely spends his evenings at NDTV, called this "a figment of his (Dave's) imagination." The move reflected the "voice of the people," he insisted.
"No, voice of the politicians," corrected Choudhury. She also pointed out that Congress had "decided not to take part in debates on mandir."
Navika Kumar, on Times Now, asked "Masterstroke or political compulsion?"
All India Majlis-e-Ittehad-ul Muslimeen (AIMIM) spokesperson Waris Pathan said it was "jumla". Why did the government wait four and a half years, he asked — because of its failure in governance and losses in three state assembly elections. "Why can't they wait?"
When Kumar asked BJP's Gaurav Bhatia if this was just one more BJP "sapna," he replied, it was "constitutional obligation."
Check out My543, our comprehensive report card of all Lok Sabha MPs.