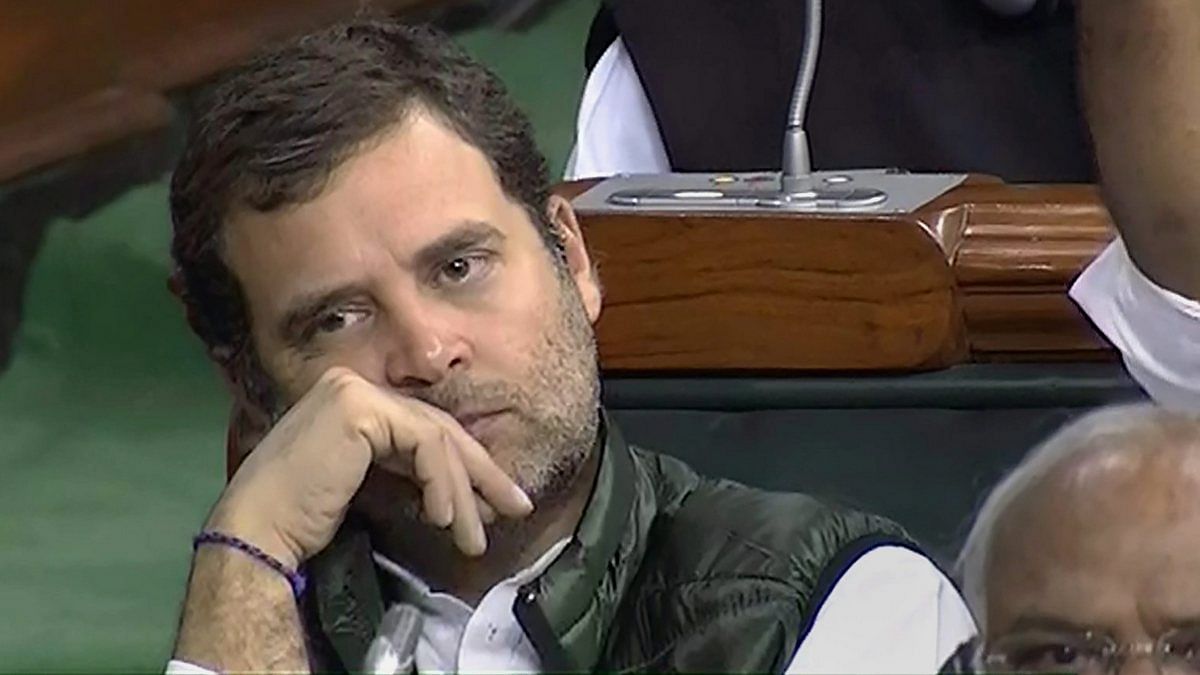 Front Page
Things don't look good for the Congress, going by lead reports in The Hindu and Hindustan Times. In "With LS poll just 3 weeks away, Congress yet to seal alliances", Hindu writes that "the Congress is yet to seal its alliances in the crucial states of West Bengal, Bihar and Delhi that together have 89 Lok Sabha seats."
HT in "Cong in a huddle to clinch alliances in Delhi, Bihar, Maha" writes that "From Delhi to Bihar to Maharashtra, the Congress scrambled to finalise its alliances…a day after the notification for the first phase of voting in the April-May Lok Sabha elections was issued".
Hindu believes "The picture on state-level alliances between Opposition parties would be clear in the next two days". And in a curious twist, NCP's Sharad Pawar "could emerge as a key facilitator" in bringing the AAP and Congress together in Delhi
HT, however, reports "late on Tuesday, Kejriwal said his party will not have any alliance with the Congress."
Times of India and The Indian Express drop Congress news for their own exclusives.
Gadkari and jobs
TOI and HT both have "exclusive" interviews with Union Minister Nitin Gadkari .
TOI leads with "No '220 club' in BJP hoping to replace Modi, says Gadkari", HT's interview in on an inside page.
"…the minister, whose name has often been the subject of speculation as an "acceptable" face in BJP in the event the party falls short, ruled out any such discussion," writes TOI.
"There is no such thing. Those who want to write will write," Gadkari says, to a question that he is mentioned as a leader who could work with allies and was also close to RSS", writes TOI, coyly avoiding any mention of PM Modi.
HT's interview with him is more extensive, covering topics from the 2019 elections to BJP trend of adding 'Chowkidar' to profiles on social media.
The Indian Express exclusive is another worrisome story on the economy: "National male workforce shrinking, says labour report that Govt buried"
"For the first time since 1993-94, the actual size of India's male workforce, or men who are working, has shrunk." it writes mining data from 2017-18 data accounts for 28.6 crore male employees, down from the 30.4 crore in 2011-12. "This suggests fewer men were employed in 2017-18 compared with five years ago".
In 'Explained' it adds: "A shrinking workforce suggests an increase in the number of unemployed, and also points to fewer new job opportunities."
Jet and others
Economic Times and Business Standard, HT and TOI headline Jet's woes on page 1.
ET is eloquent and direct in its headline: "Jet on a wing and prayer as Etihad seeks to fly out''.
HT in "Only 41 Jet aircraft in air, pilot stir on cards" writes that "Jet has been operating with just one-third of its fleet of 119 planes after failing to pay aircraft lessors."
TOI focusses on the distraught pilots with a dramatic, "Troubled airline Jet Airways is now a pale shadow of its former self."
"In Mumbai, the Jet pilots' union met on Tuesday and decided not to fly from April 1 unless their salary dues of the last three months were cleared or at least a letter of intent was signed for clearing of dues by March 31".
Hindi dailies
The newspapers have different lead stories, today.
Dainik Jagran goes with the Goa CM Pramod Sawant to prove his majority on the floor of the house.
Dainik Bhaskar has Shaurya Chakra winner, Irfan who received the award from the President Kovind, on Tuesday. Irfan fought with six off terrorists who had entered in his house in Shopian.
Amar Ujala top story is on speculation that L K Advani and MM Joshi are unlikely to get Lok Sabha tickets. It says around two dozen MPs will lose their tickets — Joshi might be made governor post elections.
Hindi dailies also talk of Hizbul Mujahideen chief Sayed Salahuddin's properties worth 1.22 crore being seized by enforcement directorate.
Tamil dailies
The release of DMK and ADMK manifestos take the entire front pages of all the Tamil dailies except The Hindu Tamil which goes with the swearing in of the new CM in Goa.
Dinamani compares the two party manifestos: "One crore new jobs in roadways – DMK election manifesto. Rupees 1500 monthly for poor – ADMK election manifesto". There is also a focus on the common promises in both the manifestos.
Daily Thanthi's headline says "Cancellation of NEET exam, interlinking of rivers, student loan waiver – ADMK, DMK election manifestos have a lot of resemblances"
Dinamalar is louder with a very long headline: "Promises! NEET, education and farm loan waiver, both parties voice. Rs. 1500 monthly for poor- ADMK, election manifesto. Free train pass for students – DMK, election manifesto".
Dinamalar also lists constituency wise promises that were released for the simultaneous byelections to 18 vacant assembly seats.
It at adds spice to the timings of the manifesto releases: by the Hindu Panchangam (Vedic astrology), both the parties released the manifesto during the auspicious timing of the day between 10 30 am and 11 30 am.
Opinion
Times of India has the standout editorial of the day.
'Crony Bonds' is a searing indictment of the current electoral bonds scheme, currently challenged in the Supreme Court by the CPM.
TOI says that since the bond donor's identity is kept "secret'' from the public but is known to the government, this gives a 'disproportionate advantage to the ruling party'. It is no coincidence that 95 per cent of electoral bonds political funding went to the ruling BJP, it says.
A series of legislative changes have harmed the scheme. It is "opaque'' after Income Tax legislation removed "the need to reveal the identity of the donor''. Also, political donations don't have to be revealed in companies' financial statements. These moves have "removed any semblance of public scrutiny'' over political donations which in turn "degrades the quality of democracy and enhances crony capitalism''.
TOI also points out that an FCRA amendment, last year, permits "foreign funding of political parties''—USA and UK ban foreign funding, it adds.
"India needs to clean up its political funding''—the government's argument that "opacity is necessary to protect the privacy of the donor is indefensible''. It urges the SC to move "swiftly to remedy this anomalous state of affairs''.
Prime Time
Tuesday saw major channels follow their own leads.
CNN News 18 and India Today–Aaj Tak followed Priyanka Gandhi's progress down the Ganga: India Today 'tracks neta Priyanka' all day.
NDTV 24×7 spent much of Tuesday arguing, in the face of all available evidence that Congress could still ally with AAP in Delhi: 13 out of 14 Congress Delhi district centres wanted an alliance, it claimed, while Sheila Dikshit, Delhi Congress chief, repeated her opposition to it.
Times Now telecast a 'sensational political admission – Rahul's worst nightmare' all afternoon: In a 'sting' it had YSRCP spokesperson Manoj Kothari admit that 'Yes, we are soft on BJP', indicating a possible understanding between BJP and his party.
Republic was busy with the 'biggest sting of the decade' – the self-explanatory '#MPs on sale'. It featured RSLP's MP Raj Kumar Sharma who didn't deny his willingness to be 'bought' but sought to placate the Republic correspondent by saying, 'Ho gaya na…chaliye…'
Meanwhile, News X's 'poll of polls' awarded a 'second term for PM Modi' – Mahagathbandhan dream 'crumbles'.
In the evening, Tiranga TV's Karan Thapar discussed Congress's crumbling fortunes in Bihar where it is still without an alliance with Rashtriya Lok Dal (RJD). JDU's Pawan Verma said the "optics were very bad'' for Congress-RJD — they were still "bickering'' on seats.
Congress's Nawal Kishore disagreed: "Hundred per cent there was going to be an alliance—we are not in crisis''.
NDTV 24×7's 'Reality Check' also considered 'Gathbandhan divided' as did CNN News in "Congress Blues''.
Aaj Tak's Anjana Om Kashyap took the opposite viewpoint: Could Congress win by copying BJP—especially in Uttar Pradesh?
BJP spokesperson Prem Shukla said, "Congress knows for a fact that they are going to lose elections, Priyanka Gandhi is there just to prevent the structure of the organisation from collapsing…" Congress spokesperson Ragini Nayak snidely retorted, "When Prime Minister himself is alleged to be a thief, how can we expect their spokesperson to speak the truth?"
Satish Prakash BSP spokesperson said, "They (BJP) are not going to fight on real issues such as unemployment or farmers distress but on manufactured issues."
Samajwadi Party leader Sanjiv Singh Yadav felt, "BJP and Congress both are two sides of the same coin. They are the enemies of the poor."
Republic TV's Arnab Goswami talked of Andhra Pradesh Chief Minister Chandrababu Naidu's statement on 19 March that: "K Chandrashekar Rao is doing criminal politics… Bihari dacoit Prasant Kishore has removed lakhs of votes in Andhra Pradesh".
BJP leader Devesh Chandra Thakur said, "If they have a problem… there is a proper way to oppose it and not call names." TDP leader Dinakar Lanka commented, "…what Prashant Kishor has done in Andhra Pradesh is more than being a dacoit."
Tweet of the day
"You will never hear me mention his name"

New Zealand's PM Jacinda Ardern vows never to say the Christchurch gunman's name

[tap to expand] https://t.co/7ELjNkiIPj pic.twitter.com/hQtOICJ1d4

— BBC News (World) (@BBCWorld) March 19, 2019