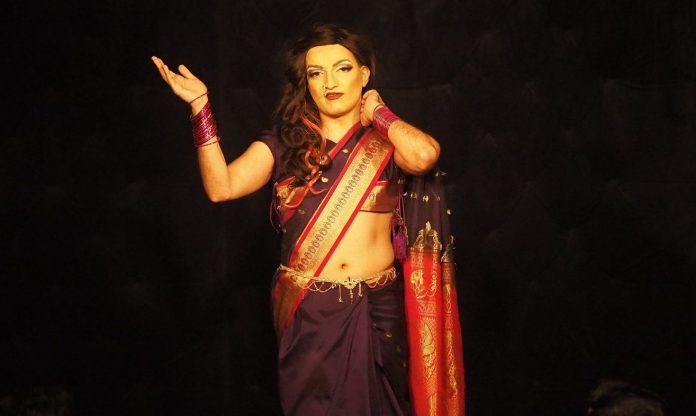 Text Size:
Drag queen Muhammad Moiz's characters Phudina and Shumaila call out the cultural hypocrisy of Pakistan.
It's a packed hall of young Pakistanis at Olo Junction in Lahore. The queen steps on stage in five-inch heels and a purple Maharashtrian saree, with matching purple hair extensions. As she dances sensually to the Kareena Kapoor song "Fevicol Se", the crowd whistles and screams. She struts her stuff, opens her legs wide, bends over and drops her pallu in typical Bollywood dhak-dhak style.
Muhammad Moiz is Pakistan's first drag queen stand-up comic. Last month, he started his cleverly titled show "Liberals ki Akhri Saazish" in Lahore. Moiz introduces his drag female personality as Phudina Chatni (a provocative modification of the word Pudina Chatni or mint sauce) and a "whore". Mixing Punjabi profanities in her Urdu, Chatni launches into a series of self-depreciating sexual jokes – her sex addiction, fondness for hairy desi men and her Marathi boyfriend whom she met in the US.
"Marathis are the Pathans of India", she says in a veiled reference to the famed homosexual tendencies in the Pashtun community.
The moment for dirty comedy in Pakistan is now, says Moiz.
---
Also read: Human rights lawyer by day, Delhi's beloved drag queen by night
---
Pakistan is going through a sexual revolution, of sorts. More young Pakistanis are pursuing a college education and spending their time uninhibited and unsupervised by elders. Coupled with easy access to porn, Western entertainment channels like Netflix and travel opportunities, sexual attitudes have changed in the country.
But the older generations, mass culture and Pakistani mainstream media still espouse traditional sexual behaviour. This is what Moiz's character Phudina capitalises on – the cultural hypocrisy of parents who want to marry their gay sons to women unknowingly, girls pretending to be virgins and gay couples introducing each other as "just friends" to their families.
The one-hour long dirty comedy show with an LGBT streak, is sort of a final frontier for Pakistan's liberals, says the 27-year-old Moiz. A public health professional who just returned after his Fulbright programme from the US this summer, Moiz gets a standing ovation after the show. Young men and women flock to him after the performance to tell him that they found the act emancipating.
Moiz says a number of Pakistanis have done the drag act without actually calling it that.
"TV show host Begum Nawazish Ali is essentially a drag character. The character Moin Akhtar created with the name 'Rosy' was a drag character," said Moiz. "But the term drag has been recently popularised by the famous TV reality competition RuPaul's Drag Race. My understanding of drag comes from that show."
Tickets to Moiz's show were pegged at over Rs 1,000 and the audience was predominantly young. It was co-presented with Anaya Shiekh, a transwoman comedian.
Last year, Moiz became a star on social media with another fictitious character called Shumaila Bhatti who covers her face with a Snapchat filter. Shumaila is a young, virginal, middle-class woman who shares her daily frustrations on Instagram. Phudina, on the other hand, is far less conventional and much more intrepid.
How much of Moiz is there in Phudina?
"All of it. Phudina is actually Moiz in drag. Phudina comes to me much more naturally. She is Shumaila on steroids."
---
Also read: It's all in the stars: Indian astrological texts are full of queer predictions for mortals
---
Moiz doesn't want Phudina to be a regular show. "This has to be a sought after show, performed once in a quarter that people book ahead," he says.
He is originally from Abbottabad, a town in the northwest of Pakistan. His father is an ophthalmologist and his mother looks after the family in his hometown. Moiz has five older sisters. His family follows his online presence but urges him to focus on his 'real' career and do this on the side.
"There is a voice that needs to be given to sex positivity in Pakistan because people are having sex and everyone knows it. Whenever we start looking at sex we look at it from an angle of morality. It is never about what is having sex like in Pakistan," Moiz says.
Does being as openly sexual and performing as a drag queen in a conservative country like Pakistan scare him?
"I have never had fears. Never," he says.
At one point, Phudina's co-presenter jokes on stage that most lesbians pretend to be sisters in Pakistan.
"These are the real sisterf**kers," Phudina says from behind her. 
Ammara Ahmad is based in Lahore. She tweets as @ammarawrites and her work is available on www.ammaraahmad.com
Check out My543, our comprehensive report card of all Lok Sabha MPs.