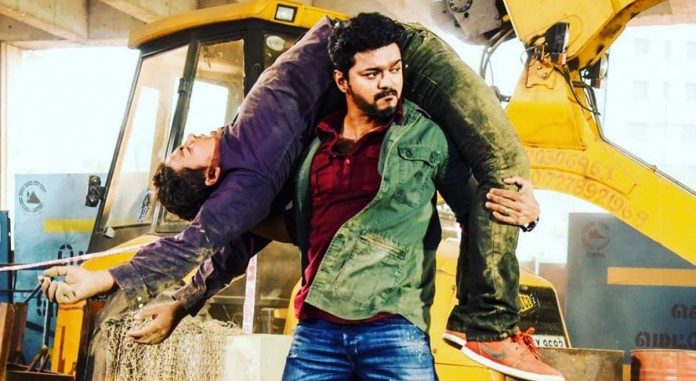 Text Size:
Sarkar, starring Vijay, has taken on Tamil Nadu politics and criticises everything from election freebies to Thoothukudi firings.
Did you wonder why the keywords 'Sec 49P' saw a huge spike in the Google searches in the last two days? It's because all those people who went to watch the Diwali release hit Tamil movie Sarkar, starring Vijay, furiously Googled this election law. The movie has stirred Tamil Nadu so much that it has smashed even the box office record of Baahubali 2. The movie also faces accusations of being seditious. A social activist Thursday requested the police to file a case against director A.R. Murugadoss and actor Vijay for sedition.
Elections, Tamil Nadu politics and voter fury is at the heart of Sarkar, produced by DMK-supported Sun Pictures' Kalanithi Maran. And politicians are already reacting to the film. The AIADMK has already criticised the film in strong words.
Tamil Nadu minister D. Jayakumar reacted saying, "Would they (filmmakers) dare to make such movies if former CM Jayalalithaa was alive?"
The state's law minister C.V. Shanmugam condemned the movie as an attempt to instigate violence in society and demanded some scenes be cut.
---
Also read: How a small protest in Thoothukudi turned into an explosive cocktail
---
Minister Kadambur C. Raju reacted: "There are few scenes in the film which give room for political misgivings. This is not good for growing stars like actor Vijay."
Referring to the story-theft controversy that preceded the film, BJP general secretary H. Raja, who is currently absconding, said in a tweet: "Lift a better story next time."
Vijay's body of work is not new to political content. His last two movies Kaththi and Mersal had overt political tones with powerful dialogues on the 2G scam, GST, Digital India initiative and demonetisation. These were bitterly criticised by leaders from ruling parties – both at the Centre and in Tamil Nadu.
In Sarkar, he plays an NRI who travels 13,000 km to Tamil Nadu just to cast his vote in the legislative assembly election. But when he arrives, he finds out that it has already been illegally cast by someone else. So, the NRI protagonist moves court and demands a recall of that vote and requests that he be allowed to vote through ballot paper. This is where the Indian election law and Section 49P comes in. He argues in court quoting the section. It is no wonder that viewers wanted to know more and frantically searched online for it.
Vijay also demonstrates how one vote can change politics and cites examples from the US, UK and Germany. Closer home, he also mentions how one vote toppled the Atal Bihari Vajpayee government.
In one politically charged scene in court, Vijay asks the judge if the swearing-in by the new chief minister-elect can be stalled. The election commissioner reminds the court of how the Allahabad High Court had cancelled Indira Gandhi's victory in the 1975 elections.
---
Also read: In Modi meeting EPS, a message for Tamil Nadu 2019
---
The political references don't just stop there. From election freebies to bribing voters, the film's screenplay is steeped with references from contemporary Tamil Nadu politics.
Vijay challenges the practice of putting the leader's face on all the election freebies. He also makes an indirect reference to the pride he feels about the youth who "recently sacrificed" their lives for the sake of Tamil Nadu, without specifically mentioning the Thoothukudi police firings. In fact, in real life, actor Vijay did visit the families of those killed in the police firings.
People also list their problems to Vijay in the movie – like the hydrocarbon-methane project in Cauvery delta and the Mullai Periyar dam.
Sarkar shows the controversial self-immolation of a family in debt in front of Tirunelveli collectorate in October 2017 as well. Vijay's character visits the only survivor in the family.
Interestingly, Vijay's lawyer is played by a character named Jethmalani, a man from Delhi who charges several lakhs per hour. But Vijay can obviously afford him because he plays the role of Sundar Ramaswamy, a CEO of a top American company called GL – a veiled reference to Sundar Pichai of Google.
---
Also read: Tamil Nadu is trapped between politicians who are acting & actors who are politicking
---
At a time when Tamil Nadu appears to be on the cusp of change – after the death of Jayalalithaa and M. Karunanidhi – the movie reignites a call for disruptive transformation in the way politics is conducted in the state.
Separate fact from fiction, the real from the fake going viral on social media, on HoaXposed .