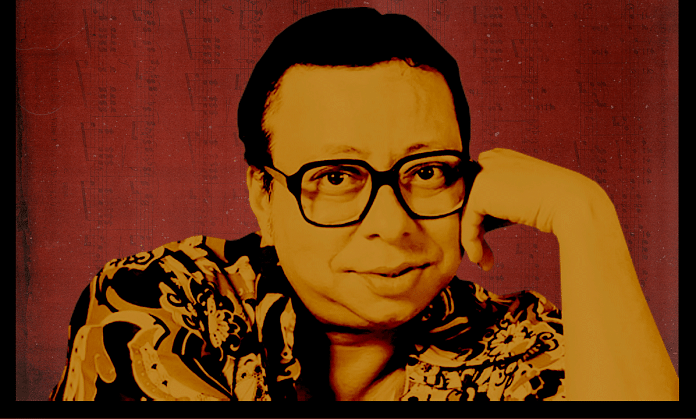 Text Size:
Rahul Dev Burman would have turned 79 today, and it's no less than a festival for me. 'Pancham' to me is what godmen are to most people (no, not that!). He is kind-of sort-of my everything – guru, spiritual cult leader, imaginary friend, and the topic of 5 am conversations with my wife. You get the picture.
And it certainly helps that he's everywhere – every other remixed song, every other advertisement on TV has his tune. Even Apple, in its iPhone X ad released a few months ago, used one of his pieces to sell its face recognition software.
It is great to see new audiences waking up to him – not just in the West, but also in India, where millennials and Gen-Z are finding his music 'fascinating'.
Home and the world
The Apple ad is not Pancham's first foray West (forgive the pun). Apparently, Kanye West also sampled a Pancham track ('Are zindagi hai khel' from 1972's Seeta Aur Geeta) a few years ago and hid it in his humble ode to himself, titled 'I am a God'. R.D. Burman is credited on the song as a contributor, but my ears couldn't find it.
Long before all this, in the mid-1980s, Pancham had cut an LP called 'Pantera' with American and Latino musicians, which found quite a bit of playtime (according to contemporary accounts) in pubs and discotheques. Sample a track here:
In India, Pancham has been recognised as the cutting edge and the gold standard for the better part of the last 40 years. And even today, nearly 25 years after his death, new audiences find in him a convenient entry point to popular Hindi music. I have witnessed some examples first-hand.
Violins and dholak, or not
I have a friend who, despite having grown up in Delhi-NCR, has only listened to English music. Her knowledge of Bollywood music is restricted to the odd chorus line ('Kya karun haaye… Kuch kuch hota hai') that she picked up along the way.
But, at a party last year, she decided to short-circuit our minds. While the rest of the drunks were belting out spirited renditions of their favourite yesteryear classics (as is wont to happen), she chimed in with 'Aaja aaja, main hoon pyaar tera'. Pin drop silence.
Once the floor had been emptied of open jaws, this woman, who primarily listens to rock, psy and 'bass' music that's the norm in clubs, told us her choice of song had not been coincidental. "R.D. Burman's music is very approachable, especially if you have never developed a taste for that grating strings-and-dholak-heavy Bollywood stuff," she said.
Still dazed, I asked her which other songs she was referring to. "Jaanejaan dhundhta phir raha… Man, that saxophone (at 4.20 in the video below) kills me. Also, how clean is the sound, considering it was recorded way back when?" 1971, actually.
Cutting across generations and ethnicities
A dimly-lit pub in a hip part of Delhi. A karaoke session is in full-swing, where professionals, amateurs and bathroom singers are taking turns belting out English rock and pop classics. Suddenly, the power goes out. After the usual whistles and catcalls, and a minute or two of murmurs, one table of young men donning Virat Kohli beards suddenly starts singing 'Gulabi aankhen jo teri dekhi' to the dark room. Colour me pink, and surprised.
The power comes back, the karaoke resumes. The brief flash of Pancham in the dark disappears without a trace. The karaoke ends at its usual Cinderella hour. The young men pipe up again, this time in a naked display of machismo. 'Aa dekhen zaraa… Kisme kitna hai dum'.
Others join in. One starts 'Duniya mein (ahahahaha) logon ko (ahahahaha)'. There's a middle-aged Caucasian lady at a nearby table who joins in the merriment and, during a gap between the songs, makes a request. "My name is Monica and I've been in India for over a decade now. And everyone I know sings the same song to me. Please, can you guys sing it too?"
A dozen people immediately segue into a hearty rendition of 'Piya tu ab to aaja', serenading her with outstretched arms – 'Monicaaaaaaaa, o my darling!'
What makes him click
I am no expert in music; just a fan. But I like to think of myself as the consumer that the producer of music is serving (let us discount the ars gratia artis argument because we're talking about popular music here, not the classical art-form).
The challenge for popular music is that it has to satisfy me, my rock-and-bass-fan friend, the 40-something expatriate living in India, my tent-house owning neighbour, his mid-20s children (and their 'Gulabi aankhen' contemporaries), my 94-year-old grandmother, and the Tamil-German couple who live two floors above. I'm not even counting my mother's generation, because Pancham was their era. But today, he has become the cosmopolitan bridge between generations, ethnicities and musical tastes – the lingua franca that all of us speak (or sing).
How has he managed this? Why does every Antakshari session eventually become a Pancham tribute concert?
I can only guess. But my guess is that R.D. Burman's music ticks all the boxes that you could be looking for – much like a certain Will Shakespeare did for literature more than 400 years ago.
You want heavy classical compositions? Check.
Peppy dance beats? Check.
Exotic sensuality? Check.
An anthem of angst? Check.
Indo-Western fusion? Check.
Experimentation with voices, noises, combs, sandpaper, half-empty beer bottles? Check.
Technique of singing (and Scottish bagpipes)? Check.
Childlike innocence? Check.
An intoxicating, mesmerising riff? Check.
Copying from the West and making it your own? Check.
(Lifted from 'If it's Tuesday, this must be Belgium')
Coming across a complex piece of genius poetry and making your music unobtrusively simple? Check.
Taking simple tunes and words, and making magic just with the musical arrangement? Check.
Simple hummability? Check.
Great instrumental themes? Check.
A four-part medley including a soft ballad, a peppy dance number, a Middle-East influenced expression of passion, and a direct lift from European pop music? Check.
And mind you, not one of these songs fetched him a Filmfare Award, forget the National Award. His Filmfares were for:
A disco-era movie
https://www.youtube.com/watch?v=7Hk5Wem4xqI
A far-ahead-of-its-time sentimental drama about an out-of-wedlock child.
https://www.youtube.com/watch?v=LZ_YUOr-tYw
And a return to the simplest and most beautiful music he could make, just a few days before he died.
That, my friends, is the essence of Pancham, which has hopefully left you smiling on his birth anniversary, 24-and-a-half years after his earthly form stopped breathing.
But Pancham is eternal. Pancham is music.
Subscribe to our channels on YouTube & Telegram
Why news media is in crisis & How you can fix it
India needs free, fair, non-hyphenated and questioning journalism even more as it faces multiple crises.
But the news media is in a crisis of its own. There have been brutal layoffs and pay-cuts. The best of journalism is shrinking, yielding to crude prime-time spectacle.
ThePrint has the finest young reporters, columnists and editors working for it. Sustaining journalism of this quality needs smart and thinking people like you to pay for it. Whether you live in India or overseas, you can do it here.