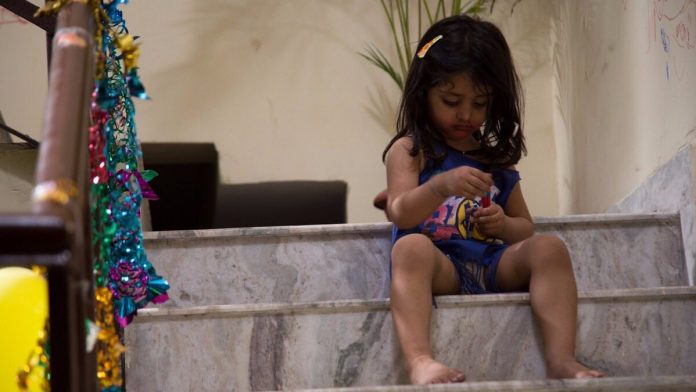 Text Size:
The makers tell a story about entrapment through a two-year-old's eyes.
Pihu isn't India's Home Alone, it's a hundred shades darker than that. Watching a two-year-old left alone with a corpse in a house is the stuff nightmares are made of.
As an audience you mentally start screaming — do not do that, do not go there, do not touch that. This is exactly what journalist-turned-director Vinod Kapri manages to do in Pihu albeit in subdued tones.
Pihu's searching eyes and her cuteness are the perfect foil for this thriller starring Myra Vishwakarma in the title role.
The beginning credits roll in with a birthday party celebration. The camera then takes us to the next morning where Pihu wakes up beside her dead mother.
She realises something is wrong when her mother does not move despite repeated calls, but as a 2-year-old she shrugs it off to answer nature's call. She later rummages through her mother's makeup kit, pees on her father's slippers and does everything a child is told not to do.
A call from Pihu's father reveals that her parents had a heated argument after the birthday party and her father left for a meeting in Kolkata while her mother decided to end her life by consuming sleeping pills.
Pihu is a story of a child caught in the domestic crossfire. All through the film, you want to help out Pihu when she struggles to open the door of the microwave or when she leaves the gas on.
Director Vinod Kapri makes sure that Pihu does little acting and is instead reacting to her messy surrounding. The absence of fear in a two-year-old is what scares us.
---
Also read: Badhaai Ho exposes our prudishness about sex
---
Adults in this film are shadows on the other side of the door that Pihu can't open. The neighbours are not your usual nosy ones and don't seem bothered even after a geyser bursts and water flows into the next-door apartment.
Pihu boasts of some cinematographically-perfect shots. When Pihu tries to heat up a stale roti in the microwave, cinematographer Yogesh Jani masterfully lets a rotating camera sit inside the microwave to capture Pihu's enthusiasm for the turning glass. With no song and only sync sound and a light background score to help, the story entirely relies on Pihu moving around the house and occasionally crying out of helplessness.
But Pihu has some gaps in the storyline. At times, Pihu's interactions with household gadgets like fridge, iron and microwave, among other things, becomes too exhausting.
One also wonders what happened to the good-old anti-child objects in the house like scissors, knives or an electric socket. Kapri also seems to have forgotten the concept of rigor mortis as the corpse doesn't turn pale or hard even after six hours of death.
Pihu manages to make the audience uncomfortable through a liberal dose of jump scares. But, if you were looking for a harrowing narrative, then Pihu will disappoint you. The film steers clear of the gory details.
The makers, however, deserve credit for telling a story about entrapment through a two-year-old's eyes. Vikramaditya Motwane's Trapped,starring Rajkummar Rao, had a similar plotline. Pihu entraps you in its own world, only for a while.
Check out My543, our comprehensive report card of all Lok Sabha MPs.