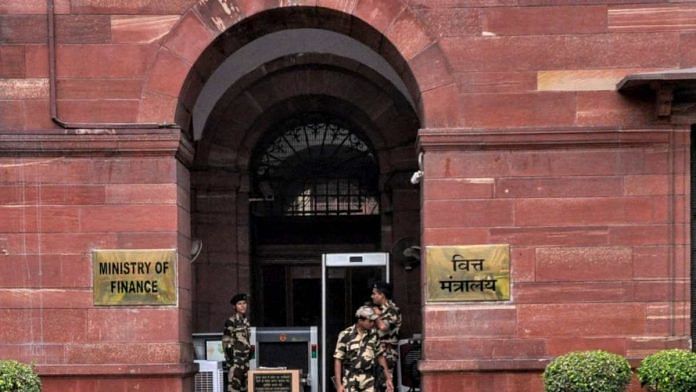 Text Size:
The Narendra Modi government did well to promptly dismiss a proposal put up by a group of young Indian Revenue Service officers that recommended raising a number of taxes to make up for the government's revenue shortfall amid higher spending requirements as a result of the Covid-19 pandemic. A prompt and public rejection of the proposal was warranted because even the whiff of an increase in taxes can deepen the crisis and prolong the recovery, because the already-mauled individuals and businesses will choose to play it safe by holding back on spending and investment.
That said, the government should not have gone further and taken disciplinary action against the intrepid officers. They were clearly acting in good faith. Barking up the wrong tree is not an offence and should not be penalised. A crisis is an especially important time for top leaders and civil servants to keep ears and minds open, and encourage fresh thinking within the government's ranks.
Where the officers erred was in not taking the precaution of forwarding their recommendations under extreme secrecy. Even so, the official rebuke has quite likely chastised them enough. It is not in the public interest to demoralise them so early in their careers by throwing the book at them.
---
Also read: India doesn't want taali-thali charity from billionaires, it wants Socialist state to act
---
A cultural problem
New entrants to the IRS can hardly be blamed for internalising an organisational culture that prizes extracting even larger revenues as a measure of its performance. If anything, this episode should cause the Service to introspect whether finding innovative ways of extracting taxes and catching evaders is all that there is to their jobs.
Accusations of "tax terrorism" predate the pandemic and should have rightly caused the IRS leadership to reflect on how much of their zeal is properly directed. Further, all Services must urgently review the economics curriculum at their training academies — for it is disturbing that some of our smartest young people should think that raising taxes during an unprecedented economic crisis is a good idea.
To be fair, in the general public discourse "tax the rich" is a popular emotional answer to most public policy problems, not least because the "rich" are people who are wealthier than "us". There is a Robin Hood inside every one of us.
---
Also read: Modi govt distances itself from 'Covid tax', to act against IRS officers who floated idea
---
Why taxing the rich is not always a good idea
Over the past decade, the inequality debate in the West has led to a surge of "tax the rich" proposals, and every new development — from financial crises, election results, corruption scandals, artificial intelligence, robotics and now, the pandemic — have been occasions to renew the calls for raising taxes and income redistribution. Whether these proposals make sense at all depends on the particular circumstances of the country concerned, but ideas cross national boundaries in the form of intellectual fashions, and many of us Indians are seduced by them too. Few bother to work out the numbers. If they do they will find that many of these fashions don't make a lot of sense in our context.
"Tax the rich" is a particularly bad idea at this time. What Mark K Perry wrote in Seeking Alpha during the 2008 Global Financial Crisis applies even more to the situation today: "If you want to turn an economic slowdown into a recession, or an average recession into a severe recession, or a severe recession into a depression, raising taxes would surely help make that happen. It surely helped turned the recession of 1929-1933 into the Great Depression." The Hoover and the Roosevelt administrations raised a number of taxes after the economic crisis of 1929, which made the problem worse and more prolonged than it might otherwise have been. The peak tax rate went up from 25 per cent in the early 1930s to 79 per cent in 1936, exacerbating the crisis until World War II came along and post-war economics turned things around.
Many people casually argue that taxing the wealthiest people won't hurt the rest of us. But it does. When rich people spend less, when they invest less, or invest in assets to avoid tax, the multiplier effects are smaller. Our own experience shows that taxing the rich 97.75 per cent of their income in the early 1970s gave the poor only the slogan of "roti, kapda aur makan." We started making a dent in alleviating poverty only after the tax rates were lowered to a maximum of 40 per cent in 1992, creating a growth spurt that we have been riding on ever since.
That's not all. Quite often "tax the rich" ends up taxing the middle class. Let's not forget that the really wealthy have access to better tax planning, better chartered accountants and a variety of ways to legally reduce their tax exposure. They can also relocate to a lower-tax jurisdiction with relative ease. The salaried middle-classes do not have such options and end up in higher tax slab. This further depresses demand as middle-class households cut back on discretionary expenditure. So as much as "tax the rich" has a folksy good feeling to it, it hurts the poor in normal times and will hurt them even more during a recession.
---
Also read: IRS officers' tips to revive economy and how radical ideas of 1970s are lurking in the air
---
Tax relief is the answer
Far from higher taxes, the crisis economy needs immediate tax relief for both corporate and personal taxes. And to galvanise economic growth, we need lower tax rates and a massive simplification of the tax code, including the GST.
This means that tax revenues will decline in the short run and government will have to spend more to provide relief and stimulate growth. Where then do we find the money? The answer, in short, is borrowing. At the risk of sounding like a fugitive guru, debt financing is about us borrowing from the future "us". Taking a loan from the future "us" so that the current "us" might survive is justified. It is also justified when the money borrowed from future generations is used to create assets — like hospitals, educational institutions, metros, highways, airports — that the current generation can leave behind for them.
In other words, the government must not be shy of running fiscal deficits during this recession. As the former Reserve Bank of India (RBI) governor C Rangarajan has said, some of the deficit can be financed by getting the central bank to monetise it. By printing more money the RBI is unlikely to set off higher inflation immediately, given the extraordinary plunge in demand. Similarly, government borrowing at this time will not crowd out the private sector, because the latter is not confident enough to restart the investment cycle.
As M Govinda Rao cautions, fiscal deficits and their monetisation must be watched very carefully and dialled down as the economy picks up speed. That's not going to be easy, but it is a problem for the future. It is also the kind of policy challenge the brightest young minds in the IRS should be thinking of solving. For they will encounter it a few years down the road.
The author is the director of the Takshashila Institution, an independent centre for research and education in public policy. Views are personal.
Subscribe to our channels on YouTube & Telegram
Why news media is in crisis & How you can fix it
India needs free, fair, non-hyphenated and questioning journalism even more as it faces multiple crises.
But the news media is in a crisis of its own. There have been brutal layoffs and pay-cuts. The best of journalism is shrinking, yielding to crude prime-time spectacle.
ThePrint has the finest young reporters, columnists and editors working for it. Sustaining journalism of this quality needs smart and thinking people like you to pay for it. Whether you live in India or overseas, you can do it here.