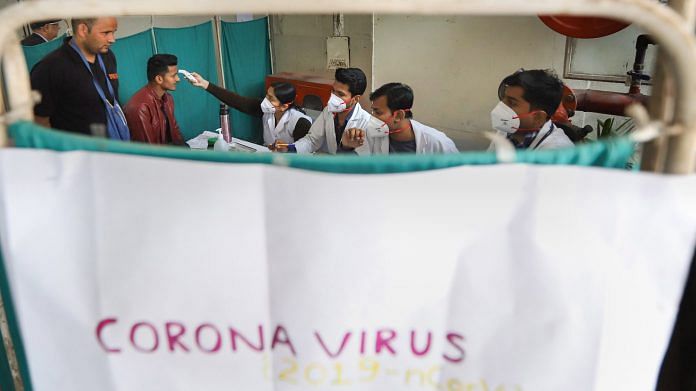 Text Size:
New Delhi: The coronavirus pandemic has infected more than 3.41 lakh people and caused over 14,700 deaths globally. In India, a lockdown has been put in place as the number of cases crossed 400, according to the Ministry of Health and Family Welfare.
With the pandemic progressing, more and more of the news is getting technical as clinal trials begin, speculation on coronavirus-curing drugs grows, and studies draw correlations between climate, demography and local capabilities of a region to handle the spread of the infection.
ThePrint gives you a quick reckoner on key terms.
COVID-19
You will have noticed coronavirus and COVID-19 being used interchangeably. But there is a difference between the two. According to the World Health Organization (WHO), COVID is the particular strain of coronavirus that has spread. The suffix -19 is to indicate the year 2019, when this particular coronavirus strain first appeared in Wuhan, China.
Zoonotic disease
A zoonotic disease, or zoonoses, is when animals carry harmful germs that can spread to people and cause illness. Patient zero is believed to have contracted COVID-19 from a sea animal that was sold illegally at a wet market in Wuhan. However, this is yet to be scientifically verified and researchers are still chasing the answer to the origin of COVID-19. The US Centers for Disease Control and Prevention states that there is no evidence that companion animals, including pets, can spread COVID-19.
SARS-CoV-2
The other term for the infection is SARS-CoV-2. It's the virus which causes COVID-19 and was named by the International Committee on Taxonomy of Viruses. SARS-CoV-2 stands for Severe Acute Respiratory Syndrome Coronavirus 2. The number two denotes that this is the second coronavirus outbreak. The first occurred in 2003 in China.
---
Also read: At current rate, India can see 30,000 COVID-19 deaths by May, no hospital bed by June: Data
---
Quarantine
Countries world over have been urging people to self-quarantine as the number of cases spike. Quarantine is the time period people are isolated from others until the infection passes. It is typically imposed when the infection or disease is contagious to prevent it from spreading. A self-quarantine is when someone goes into isolation of their own accord, and is usually at home at not a medical facility.
Social distancing
Social distancing varies from quarantine since it doesn't necessarily include being isolated, either at home or a medical facility. As the term suggests, it means maintaining a stipulated distance from people. In case of COVID-19, the minimum distance required to be maintained is one metre (three feet), according to Union health ministry.
Flattening the curve
Articles on flattening the curve were all over social media last week following a tweet about it. What it means is spacing out the time it will take for people to get infected, thus avoiding a sudden spike in numbers which will have a domino affect on the healthcare system. A slower infection rate means a less stressed healthcare system, fewer hospital visits on a given day and fewer sick people being turned away. The current spike in cases in Italy has meant doctors are having to choose which patient receives more immediate, and in some cases life-saving treatment.
Social distancing helps in flattening the curve as it keeps the daily number of disease cases at a manageable level.
It also helps in limiting the spread of coronavirus from asymptomatic carriers, i.e, infected people who show no symptoms, such as British actor Idris Elba.
This morning I tested positive for Covid 19. I feel ok, I have no symptoms so far but have been isolated since I found out about my possible exposure to the virus. Stay home people and be pragmatic. I will keep you updated on how I'm doing 👊🏾👊🏾 No panic. pic.twitter.com/Lg7HVMZglZ

— Idris Elba (@idriselba) March 16, 2020
Pandemic
The WHO chief Dr Tedros Adhanom Ghebreyesus declared the coronavirus outbreak a pandemic, and called on governments to change the course of the outbreak by taking "urgent and aggressive action".
A pandemic is a disease that spreads through multiple countries simultaneously. Currently, COVID-19 has affected 192 countries, and an international conveyance (the Diamond Princess cruise ship harboured in Yokohama, Japan). A pandemic means the disease/infection has reached stage 3 — community transmission or community spread.
Community transmission
Community transmission happens when the infection spreads to people who have had no exposure to the original source of the virus, but through carriers. In case of COVID-19, when confirmed cases can't be traced back to a source with travel history, it is also considered to be an instance of community transmission, meaning that the virus is now circulating among the community.
It typically spreads within an area through social activities such as temple/church meets and parties.
---
Also read: By failing to scale up testing coronavirus, India may have lost crucial time
---
Contact tracing
Contact tracing is done to determine who were, and are, in close contact with an infected person. It is time-sensitive and vital to ensuring an infectious disease doesn't turn into a full blown outbreak. It is stage two in the spread of an infection.
The three steps of contact tracing are contact identification — identifying people who have been infected, followed by contact listing — listing the people who have come in contact with those infected, and finally contact follow-up — holding regular follow ups to monitor for symptoms and test for the infection.
R-naught (R0) 
R-naught, denoted as R0, is the reproduction number of a disease that indicates the number of people a patient directly infects. It represents an important concept in epidemiology and is a crucial part of public health planning during an outbreak.
When R0 for a disease is below one, it is unlikely to turn into an epidemic.
R0 estimates have been an important part of characterising pandemics or large publicized outbreaks, including the 2003 SARS pandemic, the 2009 H1N1 Influenza pandemic and the 2014 Ebola epidemic in West Africa.
Epidemic Diseases Act
On 11 March, the Delhi government, under Chief Minister Arvind Kejriwal, invoked provisions of the Epidemic Act and directed the closure of all educational institutions and cinema halls until the end of March to limit the spread of the infection.
The Epidemic Diseases Act (of 1897) gives the Centre and state governments powers to take special measures and prescribe regulations during an epidemic.
The central government Sunday announced a lockdown in 80 districts, suspending passenger trains, buses and metros. State governments, like in Delhi, came out with their own measures. In the national capital, Section 144 of the Code of Criminal Procedure, which prohibits assembly of five or more people, was imposed.
---
Also read: One coronavirus patient infects 1.7 people in India, much lower than in China, Italy: Study
---
Subscribe to our channels on YouTube & Telegram
Why news media is in crisis & How you can fix it
India needs free, fair, non-hyphenated and questioning journalism even more as it faces multiple crises.
But the news media is in a crisis of its own. There have been brutal layoffs and pay-cuts. The best of journalism is shrinking, yielding to crude prime-time spectacle.
ThePrint has the finest young reporters, columnists and editors working for it. Sustaining journalism of this quality needs smart and thinking people like you to pay for it. Whether you live in India or overseas, you can do it here.