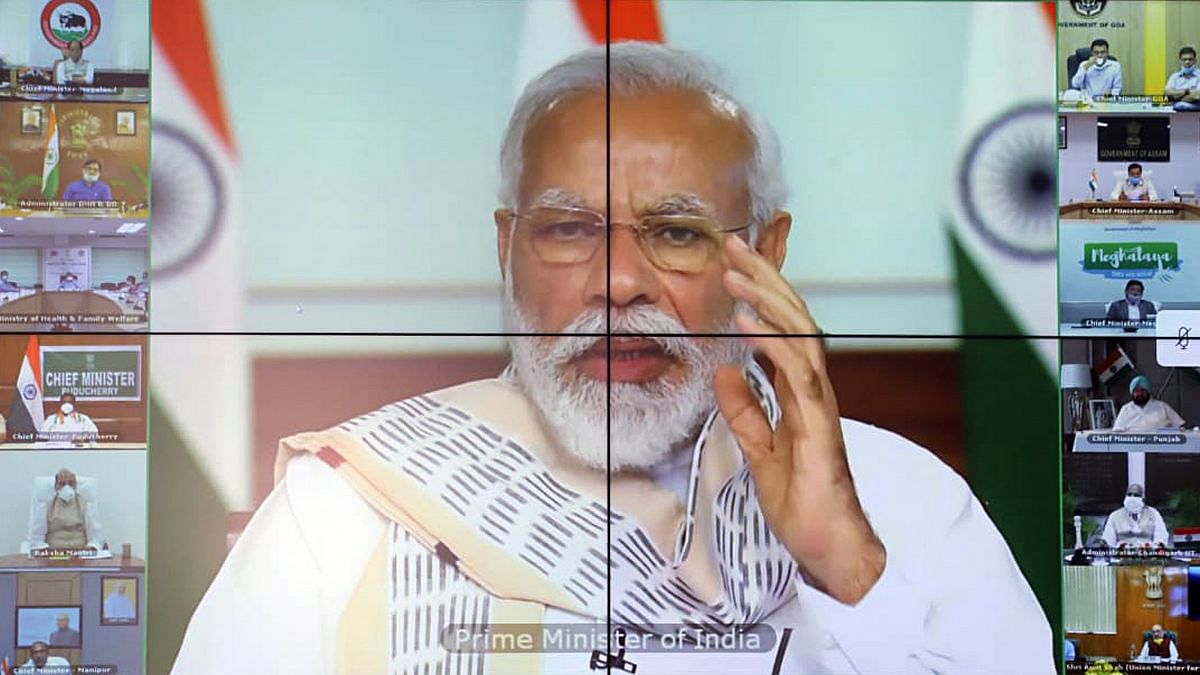 New Delhi: Prime Minister Narendra Modi Tuesday encouraged states to use the micro-containment strategy adopted by Punjab to contain the spread of Covid-19, in a bid to minimise the impact of the pandemic on day-to-day activities and people's livelihoods.
Modi was addressing chief ministers and administrative heads of union territories through video-conference, and recommended this course of action after Punjab CM Captain Amarinder Singh detailed how his state is managing the pandemic.
Micro-containment refers to the strategy of putting a house where a Covid case has been found, plus one or two adjacent houses, under containment, instead of the entire locality. It also includes conducting 100 per cent testing among people living in the houses under containment.
"The PM appreciated the micro-containment strategy adopted by Punjab and said that other states should also try to emulate it," a senior government official present in the meeting told ThePrint.
This was sixth time PM Modi interacted with CMs since the Covid-19 crisis hit India in March, but this time, the meeting will be held over two days, with states and UTs with a lower number of cases attending Tuesday and those with a high case load meeting the PM Wednesday.
Twenty-one states and union territories attended the meeting Tuesday, including Punjab, Chhattisgarh, Jharkhand, Kerala and the Northeastern states, but only seven CMs got the opportunity to speak.
---
Also read: Modi govt plans to use IAS, IPS, IRS officers with MBBS degree in fight against Covid
---
Green shoots visible in the economy
According to a government statement issued after the meeting, Modi also observed that timely decisions taken to combat the pandemic have been effective in containing its spread in the country.
"When we look back, people will remember that we have presented an example for cooperative federalism to the world," the statement quoted the PM as saying.
The statement added that Modi told the CMs that "green shoots" are visible in the economy after the efforts of the past few weeks. He pointed to a rise in power consumption, which was declining earlier, a significant increase in fertiliser sales in May, a healthy increase in kharif sowing in comparison to last year, and increase in production of two-wheelers, among other things.
"These signals are encouraging us to forge ahead," the statement quoted Modi as saying.
Modi told the CMs to focus on both lives and livelihoods, besides boosting health infrastructure, testing and tracing.
"We have tried to save each and every life. India is among the countries with the least deaths due to coronavirus, and the recovery rate in the country is now over 50 per cent," he was quoted as saying.
---
Also read: Keynes can rescue Modi govt from Covid economic crisis, but it first needs funds
---
Revenue shortfall, poor net connectivity
Punjab flagged a revenue shortfall to the tune of Rs 25,000 crore to Rs 30,000 crore, and demanded a three-month revenue grant.
"The Punjab CM also requested waiving off conditions that the Centre had placed on additional market borrowing, like power sector reforms," said the official quoted above.
Lakshadweep, meanwhile, requested the PM to allow opening of schools in the union territory, as online schooling is proving difficult because of poor internet connectivity.
"Lakshadweep wanted the Centre to issue standard operating procedures for the physical opening of states," a second government official said.
The CMs of Tripura and Goa highlighted that with over 90 per cent of the cases in the state being asymptomatic, they have not faced much difficulty in managing the situation.
Goa CM Pramod Sawant said imposing a stringent penalty of Rs 10,000 on those caught spitting in public has helped. Punjab CM Amarinder also highlighted that the state has imposed a maximum penalty of Rs 3,000 on those who get caught without a mask repeatedly.
---
Also read: Lockdown to unlocking — Narendra Modi failed every step of the way
---