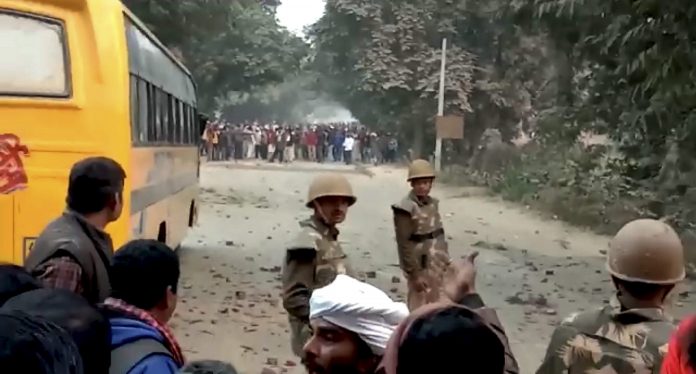 Text Size:
Ghazipur head constable Suresh Pratap Singh is survived by a wife and three children.
Lucknow: Less than a month after a sub-inspector was killed during protests by cow vigilantes in Bulandshahr, another Uttar Pradesh policeman has died at the hands of a violent mob.
Head constable Suresh Pratap Singh (48) allegedly sustained a head injury Saturday evening during stone-pelting by around 300 members of the Nishad party in Ghazipur.
The protesters launched an attack on policemen while seeking the release of colleagues rounded up earlier during a series of demonstrations, police said.
Formed in 2016, the Nishad party, a representative body for the eponymous community, had organised the protest to seek reservation under the quota for Scheduled Castes & Scheduled Tribes.
Singh had arrived at the protest site to control the crowd around 4 pm, after finishing his duty at PM Narendra Modi's rally in the district.
By 5 pm, Singh had succumbed to his injury.
---
Also read: Bulandshahr cop 'killer' is also suspect in a Delhi murder
---
'Attacked with a brick'
The incident took place at Naunhera, less than 15 kilometres from the venue of PM Modi's rally and nearly three hours after the event ended, police said.
"On Saturday, hundreds of Nishad party members had organised protests in various parts of the district, demanding reservation," said Ghazipur superintendent of police Yesh Veer Singh.
"They had blocked roads and at least three FIRs in different police stations were registered in connection with these protests," he added. "Nine people were arrested under charges of rioting, causing public inconvenience and obstructing duties of public servants. These arrests had been made by Saturday afternoon," said SP Singh.
Around 3.45 pm, as news of these arrests reached the protesters, more than 300 assembled near the Atwara crossing to demand their release.
Police arrived at the spot after locals made a PCR call. "The protesters had blocked the main highway and the police team had to walk to reach the spot since the vehicles could not go there," the SP added.
Head constable Singh was part of the police team that arrived at the site.
"All of us had been deployed at the PM's rally," said Sudhakar Rai, head of the Karimuddinpur local police station, to which Singh was attached, who was leading the team.
"We tried to pacify the protesters and told them that they need to speak to higher officials about their demands. We asked them to move to one side of the road so that traffic does not get affected," Rai told The Print.
The crowd, however, refused to listen and instead pelted the team with stones and bricks, he added.
"When the stone-pelting started, we began retreating from the area. We had informed our seniors and additional forces were on their way," said Rai. "We were outnumbered."
It was while his team was retreating that Singh was attacked. "He was standing near a mound of sand. I saw him fall on the mound. As he tried to get up, a brick hit him and he fell down again," Rai said.
According to police, Singh was rushed to the district hospital where he was declared dead on arrival. "His post-mortem examination report states that he died due to the head injury," the Ghazipur SP said.
---
Also read: Mob set police post on fire, screaming 'maaro, maaro' – Bulandshahr cop's witness account
---
Cellphone clues
Attached with the Karimuddinpur police station for over a year, Singh hailed from Raniganj in UP's Pratapgarh district.
He is survived by his wife and three children, a son and two daughters, police said.
Police said 11 people had been arrested for Singh's murder as well as the rioting near Atwara crossing.
They are relying on footage from two cellphones retrieved from the site to identify the culprits.
"We have recovered two cellphones which belong to protesters," a senior police officer said. "They had been capturing the protest on video using these phones. We are looking at these videos to identify the culprits."
Nishad party chief Sanjay Nishad, who made headlines this year after he joined hands with the Samajwadi Party to wrest Uttar Pradesh chief minister Yogi Adityanath's former Lok Sabha seat, Gorakhpur, from the BJP, could not be reached for comment despite repeated attempts.
Speaking to reporters Sunday morning, the slain head constable's son V.P. Singh questioned the Rs 50 lakh compensation announced by CM Adityanath for the family. "Such incidents have taken place in Bulandshahr and Pratapgarh in the past. Police is not able to protect their own people, so what can one expect from them?" he said.
 "What will we do with the compensation?" he added
Separate fact from fiction, the real from the fake going viral on social media, on HoaXposed .