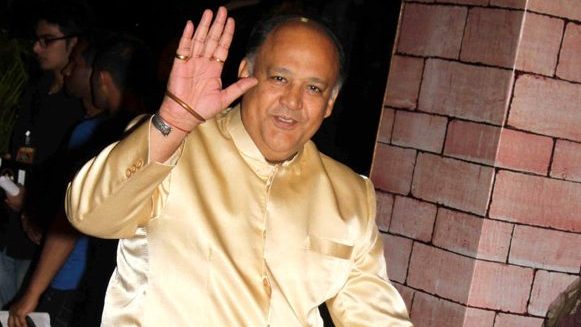 Text Size:
Alok Nath has been accused by TV producer Vinta Nanda of raping her two decades ago.
New Delhi: Bollywood actor Alok Nath, accused of raping TV producer Vinta Nanda two decades ago, was granted anticipatory bail last week after a Mumbai sessions court noted that it was possible he was "enroped in a crime".
"Enroped" is not a dictionary-recognised word, but the judge was suggesting that Nath might have been framed.
"It is to be noted that [the] complainant has remember [sic] the entire incident but she did not remember the date and month of incident," judge S.S. Oza said in his 5 January order. "In view of all these facts the possibility cannot be ruled out that the applicant has falsely been enroped in the crime," he added.
A common face in Bollywood blockbusters as the archetypal patriarch, Nath has also been accused of sexual misconduct by actor Sandhya Mridul.
In a Facebook post written in October last year, Nanda had alleged that Nath "violated" her "endlessly" after "pouring drinks down my mouth". According to her, Nath had earlier driven her to her house after a party at his place.
Nath had labeled the allegations "absurd", and his wife subsequently moved court accusing Nanda of defamation. Nanda had then filed a police complaint against Nath.
Sessions judge Oza granted Nath relief on a surety of Rs 5 lakh, while observing that there was a "variance" in complaints made by Nanda.
"It is to be noted that incident took place at the house of complainant, therefore no possibility to destroy the evidence," judge Oza noted in his order, which is being quoted verbatim.
"Now the applicant and complainant [Nanda] both are married, therefore no useful purpose would be serve by medical examination. Therefore, the medical examination of the applicant is nothing but mere formality," he added.
"No custodial interrogation is required in the matter. Hence, I proceed to pass the following order," he stated.
Here are some excerpts from the order, which was made available on 8 January.
On delay in FIR
"…According to the prosecution, the incident took place in the year 1998. Thus, admittedly, there is delay of 20 years in lodging the report. However… there is no period of limitations prescribed for offence punishable under section 376 [rape]… of IPC.
"So far as the plea relating to the delay in lodging of the FIR is concerned, time and again Hon'ble apex court in large number of cases observed that mere delay in lodging the FIR is really of no consequence, if the reason is explained.
"But it is to be noted that the FIR in criminal case is a vital and valuable piece of evidence though may not be substantive piece of evidence.
"If there is a delay in lodging the FIR, it looses [sic] the advantage of spontaneity, danger creeps in of the introduction of coloured version, exaggerated account or concocted story as a result of large number of consultations/deliberations.
"So far, as reason to delay in lodging the FIR is concerned, the complainant stated in the report itself that she consulted with her friends regarding lodging of report but they told her that applicant is a big actor and her all companies were already shut, therefore no one would believe her story, hence she did not file complaint against the applicant.
"Thus, nothing on record to show that applicant has given any threat or made any promise for not lodging the report."
---
Also read: Veteran actor Alok Nath accused of rape by writer-producer Vinta Nanda
---
Nath's contention as recorded by court
"The complainant and his wife named Ashu were inseparable college friends in the early 1980[s] in Chandigarh.
"Complainant came to Mumbai and found herself a job. She then invited Ashu to Mumbai to stay with her. Complainant started job in the production unit of a TV serial of Door Darshan, called as Titaliyan. Ashu too was given a job in the production office (sic).
"They both met him [the applicant] on the sets of a TV serial known as Titaliyan in mid 1980[s]. And a fast friendship developed between the three of them. He proposed to Ashu for marry in 1987 and two got married. "Complainant soon found herself to be secluded as she had lost her best friend. Perhaps the complainant's allegation against him are inspired by the unrequited and unreciprocated love and affection that she had for him.
"No custodial interrogation is warranted, no recoveries are to be recovered by the prosecution at the instance of him. He is innocent. He has a family to support including children and a wife. Hence, he prayed to grant anticipatory bail to him"
Prosecution's contention 
"Prosecution strongly opposed this application on the ground that the applicant is actively involved in this crime.
"If the applicant released on anticipatory bail, there is every possibility of giving threat to the complainant and witnesses. If the anticipatory bail is granted to accused, he may not be co­operate in the investigation… there is every possibility of creating hurdle in the investigation."
Nanda's submission
"…After coming to know about the report, the applicant (Nath) has been hiding in rabbit hole and never appeared before any authority. He has been absconding since then.
"Being ultra modern and having alcohol does not give right/licence to applicant to rape and brutalise."
---
Also read: In #MeToo era, this colonial-era law also needs to be junked
---
Get the PrintEssential to make sense of the day's key developments.