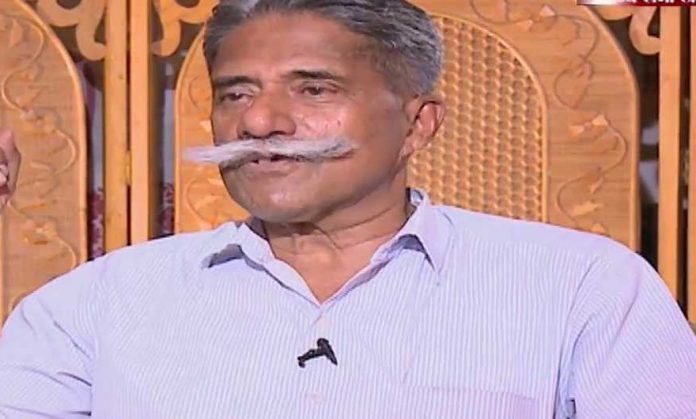 Text Size:
E.N. Rammohan was popular for his handlebar moustache, discipline, leadership skills, and a no-nonsense attitude that took him far in the police establishment.
New Delhi: E.N. Rammohan, a celebrated IPS officer and former director general of the Border Security Force, passed away early Sunday morning at the capital's All India Institute of Medical Sciences at the age of 77.
Rammohan, a 1965 batch IPS officer of the Assam-Meghalaya cadre, was admitted to AIIMS after an accident at home that fractured his ribs. He was also suffering from prostate cancer.
Rammohan belonged to Kerala and finished his school education from the Madras Christian College Higher Secondary School in what is now Chennai.
Career
Known for his handlebar mustache, discipline and leadership skills, Rammohan was appointed head of a fact-finding probe panel by the home ministry to look into the lapses that took place during the 2010 Naxal ambush in Chhattisgarh, in which 76 security were killed.
Rammohan earlier served as the Superintendent of Police (SP) in the East Khasi Hills district of Meghalaya, and apart from serving in the Assam Police, had stints in various central armed police forces, including the Central Reserve Police Force, the National Security Guard and the Indo-Tibetan Border Police, earning experience of fighting insurgency in Assam as well as Nagaland.
He headed the BSF between December 1997 and November 2000.
Supporter of tribal land rights
Rammohan was a strong proponent of the 5th Schedule for tribal rights, and believed that the denial of land rights was what was fueling insurgency.
"He always maintained that empowerment of tribals was a necessary step, or else attacks on the forces would continue. He used to say that the tribals were helpless; they had been evicted from hundreds of acres of land and their empowerment was a necessary step," said Chandrashekhar Bhattacharyya of Delhi Defence Review, a close friend of Rammohan.
"He was always in his army combat boots, a crew cut, and maintained his famous handlebar moustache well. Rammohan was a man of simple taste, deep conviction and moral courage," Bhattacharyya said. "He never interacted with many people. During his postings, influential persons called and made requests for many things, but he never entertained any of those and always turned them down."
During his tenure as the SP of East Khasi Hills district in Meghalaya, he was widely appreciated by the locals for his goodwill.
A stoic, no-nonsense cop
Rammohan wanted to join the armed forces but his parents refused, as he was their only son. He then sat for the civil services examination and became an IPS officer.
Later in life, he encouraged his son to join the forces, and ultimately lost him in a Cheetah helicopter crash during an operation in August 2008. "He lost his son to the nation. During that time as well, he remained stoic and took it bravely," Bhattacharyya said.
"He was a complete no-nonsense cop who never minced his words. He often referred to politicians as 'monkeys'."
Check out My543, our comprehensive report card of all Lok Sabha MPs.