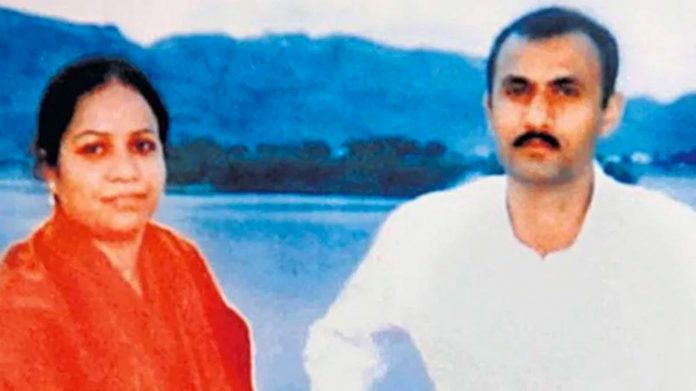 Text Size:
Inspector Abdul Rehman alleges 'assumptions' have been made in the CBI probe, while cop accused of killing Tulsiram Prajapati pleads self-defence.
Mumbai: During final arguments in the controversial Sohrabuddin Sheikh and Tulsiram Prajapati fake encounter case in a special CBI court, the police officer facing trial for allegedly shooting Sheikh said the whole case was based on "conjectures and assumptions", while the officer charged with killing Prajapati said he did so in self-defence.
The case for Abdul Rehman
According to the CBI, which took over the investigation in 2010, Abdul Rehman, a Rajasthan Police inspector, was the officer who fired at Sheikh, and later filed a complaint based on which an FIR was registered. Rehman has denied both allegations.
"It was the duty of the prosecution to find out where the report was prepared. So many persons were accused, arrested, interrogated and teams were formed. Was it difficult to find out who dictated, typed and signed the report?" Rehman's lawyer, Wahab Khan, told the special CBI court hearing the case in Mumbai during Tuesday's final arguments. He added that no handwriting sample was taken either.
"Surmises, conjectures, presumption, assumptions. This is not the way an investigation should be done," Khan said.
Rehman last week gave a statement to the trial court that he did not file any FIR and that he was pressurised by many persons to say the FIR was genuine and filed by him. The FIR said Sheikh was an operative of the Lashkar-e-Taiba who planned to assassinate a key political leader in Gujarat, which helped the police justify the encounter.
Rehman's counsel also said the investigation has not been able to establish which weapon the empty cartridges and the bullets that were found came from.
---
Also read: Court asks why Sohrabuddin probe was silent on Tulsiram Prajapati till CBI took over
---
The case for Ashish Pandya
Meanwhile, Rajesh Bindra, lawyer for Ashish Pandya, accused by the CBI of shooting at and killing Prajapati, said the act was in self-defence and the encounter was genuine.
He said Prajapati attacked twice, after which Pandya, a sub-inspector with the Gujarat Police, fired at him and took him to the hospital. Prajapati died at the hospital while Pandya was being checked for a firearm injury on his left arm sustained during the alleged fake encounter.
Moreover, Bindra said there were three bullet wounds on Prajapati's body and it has not been established if the bullet that killed Prajapati was fired by Pandya. Bindra also argued that there was evidence to suggest that Pandya's injury was not self-inflicted.
According to the CBI, former Gujarat ATS chief D.G. Vanzara asked IPS officer Vipul Aggarwal to summon Pandya, who was on leave, to carry out Prajapati's fake encounter. The CBI said Aggarwal destroyed Pandya's leave record.
Judge S.J. Sharma raised questions about whether there was evidence to show that the alleged conversation raised malafide intentions, and whether any call data records were collected to support this.
Bindra said there was no evidence of any meeting to show that the accused was part of a conspiracy to kill Prajapati.
---
Also read: Judge says Sohrabuddin case has unexplained gaps, CBI asks court not to discard testimonials
---
A significant case
According to the CBI, the Gujarat and Rajasthan police allegedly abducted Sheikh and his wife Kausarbi along with Sheikh's associate Prajapati when they were traveling in a bus from Hyderabad to Sangli in Maharashtra. Sheikh was allegedly killed in a fake encounter on 26 November 2005, and a few days later, Kausarbi too was allegedly killed in the same manner and her body was burnt on a riverbank in Gujarat's Illol village.
Prajapati was shown to have been arrested in Rajasthan, and was allegedly also killed in a fake encounter in December 2006.
Senior politicians such as BJP president Amit Shah and then Rajasthan home minister Gulab Chand Kataria, and IPS officers such as Dinesh M.N., Vanzara and Rajkumar Pandian were named as conspirators in the case, but were later discharged.
Of the original 38 accused, 16 have been discharged, while 22, mostly low-rung police officers, are facing trial.
Get the PrintEssential to make sense of the day's key developments.