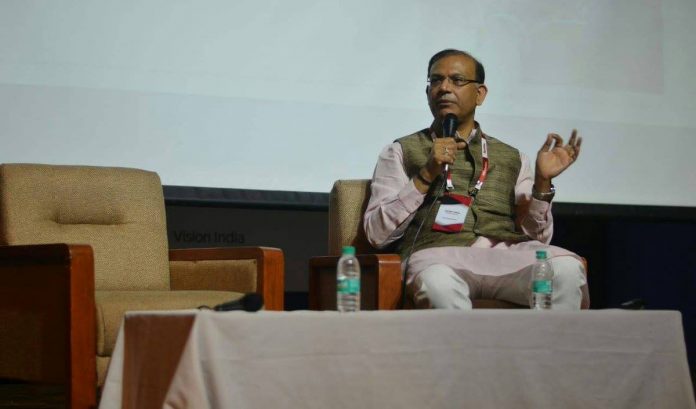 Text Size:
Says some private players are in crisis due to the dynamics of the airlines sector
New Delhi: The airline industry is booming but whether a particular airline is doing well depends on industry dynamics and the airlines' strategy, Civil Aviation Minister Jayant Sinha said.
Speaking at ThePrint's Off The Cuff event Friday, Sinha also said that rising fuel prices will not affect the sector.  "Most of the aviation turbine fuel (ATF) is domestic and very less of it is imported. Import duty will not make a difference to ATF prices as far as India is concerned. The airline business overall is booming," he said.
---
Also read: Air India debacle shows Modi doesn't get business
---
On some private airlines being in crisis, Sinha said it was a result of the industry's dynamics, wherein higher input costs were not being passed on to consumers.
"What is happening is that we have a lot of competition in the airline industry and therefore, an increase in input prices is not necessarily flowing through as higher prices to consumers," Sinha said.  "That's because of various comparative strategies, airlines are following. One would expect that the prices to consumers would rise but that has not been the case because of competitive actions that airlines have taken".
'Efforts on to make Air India a global airline'
The aviation minister further spoke on the efforts that the ministry, he said, was putting in to strengthen Air India and to make it more competitive, vibrant and a global airline.
"The good news is that in the last three to four years when you look at the operating parameters of Air India or its operating benchmarks, they have improved dramatically because of all the actions we have undertaken and have actually reached the level of most of its peers," Sinha said. "So, in terms of operating benchmarks, they are doing fine".
He said that Air India has had to contend with three crippling burdens of the past.
The first, he said, was the merger of Air India and Indian Airlines, which, according to him, was never handled properly. Secondly, he blamed a massive order of planes, which Air India was not equipped to handle.
The third problem, Sinha mentioned, was that of certain arrangements put in place with respect to international flights, which he said crippled AI.
"So when we inherited AI in 2014, it was deeply wounded because of these three problems. Despite it, we have nursed it back to a situation where its operating benchmarks are more competitive than its peers and obviously we are working hard so that it can be competitive going forward," Sinha said.
On privatisation of the government carrier, Sinha said the ministry had made an honest attempt and presented a fair offer of sale of AI but unfortunately industry conditions had changed by the time it was up for sale.
He said it took about a year and 18 months to prepare AI for sale, which involved separating core and non-core assets, working with subsidiaries, dealing with balance sheets among others.
By the time AI went up for sale, the situation was such that fuel prices had dramatically risen and the rupee had started to weaken, Sinha said.
He added that under such circumstances, likely bidders made a considerate business decision to not to take on Air India when industry conditions were going negative so quickly.
"They (likely bidders) were sensible about it. Obviously because of a weak rupee and higher fuel prices," he said. "All airlines are dealing with adverse pressures, so under the circumstances, to expect the privatisation to go through, I think was a tough call. We had to do what we did".
Sinha said that the ministry was now working on a "revival plan for Air India".
"We have got four elements, which we are working on.  Once the industry conditions improve, we will revisit all the decisions we have made," he said.
'Boeing 777 was a random incident'
The minister also said that the incident involving an Air India Boeing 777-300, which landed safely in New York after major equipment failure, was a random incident and did not indicate any systemic failure.
---
Also read: MPs think India's private airlines are evil and it's hilarious
---
"One important point to make is that nothing was systemic there… Some systemic incidents do take place even though the airline is the safest form of transportation, but this one was much more a random event than systemic," Sinha said.
"There were certain malfunctions on the aircraft and the information from the DGCA so far, is that it has nothing to do with the maintenance or repair systems of Air India," the minister said. "AI pilots are also second to none. They are very experienced, particularly when it comes to long-haul flying. They did the right things."     
Get the PrintEssential to make sense of the day's key developments.