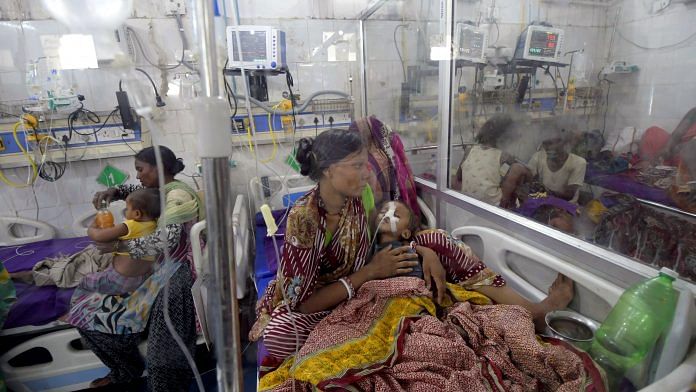 Text Size:
Muzaffarpur: Vishal Nath is tired of all the litchi hate coming his way.
As the director of the National Research Centre on Litchi, which falls under the Indian Council of Agricultural Research (ICAR), Nath worries that systematic disinformation being spread about the summer fruit will result in falling demand, paranoid farmers and people being deprived of the fruit's beneficial vitamins and minerals.
"They're shooting in the dark," he tells ThePrint, speaking of media headlines, research papers and professional medical opinions linking the consumption of litchis to the recent deaths of over 100 children from Acute Encephalitis Syndrome (AES) in Muzaffarpur, Bihar.
"People have been growing litchis for the past 200 years and eating them for a long time. Now that these deaths have increased in the last 4-5 years in Muzaffarpur, they're looking to form a link," he says.
The exact cause of AES — a neurological disorder characterised by the acute onset of fever and headache, that can escalate to seizures, fits, mental disorientation, delirium, loss of consciousness and even coma — still remains largely unknown. Muzaffarpur, the hotbed of the condition, is also known as India's 'Land of Litchis', providing researchers with the perfect opportunity to test links between the two.
As of today, 'lychee killer fruit' is a predictive search suggestion on Google, as headlines like 'How eating lychees is causing killer brain disease in Muzaffarpur's kids', and 'Killer fruit? Lychee cause of mysterious disease that plagued Indian town', flood both national and international media.
According to a government statement in 2017, roughly 300,000 metric tonnes of litchi was being produced from 32,000 hectares of cultivated land in Bihar, making it India's top producer. Muzaffarpur, in particular, contributes to the majority of this production. In the summer, its green fields are dotted with the ripe-red fruits, and the harvest provides employment to a significant number of locals in the area.
The seemingly innocent fruit has split the medical community in half, with each side choosing to cite opposing research to substantiate their case.
What's in a litchi?
Toxins
In 2016, Dr T. Jacob John, the professor of virology and paediatrics at Christian Medical College in Vellore, and Dr Arun Shah, current president of the Bihar state unit of the Indian Academy of Paediatrics, along with two other doctors, carried out an investigation to solve a doubt that was plaguing their minds.
"Factors that contribute to the development of AES — such as malnutrition, heat, humidity, poverty, ignorance, and low levels of sanitation — aren't specific to Muzaffarpur alone, they exist across other parts of Bihar as well," Arun Shah tells ThePrint. "So there has to be something else."
Together, the two researchers ruled out a virus origin of the disorder because, Shah says, the symptoms didn't present themselves in a manner that suggested it, and repeated tests indicated the absence of all virus-based conditions.
The litchi factor remained, and their toxicology colleague, Dr Mukul Das, found that the fruit contains toxins hypoglycin A and MCPG (Methylene-cyclopropylglycine), that in simple words, cause hypoglycaemia (low blood sugar levels) and "a sequence of events that disturbed the metabolic process and prevents the breakdown of glycogen in the body", says Shah.
It was discovered that children of poorer households, whose parents work in litchi orchards and need to be awake at the designated time of 4 am for the harvest, often go to sleep without dinner. This means that stray litchi, picked up from the fields, was probably their last meal of the day.
AES strikes in the morning, giving the toxins in the litchi fruit enough time to considerably lower a malnourished child's already low blood sugar levels.
The result is "hypoglycaemic encephalopathy, a biochemical disease", and not viral encephalitis as is commonly understood, John argued in an article in The Hindu.
"All it would have taken was to ensure that the children had a meal at night," he wrote.
A study conducted by the National Centre for Disease Control (NCDC), New Delhi and the Center for Disease Control (CDC), Atlanta (USA), also made similar claims in 2014.
---
Also read: Akshaya Patra's midday meal runs into yet another controversy over missing onion & garlic
---
Nothing at all
But even science has two sides, seemingly.
Gopal Shankar Sahni, the head of the paediatrics department at Sri Krishna Medical College and Hospital (SKMCH) where over 312 patients with AES are admitted, disregards the litchi theory completely.
"In 2014, there were 700 cases reported, and from 2015-2018 there were only 30-40 cases. So it's worth examining, did children stop eating litchis in these four years?" he asks.
The litchi season, he adds, starts roughly around mid-May and finishes quickly by the second week of June — "so while litchis are finishing, the cases are increasing, which does not correlate", he says. While hypoglycaemia was found in almost all child patients admitted to SKMCH, "it's not the only symptom we found".
"There was also reduced sodium and potassium, which litchis wouldn't have caused. Also, the toxins being spoken about cause heavy vomiting, a symptom not common among many patients here."
Further, 24 of the patients admitted at SKMCH were under one year of age, and six were under 11 months, prompting Vishal Nath to ask — "how many litchis could a 6-month child have eaten?"
A sweet cover-up
Nath says that he has received calls from farmers as far as Himachal Pradesh and Punjab asking "if it's okay to let our children eat litchis", after media reports made the rounds.
"It's a matter that's hampering our national economy," he exclaims over the phone.
The paranoia has also reached Patna, where litchi vendor Mohammad Vakil blames the media for "spreading rumours about the fruit".
Even his peer Mohammad Salman says that while his sales haven't reduced, he has decreased litchi consumption in his own home. "You have to be cautious," he says.
"These litchis are perfect," Vakil interjects, adding that "people in Patna are also consuming these litchis, which come from various districts in Bihar like Vaishali, Champaran, Sitamarhi and Darbhanga, so why aren't they dying?"
The question is a good one, and either side of the medical argument address it through a common point of concern — malnourishment.
All doctors agree that poor living conditions, low immunity and undernourishment are significant factors behind the onset of AES. Even the advocators of the litchi theory state that the toxins in the fruit are "merely a triggering factor for malnourished children already predisposed to it".
So, even if litchis can prove fatal, it's only if you happen to be an undernourished child under the age of 15.
"They should be focusing on welfare, awareness campaigns, sanitation and health," Nath says. "The litchi is an easy scapegoat for a larger problem of malnourishment in Bihar."
---
Also read: Indian children are schooling, not learning. Modi govt must fix it with national edu policy
---
Subscribe to our channels on YouTube & Telegram
Why news media is in crisis & How you can fix it
India needs free, fair, non-hyphenated and questioning journalism even more as it faces multiple crises.
But the news media is in a crisis of its own. There have been brutal layoffs and pay-cuts. The best of journalism is shrinking, yielding to crude prime-time spectacle.
ThePrint has the finest young reporters, columnists and editors working for it. Sustaining journalism of this quality needs smart and thinking people like you to pay for it. Whether you live in India or overseas, you can do it here.