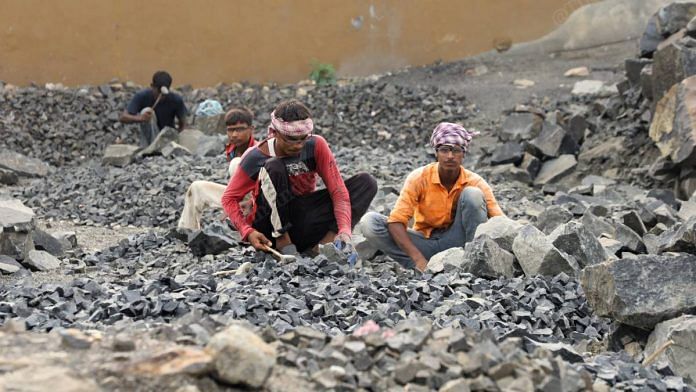 Text Size:
Deocha-Pachami (Birbhum): For most people, the idea of working 12 hours in a black stone mine, breaking a tonne of stones with a small hand-held hammer would seem like a torture. But for residents of Deocha-Pachami — villages in the tribal, mining belt in the Mohammad Bazar area of Birbhum — the Rs 140 a day that they would earn after this backbreaking labour is now nothing short of a boon.
Ever since the Covid lockdown in the state brought about a partial shutdown in the unregulated stone quarries that are the best-known feature of this area, near the Bengal-Jharkhand border — 60-70 km from Dumka and Pakur in Jharkhand — livelihoods have been badly impacted. The state government's promised ration is also unavailable in these villages with forests on all sides, forcing residents to rely on the two community kitchens set up by a social welfare organisation — even if that means walking 5-6 km every day for many.
Mohammad Bazar and the neighbouring Rampurhat blocks in Birbhum also see a heavy influx of migrant labourers from Jharkhand, who work in the stone mines. With the partial shutdown in the quarries in the past one month, thousands of migrants have been left stranded, while local tribal villagers have no means of subsistence.
District Magistrate Bidhan Ray, however, claimed that the administration has been trying to ensure uninterrupted supply of ration in the area at the local public distribution system (PDS) shops and he has not received any complaint of unavailability of ration. The "ration at your door" scheme, the pre-election announcement made by Chief Minister Mamata Banerjee, is still in a pilot stage in the state.
Many stone mine labourers already suffer from silicosis (a form of lung disease caused by inhalation of crystalline silica dust). Now, Covid is a further threat, aggravated by the similar symptoms that include chronic-nagging cough, shortness of breath, weakness and fatigue, fever, breathing difficulty and weight loss. Unlike Covid, however, silicosis is not contagious.
Birbhum Chief Medical Officer Himadri Kumar Ari admitted that the combination of silicosis and Covid would be deadlier than any other lung disease.
But poor health infrastructure and the tribal villagers' reluctance to visit the government testing facility at Suri, 30 km from their villages, mean often residents don't even know what ails them.
"Earlier, our medical team used to visit the mine areas once in two weeks for regular check-ups and X-rays. But with the Covid surge, those visits have stopped. There is a primary health centre at Mohammad Bazar, where X-rays can be done. But for Covid tests, Suri district hospital is the designated place," he told The Print.
Ari said migrant labourers and tribal villagers are averse to the idea of going to hospitals. "There is a huge vaccine hesitancy there too. We have already vaccinated 7 lakh people in Bolpur and Suri subdivisions, but our numbers in the stone quarry belt are very low."
While there is no specific Covid data from the villages, local residents said over 10 people have died in the past three weeks. According to the official bulletin, Birbhum district had reported 261 deaths as of 6 June and its active case count is 371, with 90 new cases in the past 24 hours. Officials said there has been around 30,000 cases and 184 deaths during the second wave.
Ray, meanwhile, termed silicosis an "occupational hazard" for the stone mine labourers and said the administration will start a 'door to door' vaccination programme for Covid in the area soon.
According to a senior union leader of stone-mines workers, who did not wish to be named, the area has around 60 big are nearly 800 small quarries, using over a 1,000 stone crushers.
"The government has only half a dozen big mines registered with them, the rest are illegal and unregulated. Many of these workers do not exist on government rolls. Most of them are migrants and come from Jharkhand's Pakur. There is a high chance of infection, and labourers here suffer from similar symptoms of silicosis, which are exactly like Covid," he added.
The district magistrate, however, told ThePrint that the administration has held meetings in the past few days, and they will conduct an inquiry to check illegal mining in the area. "All stone mines which will fail to furnish required documents will be closed down. We will not allow the illegal quarries to operate."
---
Also read: Bengal woman whose mother was branded 'witch' now helps save same villagers with O2 delivery
---
What's in a cough
"Khansi toh hoti rehti hain, bukhar bhi aa jata hain, saans phool jata hain, kutch log mar gaye hain, kuch log zinda hain. Hamare yahan sabko hota hai. Yeh corona nahi hain (We keep coughing, having fever and breathing difficulties. Some survived, some died. These happen to many of us. This is not corona)," said 26-year-old Zafar Sheikh, who has been working in the mines for the past five years.
When he was asked if he ever thought of testing for Covid, he said: "It (the hospital) is at least 30 km from here. How would I go? I do not even have a cycle." Zafar is from Pakur. He returned to work in Deocha-Pachami in February.
Cough, breathing difficulties and high fever are common among the workers in the stone quarries. None of the workers wears masks or follow hand sanitisation guidelines, because there is no such regulation at the quarries where they work.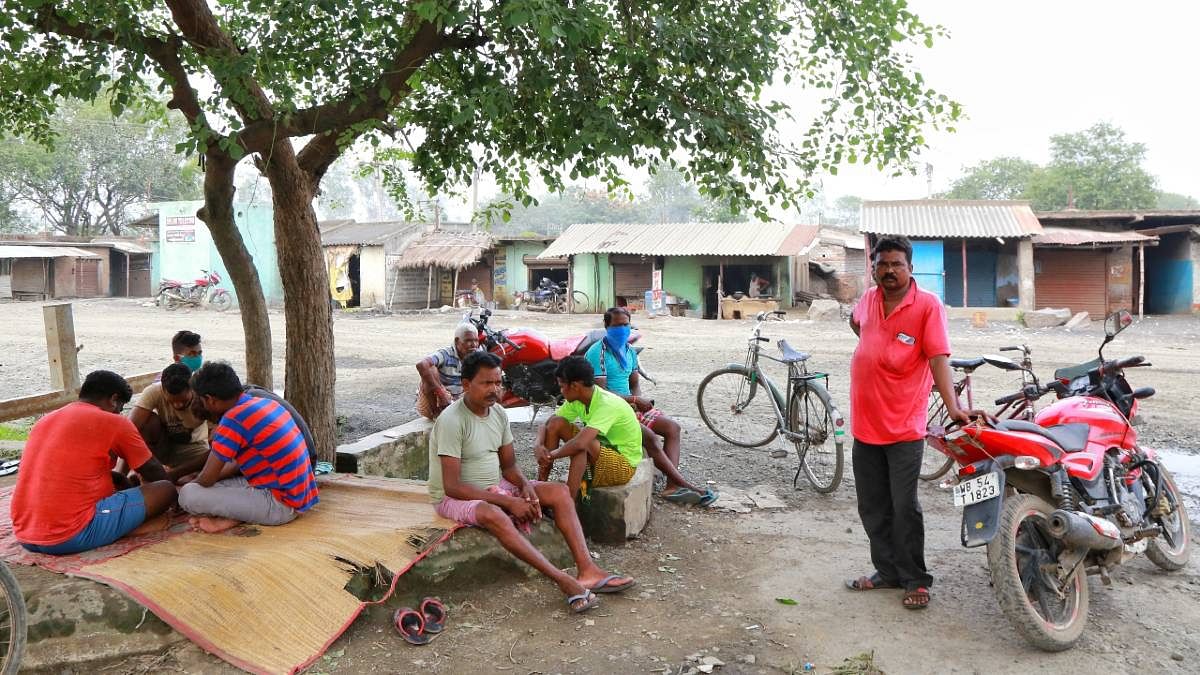 Badrul Sheikh, a 35-year-old resident of Kasba village in Mohammad Bazar, said: "10-12 people have died here in the past three weeks. No one bothers. People keep dying here. Before the pandemic, the government's medical team used to visit here occasionally for health check-ups. They have stopped coming since last year's lockdown."
Arpan Chakraborty, a senior pulmonologist, told ThePrint that if there have been reports of deaths, they were probably caused by Covid, as silicosis does not result in deaths so quickly. "If villagers are claiming that there have been deaths in the past two months, the killer is Covid. Silicosis-Covid combination creates a disaster for the human body. In the second wave, there was no place where Covid infection did not reach. So, there had been been infections that probably remained undetected," he said.
The district health administration, meanwhile, said it was not advisable to hold camps during the pandemic as a gathering could increase chances of infection. "We cannot gather people for health camps. It will increase the chances of Covid infection. We cannot even sensitise them now. The local administration has to spread awareness," added Ari.
Abhijit Choudhury, a veteran public health expert and member of the chief minister's Covid task force, said: "Covid and silicosis have similar symptoms, and a combination of these two diseases will bring a complicated medical condition. Both diseases cause fibrosis in lungs. We do not know if the local hospitals have got such combination cases as of now, but silicosis is a prevalent condition among the stone-mine workers."
Jaya Mitra, an author and activist who has studied silicosis, added that doctors do not mention silicosis on prescriptions, nor would they acknowledge if a worker was suffering from a combination of Covid-silicosis.
"It is because the owner of the quarry would have to bear the entire cost of treatment if any labourer suffered from silicosis. It is a rule. But the mining lobby is so strong there, that the government and political parties will do everything to protect them. To run a stone quarry, the owner needs eight clearances from different departments. But here, they just need to get one clearance from the local panchayat. It is all about money," she said.
---
Also read: This all-women Bengal team is 'smashing stereotypes', helping patients with food & medicine
---
'No ration at home and no money to buy food'
Deocha-Pachami also has the world's second-largest coal block that the Narendra Modi government allotted to Bengal in 2019. CM Mamata Banerjee, during a televised administrative meeting last month, had said the government would start the project but after consulting the villagers.
Meanwhile, with the lockdown having taken away even their difficult means of earning a livelihood from them, stone quarry workers in the area — both local residents and migrants — are left without any means to earn even two square meals a day.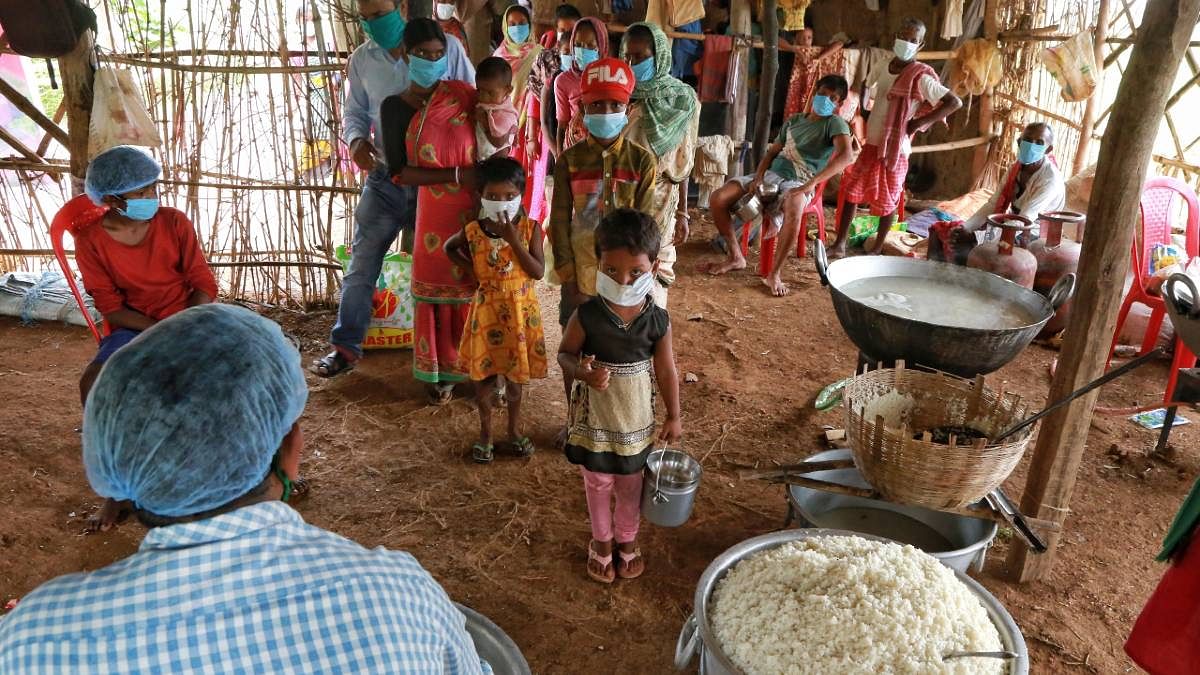 Jaiful Tudu, a 45-year-old worker of a stone quarry at Pachami, walks around 5 km every day to reach the community kitchen at another forested village, Huchukpur. The mercury often touches 40 here in summer. Neither the heat nor the distance, however, can discourage Jaiful from going to the kitchen with her tiffin boxes, because it ensures her at least one meal for her four-member family.
"I have not earned anything in the past one month. I have no ration at home and no money to buy food. I take food for my children from there,"said Jaiful, who works as a labourer in a stone mine.
The community kitchen is run by the social welfare organisation Bangla Sanskriti Mancha. They also run a small residential school for tribal children — a thatched mud-hut structure with some mats for the children, two black boards, two tables and two chairs and one teacher. To make space for the kitchen, half of the hut has been converted into a kitchen with big mud-stoves.
"We serve at least 250 to 300 villagers every day. We have similar kitchens running in another part of Deocha," said Samirul Mohammad, a professor, who runs the organisation with help of young tribal youths. "The villagers here were starving. We got to know of it two weeks back and started this kitchen two days ago, after we gathered some funds," he added.
(Edited by Poulomi Banerjee)
Subscribe to our channels on YouTube & Telegram
Why news media is in crisis & How you can fix it
India needs free, fair, non-hyphenated and questioning journalism even more as it faces multiple crises.
But the news media is in a crisis of its own. There have been brutal layoffs and pay-cuts. The best of journalism is shrinking, yielding to crude prime-time spectacle.
ThePrint has the finest young reporters, columnists and editors working for it. Sustaining journalism of this quality needs smart and thinking people like you to pay for it. Whether you live in India or overseas, you can do it here.