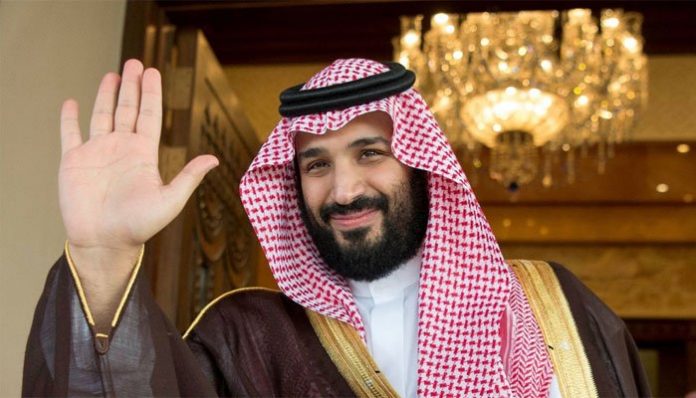 Text Size:
The anti-corruption drive, referred to as 'shock therapy', was launched by Crown Prince Mohammad Bin Salman in November 2017.
Corruption 'shock therapy' earns Saudi Arabia over $106 billion
A major corruption crackdown in Saudi Arabia has come to an end after almost 15 months. Reports emerged that a royal court Wednesday recovered over $106 billion through settlements with droves of senior princes, ministers and businessmen.
The anti-corruption drive, referred to as "shock therapy", was launched by Crown Prince Mohammad Bin Salman in November 2017.
The royal court, in its statement, said that of the 381 people summoned, 87 confessed to charges levelled against them.
Real estate, companies and cash, among other assets, were confiscated as part of the settlements reached with these 87.
The cases of 56 people, however, were not settled due to existing charges against them.
Eight people who refused to settle have been sent to public prosecution on charges of corruption.
Detainees who were not formally charged were freed, but it is not clear yet if travel bans, bank account freezes and electronic monitoring have been lifted.
When the crackdown began in November 2017, several business and political elites were kept detained in luxury hotel Ritz-Carlton during the first three months of the campaign.
The Crown Prince's cousin and billionaire investor Prince Alwaleed bin Talal, National Guard minister Prince Miteb bin Abdullah and former Riyadh governor Prince Turki bin Abdullah were among the high-profile detainees.
While Miteb was let off after agreeing to pay over $1 billion, Alwaleed got away after a "confirmed understanding" with the government.
There have been no reports about Turki.
Citing a report by Financial Times, a 2017 report in The Guardian said the Saudi establishment demanded 70 per cent of the individuals' wealth in exchange for freedom.
The report added: "If settlements are agreed, hundreds of billions of dollars would be diverted into the country's depleted coffers. Saudi Arabia recorded a budget deficit of $79 billion last year and low oil prices have pushed the country into a recession."
However, it's unclear as to how much of the recovered amount actually landed up in state coffers.
Reports say the abrupt clampdown on the kingdom's elites sent shockwaves, including to foreign investors. But the government is now keen to overhaul its economy.
Senior officials from the kingdom travelled to Davos for the World Economic Forum annual meet this month to tell the international community that Saudi Arabia wants to welcome foreign investors.
This signal was reiterated Monday when the Crown Prince disclosed a 10-year $427 billion industrial plan, as energy minister Khalid al-Falih called on international private sector companies to be a part of their "development journey".
Further reading:
Saudi Gazette report Saudi Arabia's fight against graft succeeds; Arabs want to replicate it
Bloomberg report Saudi Arabia Struck Gold With Corruption Crackdown
E-cigarettes a better bet to help in quitting smoking, says new study
If you are a smoker trying to kick the butt, start with e-cigarettes.
A new study has found e-cigarettes to be twice as effective as nicotine patches and chewing gums.
The 886 participants in the study were randomly given alternatives for smoking, like e-cigarettes, gum, nasal spray, lozenges and nicotine patches. The study revealed that 18 per cent of e-cigarette smokers were able to quit smoking after a year while only 9.9 per cent of people relying on patches, gum and other similar devices were able to abstain.
Both these groups of people were given similar behavioural support by the group of researchers.
The study was led by Queen Mary University of London and published in the New England Journal of Medicine.
Long term effects of e-cigarettes are unclear as of today, but high levels of nicotine in the pod are an area of concern for many.
The British Heart Foundation said the vapour from e-cigarettes can include carcinogens and irritants.
Regulators in the US, Britain and elsewhere have not yet approved of e-cigarettes as smoking-cessation tools. Due to lack of enough research, health experts are also reluctant to recommend their usage.
However, the new study may mean better business for e-cigarette producers like US-based Juul. The products' trendy looks, ease of use and multiple flavours made them popular among US teenagers — sales jumped from 2.2 million in 2016 to 16.2 million in 2017.
Juul has been under fire from the US Food and Drug Association for spreading "an epidemic of vaping among teenagers". But the new study may give companies like it legitimacy.
After gaining popularity in the West, Juul has now set its eyes on India, as part of a broader Asia strategy, with a planned year-end launch. The company has hired Uber India executive Rachit Rajan as a senior policy strategist and Mastercard executive Rohan Mishra as head of government relations.
Tobacco firm Philip Morris is also planning to launch its heat-not-burn device in India.
India has 106 million adult smokers.
Further Reading:
2.Vaping may help some people quit cigarettes, but what about the nicotine?
Check out My543, our comprehensive report card of all Lok Sabha MPs.