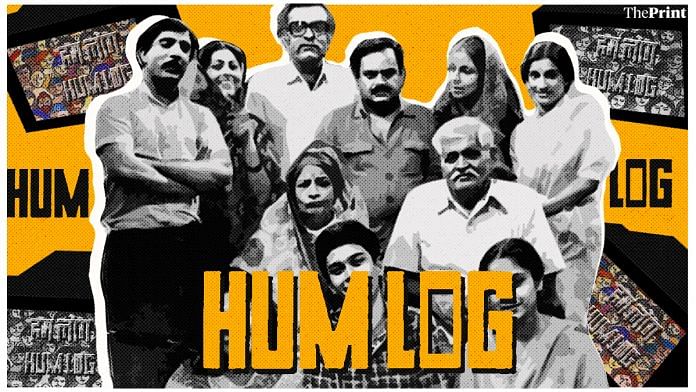 Text Size:
New Delhi: As traditional TV sets get replaced by laptop screens or smart TVs that are compatible with the endless streaming platforms at our disposal, and watching or listening is no longer a stationary activity but also an on-the-go exercise, an immense amount of imagination is needed for a generation like ours to imagine the Doordarshan era.
DD, the public service broadcaster founded by the Government of India, was the sole source of entertainment for generations from the 1960s to the 1990s. But amid the array of documentaries and public service programmes that aired on the network, one show that came to define family time was the 1984 drama Hum Log (We The People), which aired its last episode almost exactly 34 years ago.
Billed as India's first soap opera, the show aired once a week — a day when streets would be deserted and families and friends would group together to catch the latest episode on their or their neighbour's TV.
At a time when visual content is as easily created as it is consumed on platforms like YouTube or TikTok, it is hard to conceive of a time when a singular show could capture an entire nation's attention for so long — without promotional gimmicks, advertising, and with simply good writing and lots of heart.
Conceived by writer Manohar Shyam Joshi and director Vasudev Kumar,  the show was an unprecedented success and ran for over 17 months — an astounding feat for the time.
The series explored the lives of a middle-class family of eight with varying personality quirks, desires, insecurities and frustrations, all crammed under one pokey roof.
Loveleen Mishra (Chhutki), the youngest cast member who was only 15 at the time, tells ThePrint how initially the showrunners promised the show would last 13 episodes, but it eventually became 26, then 52, 90 and finally ran upto 159 episodes. And the cast received an outpouring of love and adulation from across the country. Mostly theatre actors from Delhi, they became huge stars, with actor Rajesh Puri saying they were often mobbed when seen at events and "were treated like kings by the public".
But at a time when DD was largely importing its foreign programmes, Hum Log also marked a shift for the government-run network, as it followed a foreign model — the Mexican 'Sabido technique' of combining entertainment and education — adapted to an Indian audience with the intention of creating a popular India-centric show with a social message.
The Mexican connection
Abhinav Chaturvedi (who acted as Nanhe) once wrote that Hum Log "represented nothing but a truly Indian lifestyle". The heart-warming family drama found resonance among audiences because the characters were so relatable — whether the precocious and talkative young Chhutki who always had her nose in her textbooks, or her older brother Lalloo who coasted through life aimlessly, but still took a shot at the civil services.
But the show was a blend of fictional narratives with subtle moral and social lessons, and this combination of education and entertainment was no accident, but a deliberate attempt of developing a new media form.
Hum Log was built around ideas introduced by Mexican director Miguel Sabido, who was behind the popular Mexican TV show Ven conmigo (1975). With Ven conmigo, Sabido pioneered a writing methodology for a drama series that combined popular culture and educational material that appealed to the working class.
In May 1983, Sabido visited India to present a five-day workshop on his model at Akashvani Bhawan, New Delhi, causing a mini-storm when he suggested that television soap operas needed to be broadcast five times a week (which is not so unconventional now) in order to achieve "desired effects".
Sabido met with then Prime Minister Indira Gandhi to convince her of the merits of his approach. She was enthusiastic in her response, and eventually, along with the help of acclaimed writer Manoharlal Shyam Joshi, the story arc, characters, and basic premise of Hum Log was created. But Indian officials asserted that there were only enough resources to broadcast a show like that once a week, which is what was eventually followed.
"In those six or eight characters you had a set of new Indian values… a different approach to caste, eliminating the idea of untouchables. This was a bold and beautiful vision of what India could be," said Sean Southey, director of PCI Media Impact, the US-based organisation that worked with Sabido on the series.
The show's episodes, which came to garner a regular viewing audience of more than 50 million, would always end with the iconic Ashok Kumar monologue of what the main takeaway of the show was — a wise public service announcement at the end of a drama serial, reminding viewers that even within the fiction there was reality.
But for Mishra — who was too young at the time to understand the significance of the collaboration with Sabido, but was cognisant of the fact that the show explored everything from patriarchy to alcoholism — Hum Log's success could be majorly attributed to its writer Manohar Shyam Joshi.
"The writing really was king. We were fortunate to have had a writer who was not only an acclaimed writer and author, but also a journalist," she tells ThePrint. "He would talk about everyone from Günter Grass to Nirala, he was so well-read. He brought to the table a really nuanced political sensibility."
Joshi was a Sahitya Akademi Award-winning author who went on to write other hit shows such as Buniyaad (1987) and Kakaji Kahin (1988).
A mirror of the times
Beyond the fact that the Hum Log was the first show of its kind, the fact that it was produced at a time when India was on the brink of many social, technological and economic changes greatly influenced the its perception and resonance.
As Mishra points out, the make-up of urban family life was swiftly changing, and the big, happy, yet complex family portrayed on screen was enjoyable for people to watch. "Joint families were breaking up at the time, but there was still sanctity in the concept. Most B-towns still had joint families, so the concept was still relatable."
She also points out that this was around the same time that the communist regime was "crumbling", and signs of privatisation were soon appearing — the NRI uncle who made an appearance in some episodes provided some hints of this.
The show also coincided with the beginnings of colour TV in India as the first few episodes were shot in black and white, until colour TV officially made its entry in India. Hum Log came to not only be the first soap opera but one of the first few colour TV shows.
Mishra fondly remembers the show for tackling issues like the flux between modern and traditional values, the colonial hangover of wanting an administrative job and the rote learning that the education system perpetuated. But the show was, perhaps, most successful in demonstrating patriarchy and the anxiety around masculinity, she points out, right from the grandfather, who was a stoic military man, to the father, who was a frustrated alcoholic, to the sons, one of whom was a good-for-nothing loafer and one who dreamed of becoming a famous cricketer.
Mumbai-based Tasneema Adarkar, a big fan of the show, also recognised early on that three girls in the show, whom she and her two sisters greatly identified with, were treated differently from the boys in the show.
"Even the mother was always bogged down with family work, She didn't have a life of her own." Adarkar recalls watching Hum Log as "religiously" then as people today binge-watch Netflix shows.
Mishra, who started off her career with Doordarshan and went on to work further in television, cinema and theatre and can now be seen on Netflix's Little Things, is of the view that a show like Hum Log cannot be replicated today.
"The show was about middle-class idealism. Now the lower middle-class is so aspirational in a materialistic way. People no longer want to watch shows about the struggles of the poor," she says, adding that shows like Amazon's Made in Heaven might be great, but they only cater to an upper middle-class audience.
"Even though the show was made for TV, the family on the show didn't even own a TV. Hum Log today would have Dadi watching videos or listening to music on her phone, it would be completely different", she says.
The fact that TV then was subsidised and sponsored by the government also meant that there was no pressure to make things commercially viable, she points out. "Now you literally have women become naagins or cobras to get TRPs. When channels do look at social issues, more often than not it's because they get tax benefits for doing so."
She feels there is still hope for good content on the web, but admits that the pan-India appeal of Hum Log is a thing of the past.
---
Also read: Idhar Udhar, the Hindi sitcom we desperately need today
---
Subscribe to our channels on YouTube & Telegram
Why news media is in crisis & How you can fix it
India needs free, fair, non-hyphenated and questioning journalism even more as it faces multiple crises.
But the news media is in a crisis of its own. There have been brutal layoffs and pay-cuts. The best of journalism is shrinking, yielding to crude prime-time spectacle.
ThePrint has the finest young reporters, columnists and editors working for it. Sustaining journalism of this quality needs smart and thinking people like you to pay for it. Whether you live in India or overseas, you can do it here.