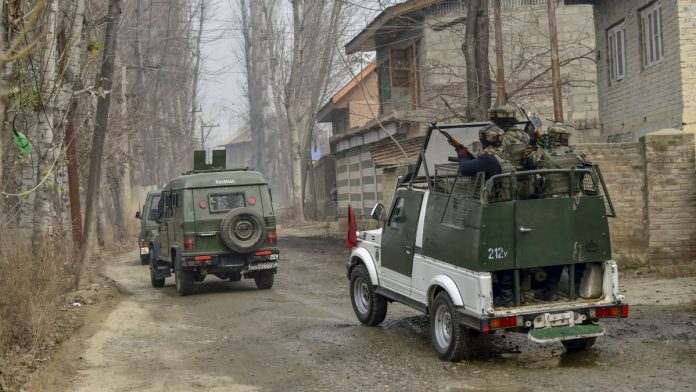 Text Size:
New Delhi: The National Investigation Agency Saturday arrested another alleged Jaish-e-Mohammed operative in connection with the terror attack on a CRPF camp in Lethpora, south Kashmir, on 30 December 2017, in which five personnel were killed.
Syed Hilal Andrabi (35), who belongs to Jammu and Kashmir's Pulwama district, has been sent to police custody for five days after being produced before a special court.
The NIA has now asked the court for Andrabi's custody to "unearth the larger conspiracy behind this attack".
"Arrested accused Syed Hilal Andrabi is an active OGW (over-ground worker) of proscribed terrorist organisation Jaish-e-Mohammad (sic). He is a key conspirator who provided logistic support in the form of sheltering the terrorists and conducting reconnaissance of the CRPF group centre, Lethpora, before the terrorist attack," NIA spokesperson Alok Mittal said.
"With the arrest of Syed Hilal Andrabi, the total number of accused arrested in this case has risen to four."
Others arrested
Andrabi's arrest comes days after Nisar Ahmed Tantray, one of the key accused in the case, was deported from the UAE after India's request. Tantray, brother of Noor Trali, believed to be a master recruiter for the Jaish, was arrested by the NIA after being deported.
The other two accused arrested are Fayaz Ahmad Magray and Manzoor Ahmad Bhat.
According to an NIA officer, Magray, also from Pulwama, was an over-ground worker of the JeM, who had allegedly provided logistical support like conducting a recce and providing shelter.
Magray was also detained under the Public Safety Act (PSA) by the Jammu and Kashmir Police in 2001, and remained under detention for 16 months.
---
Also read: Alleged Jaish-e-Mohammed terrorist arrested in Srinagar
---
The attack
At around 2 am on 30 December 2017, three terrorists threw grenades and opened fire at the training centre of the 185 Battalion of the CRPF.
An encounter followed, and after a gun battle lasting about 10 hours, the three terrorists, including the 16-year-old son of a policeman who had joined the outfit a few months before the attack, were killed.
Four CRPF personnel — Sharief-Ud-Din Ganaie, Tufail Ahmed, Rajendra Nain and P.K. Panda — were killed in the encounter, while an officer, Kuldeep Rai, who was trapped inside a building, died due to a heart attack.
The investigation identified the terrorists as Fardeen Ahmad Khanday and Manzoor Baba, both from Pulwama, and a Pakistani, Abdul Shakoor, who used to be a resident of Rawalakot area of Pakistan-occupied Kashmir.
---
Also read: Pakistan military says Jaish-e-Mohammed does not exist in their country
Get the PrintEssential to make sense of the day's key developments