New Delhi [India], February 15 (ANI/SRV): Pro360, the nutraceutical brand of GMN Group of Companies, recently launched its FemCare+ and HPHF (High Protein High Fiber) range of products aimed at bringing men and women a wide range of benefits to improve their lifestyle. Experts have curated FemCare+ the range using enriched, natural ingredients such as Black Cohosh, Evening Primrose, Soy Isoflavones, Shatavari, and Myo-Inositol among others. Similarly, the HPHF range is a scientifically formulated specialised adult nutrition supplement powder with no added sugar for faster recovery from critical illness.
Megha Swetha, CEO of GMN Healthcare, said, "We are thrilled to announce the launch of our newest range of nutraceuticals, FemCare+ and HPHF. Designed specifically for women's health and wellness, with FemCare+ our mission is to empower women to take charge of their menstrual cycle and overall reproductive health. We believe that every woman deserves to feel confident and comfortable in her own body, and we are proud to offer a solution that can help achieve that goal. At the same time, our HPHF range focuses on providing the required supplements for a speedy recovery and on improving immunity. Our commitment is to provide our customers with the best possible solutions for their health needs, and we believe that these new products will make a significant difference in their lives."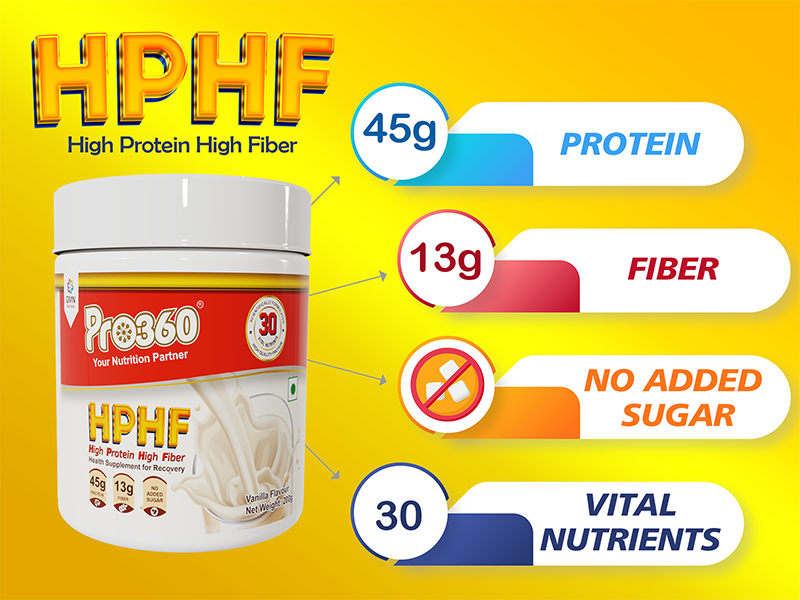 The latest FemCare+ product is effective for both premenopausal and postmenopausal women and works towards normalising ovarian functions. Further, the FemCare+ range also enhances the bones and joints to prevent osteoporosis, improve blood and menstrual cycles, and balance hormones to ease and relieve PCOD, PCOS, and PMS symptoms.
The Pro360 HPHF product is an adult supplement powder aimed at holistic nutritional care through Immuno Nutrients to improve immunity and Antioxidants to reduce oxidative stress and protect against free radical damage. Additionally, the supplement aids in muscle tissue development, wound healing, and support bowel movement and digestion.
As per the team of experts at Pro360, the FemCare+ and HPHF range of products can be consumed between major meals (one serving), as an evening or bedtime snack; or as directed by a physician/dietitian. As a testament to their quality, both ranges are available on https://www.pro360.shop along with leading marketplaces such as Amazon, Flipkart, Netmeds, 1mg, Pharmeasy and many more.
Overall, the brand prioritizes meeting the daily nutritional needs of individuals from all life stages, from pregnancy to old age. With growing awareness about health and physical appearance, there has been a renewed emphasis on the importance of protein and nutritional supplements in our daily diets. To fulfil these unmet protein needs, Pro360 has developed a range of supplements. The GMN Group of Companies, with over 20 years of experience in the pharmaceutical sector, is a well-established name.
Pro360 is poised for a bright future with its talented and growing 50-member team and impressive development trajectory. Since 2018, the Company has recorded growth of 100-150 per cent, demonstrating strong demand for its products and services. As the company looks ahead, its mission and vision of continued expansion and innovation will drive further growth and success. With its highly skilled team and unwavering dedication to excellence, Pro360 is well-positioned to make a significant impact in the industry and help people live healthier lives. The future is bright for Pro360, and the Company is eager to continue its journey of growth and success.
To know more, visit – https://www.pro360.shop
This story has been provided by SRV. ANI will not be responsible in any way for the content of this article. (ANI/SRV)