New Delhi [India], April 19 (ANI/SRV): Diversity & Inclusion should be every company's fundamental values. To build an inclusive culture, organizations must proactively approach diversity, equity, and inclusion. This includes creating policies and practices that promote diversity and inclusion and providing training, sensitisation, and education to employees.
India Diversity Forum, an independent Section 8 industry body, that advocates such awareness and brings industry leaders and D & I experts together on one platform, organised its third Annual Conclave: The 3rd Edition of India Diversity Conclave in Mumbai on April 6th, 2023.
Conceptualized by the India Diversity Forum, the Conclave was executed by Sapphire Connect – a premium B2B meeting specialist that focuses on creating knowledge-sharing and networking platforms through conferences, bespoke events, research papers, and building business communities. Hosted in Hotel Novotel, Andheri on April 6, the Conclave was attended by 35+ speakers, 550+ member companies, 250 + delegates in person, and more than 2000 virtual delegates, which included leading D & I experts and CHROs pan India with 25+ 'Diversity Partners' of IDF.
The Conclave featured the key outcomes of IDF research over the year: primary among these was the IDF D&I Survey 2023. IDF had curated the in-depth survey to help member organizations assess their current culture and identify areas for improvement. With participation from 180+ organizations, IDF screened different parameters of Diversity and Inclusion in a cross-sectional analysis. The unique knowledge-sharing survey covered a comprehensive array of questions about employees' perceptions of the organization's commitment to diversity and Inclusion, their own experiences with diversity and Inclusion in the workplace, and obstacles or challenges they may have faced.
The results of the IDF Survey Report 2023 were unveiled at the Conclave and followed by an industry panel discussion. The Survey and discussion highlighted gaps between policy and reality of D&I initiatives taken at the workplace. The Report is a ready reckoner for organizations irrespective of their stage of D&I journey: in addition to highlighting the policy gaps and the implementation lacunae in D&I policy, the survey recommendations provide a view of the road ahead (to know more about the Survey write to IDF at enquire@indiadiversityforum.org).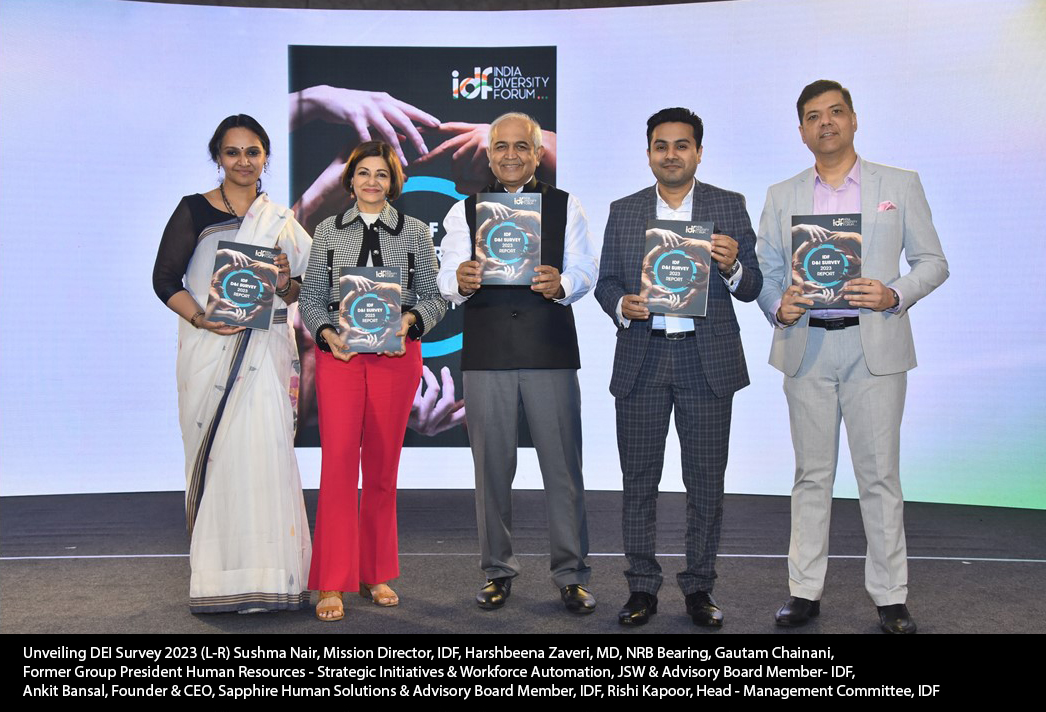 The Conclave witnessed a panel discussion around Building the Talent Pipeline: Step towards Innovation. The panel was moderated by Mansi Bansal, Associate Director, PWC India. The panel saw vibrant thoughts from Bensely Zachariah, Global Head of Human Resources, Fulcrum Digital Inc., Shagun Bhunchal, Director HR, Magic Edtech, Sonica Aron, Founder & CEO, Marching Sheep, Charu Vijayvargiya, HR Head, BigFM.
A highlight of IDC 2023 was the IDF CEO Pledge for Diversity and Inclusion. IDF launched the pledge for the first time at the 3rd India Diversity Conclave 2023. The Pledge is a commitment by CEOs to prioritize diversity, equity, and Inclusion within their organizations. The Pledge was signed by Dhananjay Tapasvi, Managing Director, Owens Corning India, Dinesh Deo, CEO, Marsh McLennan Global Services (MMGS) India, Geetika Mehta, Managing Director, Hershey India, Krishna Kanhaiya, CEO, Mirae Asset Financial Services, Supriya Rathi, Managing Director, Anand Rathi Insurance Brokers Pvt Ltd, Vipul Mathur, MD & CEO, Welspun Corp Ltd.
Participating in the CEO Conversations and taking the CEO Pledge, Supriya Rathi, Managing Director, Anand Rathi Insurance Brokers Pvt Ltd, "The central philosophy of Anand Rathi as a group and our company in particular is mutual respect for each and every person and that gets translated into everybody getting equal opportunity and then that finally gets embedded into the central ethos that flows by."
Dhananjay Tapasvi, Managing Director, Owens Corning India mentions that "The most important giveaway in DEI space is Intention and Attention and all of that is for free, what one gets is always the return out of it. Dhananjay Tapasvi, Managing Director, Owens Corning India: In Owens Corning, we believe that focus towards Diversity, Equity and Inclusion is all about bringing our entire selves to work."
India Diversity Forum aims to accelerate diversity and Inclusion in India. The annual conclave strengthened India Inc's commitment towards D&I. From top leaders to D&I experts sharing proven best practices, this Conclave was the one-stop destination for all D & I practitioners. The discussions emphasised the importance of companies taking responsibility to create and sustain an inclusive environment for all.
Shreyasi Singh, Founder & CEO, Harappa said "As a second time speaker, I am extremely glad to have been a part of the IDC 2023.Sharing insights Harappa and I feel truly passionate about, the DEIB mandate, with an equally passionate, enthusiastic & engaged audience was inspiring and heart-warming even.
Thank you to the organizers for putting together such a fantastic experience, and I look forward to future events with more meaningful conversations".
Introducing a unique concept, IDF hosted a Spotlight Session, "Tailoring the D&I strategy to maximize local impact." The session celebrated the journeys of diverse and successful professionals/entrepreneurs with inspiring stories. Ankit Bhuptani, D&I Leader & LBGTQ Rights Activist, shared his standpoint, and Wg Cdr Naresh Taneja, President CSR, Modern Road Makers Private Limited, shared his views on the same subject.
Harshbeena Zaveri, Managing Director and Vice Chairperson, NRB Bearings Limited, applauded the 2023 D&I Research Initiative. She mentioned," The 3rd Edition of India Diversity Conclave 's focus- the essence of building a workplace culture of inclusion and belonging has energized all those who participated. Voting and electing the next Industry Council Chair 2023-25 by peers to put this essence into action by the membership is a great way forward."
Rishi Kapoor, Head Management Committee, India Diversity Forum, in his opening address, welcomed the fraternity. and shared his thoughts on D&I: "Cultivating a culture of Inclusion and belonging requires ongoing effort and commitment, but the rewards are significant. Creating a workplace where everyone feels valued and respected increases employee engagement and productivity, reduces turnover, and fosters community and collaboration to drive your organization's success."
The Conclave hosted other leading speakers and CEOs such as Akshay Tyagi, Head- Diversity, Equity & Inclusion, The Lalit Suri Hospitality Group, Namita Patwari, General Manager – Hr, BlueDart Express ltd., Neetu Kashiramka, Chief Financial Officer, VIP Industries Limited, Sapna Desai, Chief Marketing Officer, ManipalCigna Health Insurance Company Ltd, Shavee Sehajpal, HR Head – India, NTT Ltd. and many more.
India Diversity Forum aims to make D & I conversations mainstream in India. To become a member or to request a copy of Best D & I Practices, IDF D&I Survey 2023, mail to enquire@indiadiversityforum.org.
This story has been provided by SRV. ANI will not be responsible in any way for the content of this article. (ANI/SRV)