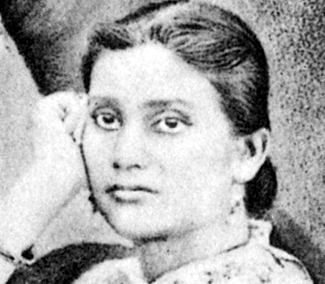 The achievements of Kadambini Ganguly, a gynaecologist, drew the attention of well-known people of the era, including Florence Nightingale and Annie Besant.
New Delhi: She may not officially be the first Indian woman trained in western medicine, but Kadambini Ganguly was a pioneer of her times who broke new ground for women in 19th century India.
Wednesday marks the 95th death anniversary of Ganguly, who, in 1882, became one of the first two Indian women to get a college degree. The other was Chandramukhi Basu. Ganguly went on to become the first Indian as well as South Asian woman to practise medicine.
Historical reports and accounts often confuse Ganguly's achievements with those of fellow groundbreaker Anandibai Joshi of the erstwhile Bombay Presidency.
However, a report in the US-based Journal of Urology sought to resolve the debate by clarifying that "Anandibai was the first Indian to acquire a western medical degree in the United States (1885)".
Ganguly, meanwhile, graduated with an arts degree in 1882 and went on to study western medicine at Calcutta Medical College, from where she graduated in 1886.
Anandibai could not practice medicine because she passed away in February 1887 of tuberculosis, within a year of her return to India after completing her degree in the US.
Who was Kadambini Ganguly?
In 1884, Ganguly was awarded a government scholarship of Rs 20 a month for women medical students. A gynaecologist, she was successful in private practice and, in 1888, was appointed to the Lady Dufferin Women's Hospital on a salary of Rs 300 per month, a princely sum in those days.
She practised at the hospital till her death in 1923, at the age of 61.
---
Also Read: As India struggles with doctor shortage, govt gives a push to nurse-led clinics
---
Three years into her career as a physician, she became the first woman to find a place on the dais at an Indian National Congress session. She also occupied several other important positions, including becoming the first chair of the Transvaal Indian Association, formed in South Africa by Mahatma Gandhi to protest against anti-Indian legislation.
Born on 18 July, 1862, Ganguly married Dwarakanath Ganguly, a prominent Brahmo Samaj leader and widower who, at 39, was 17 years her senior.
Despite being a busy mother bringing up eight children, including two stepchildren, Ganguly went to England and obtained further training from Dublin, Glasgow and Edinburgh in 1892.
"Their extremely successful relationship (marriage) was founded on mutual love, sensitivity, and intelligence," Rajib Ganguly, their great-grandson said at an event organised by Lady Dufferin hospital to commemorate her 150th birth anniversary in 2012. "Dwarkanath fully supported Kadimbini's further education."
Subject of wide praise
Ganguly's achievements drew the attention of well-known people of the era, including Florence Nightingale and Annie Besant.
Nightingale was particularly fond of her. According to a report in the Times of India, on 20 February, 1888, Nightingale wrote to an acquaintance: "Do you know or could tell me anything about…Mrs Ganguly, or give me any advice? … [she] has already passed what is called the first licentiate in medicine and surgery examinations and is to go up for the final examination in March next.
"This young lady, Mrs Ganguly, married! after she made up her mind to become a doctor! and has had one, if not two children since. But she was absent only thirteen days for her lying-in!! and did not miss, I believe, a single lecture!!" she added.
---
Also Read: How sports doctors helped Vinesh Phogat & Manjeet Singh overcome injury and win gold medals
---
Elsewhere in the letter, Nightingale wrote that she had been asked to recommend Kadambini to Lady Dufferin "for any posts about the female wards of Calcutta".
Well-known American historian David Kopf also wrote about her in his 1979 book The Brahmo Samaj and the Shaping of the Modern Indian Mind.
"Ganguli's (sic) wife, Kadambini, was appropriately enough the most accomplished and liberated Brahmo woman of her time," he wrote, "From all accounts, their relationship was most unusual in being founded on mutual love, sensitivity and intelligence…"
"Mrs Ganguli's (sic) case was hardly typical even among the more emancipated Brahmo and Christian women in contemporary Bengali society. Her ability to rise above circumstances and to realise her potential as a human being made her a prize attraction to Sadharan Brahmos dedicated ideologically to the liberation of Bengal's women," he added.
Besant wrote in her book How India Wrought For Freedom, "One of the delegates, Mrs Kadimbini Ganguly, was called on to move the vote of thanks to the chairman, the first woman who spoke from Congress platform, a symbol that India's freedom would uplift India's womanhood."