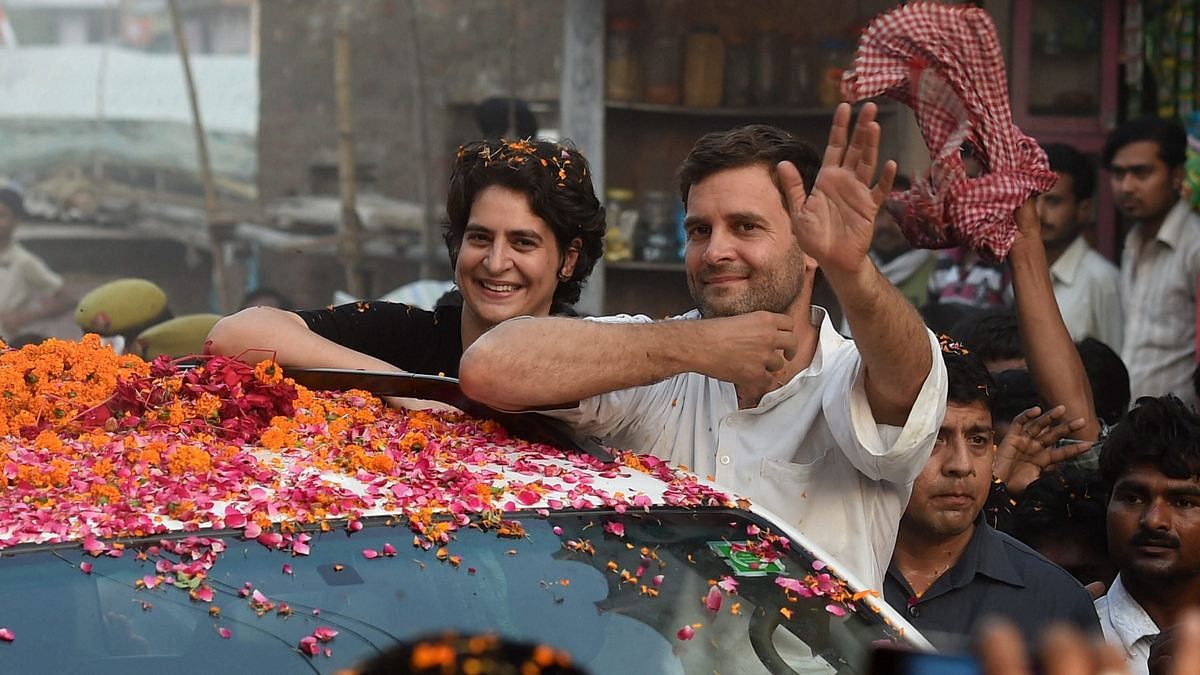 New Delhi: Rahul Gandhi is likely to take a back seat in the Congress' poll campaign in Uttar Pradesh, leaving his sister and party general secretary Priyanka Gandhi Vadra to lead the fight in a state where the SP-BSP-RLD alliance has emerged as the primary challenger to the BJP.
Most of the 300 rallies and interactions planned for the Congress president in the run up to the polls will be outside UP, party functionaries told ThePrint. Priyanka, on the other hand, is unlikely to venture much outside UP for poll rallies.
"Priyanka Gandhi Vadra and Jyotiraditya Scindia are in charge of Uttar Pradesh east and west, so they will take care of the state. They have already started campaigning," said a senior Congress functionary. "Priyanka Gandhi started it with a boat ride and will do more roadshows and rallies. The Congress president, on the other hand, will be able to concentrate on other states, though as his constituency is in UP, he will do a rally or roadshow in Amethi too."
Priyanka's three-day boat ride on the Gangafrom Prayagraj to Varanasi — the parliamentary constituency of Prime Minister Narendra Modi — is set to end today. "Her focus is to strengthen the unit not only for the Lok Sabha but the upcoming assembly elections too. She is likely to concentrate only on UP," said the functionary.
---
Also read: Priyanka Gandhi Vadra attacks PM Modi, says she is not afraid of him
---
Whom will Rahul address?
Although Rahul will cover all the states, a majority of his rallies will take place in Rajasthan, Maharashtra, Karnataka, Kerala, Gujarat, Assam, Jharkhand, Odisha, Madhya Pradesh and the Northeast, where the Congress is the principal challenger to the BJP.
In the 2018 assembly elections across the Hindi heartland states (Chhattisgarh, Rajasthan and Madhya Pradesh), Rahul had addressed 58 rallies with a decent strike rate — the Congress won 56 per cent of the constituencies he campaigned in, better than PM Modi's strike rate.
More interactions with youth
Another senior Congress leader said Rahul is likely to conduct more interactions with students and youth — the 1.5 crore first-time voters. Rahul had recently interacted with a number of students at a restaurant in Delhi under his 'Apni Baat Rahul ke Saath' initiative and held another with students from across Manipur Wednesday.
In the past, too, the Congress president has held numerous interactions with students at colleges and universities, At Stella Maris College in Chennai, he had promised 33 per cent reservation for women in government jobs. Women constitute over 48 per cent of the Indian electorate.
---
Also read: From 'anti-Modi' to 'anti-Congress', there's a shift in Lok Sabha poll theme
---