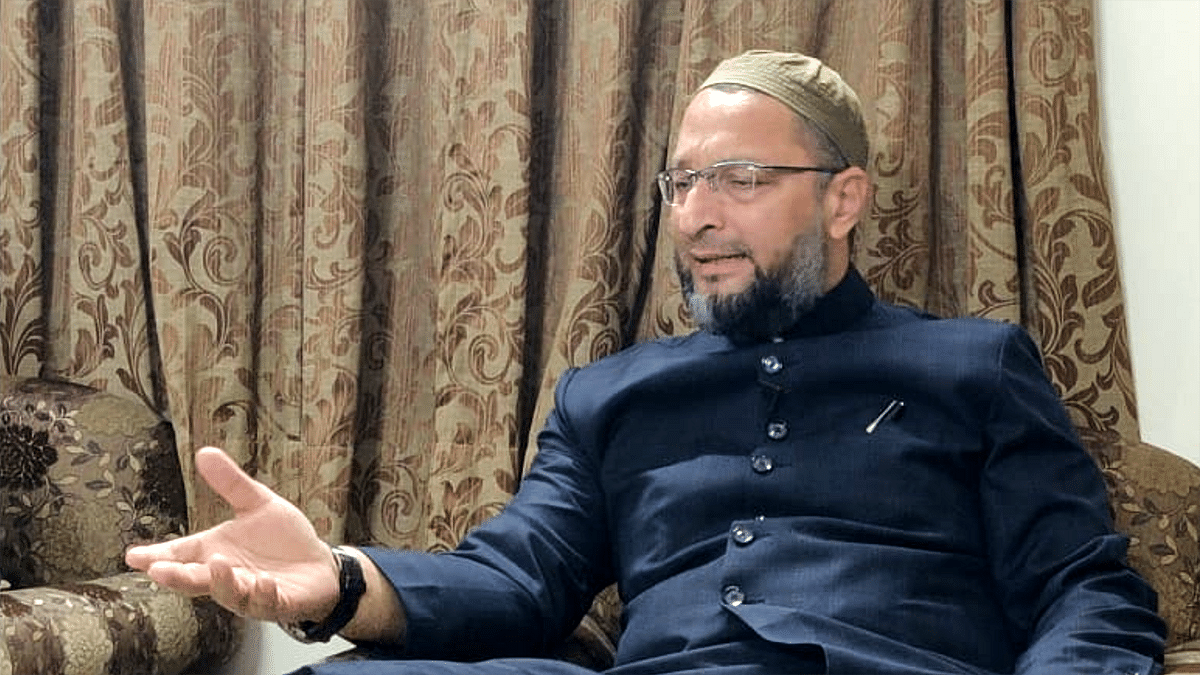 Kolkata: West Bengal Chief Minister Mamata Banerjee has been attacking the Bharatiya Janata Party (BJP) and its chief Amit Shah for quite some time, accusing them of trying to polarise her state on communal lines. She now has a new opponent — All India Majlis-e-Ittehadul (AIMIM, aka MIM) of Asaduddin Owaisi.
Mamata didn't name the party as she opened a new front at a public meeting Monday, but the reference to "a group of leaders from Hyderabad" was clear in her diatribe. The AIMIM is based in Hyderabad and Owaisi is the four-term Lok Sabha member from the city.
Addressing a public meeting in Coochbehar, Mamata accused the leaders of bringing "extremism in Muslim politics" to Bengal.
Owaisi, who has been a powerful voice for Muslim causes despite having just two MPs in the Lok Sabha, blames Mamata's allegations on her "insecurity".
In a country deeply polarised by the rise of the BJP, he now appears to be emerging as an alternative for Muslims who have long voted for "secular parties".
Mamata's statement comes as the AIMIM, confined to united Andhra Pradesh and then Telangana for a long time, eyes expansion in north India.
In the October byelection, the AIMIM won its first north India assembly seat — Kishanganj in Bihar.
The Congress, which held Muslim-majority Kishanganj until incumbent Mohammed Jawed vacated it for a Lok Sabha ticket, lost its deposit in the election.
With the AIMIM now planning a leap in Jharkhand and West Bengal, where 30 per cent of the population is Muslim, political analysts say CM Mamata Banerjee has good reason to worry.
'Sheer arrogance'
Mamata Monday accused a "group of leaders from Hyderabad" of "laying a trap" for Muslims.
The leaders, she said, is trying to hold meetings and mislead people. "They have taken money from the BJP," she added.
Referring to the Citizenship Amendment Bill, a key BJP proposal meant to eject illegal Muslim immigrants, she urged the public against "falling prey" to "false promises" of leaders talking about giving security and shelter to Muslims.
Mamata's veiled jibe at AIMIM was made in Coochbehar, which borders Bangladesh and has a Muslim population of 30 per cent.
The trigger, sources in her Trinamool Congress said, was probably something that happened in central Kolkata last week.
On 13 November, AIMIM central committee member Amit Kumar Paswan held a meeting in the Bengal capital, where the party claims to have received a "positive" response from the community.
"Leaders and members from 17 districts of Bengal participated in the meeting. We are getting a wonderful response from people," said Abul Kalam, an organiser for AIMIM in West Bengal.
---
Also read: Caught between Amit Shah and Owaisi, is Mamata Banerjee's politics in Bengal floundering?
---
"Many Muslim leaders and workers from the districts are joining us," he added. "For how many years will we play second fiddle to parties like the CPM and Trinamool Congress? For how many years will we vote for a party hoping to get political shelter from them?"
Mamata, Kalam said, was "making such comments to cover her failure to provide any social and economic development to Muslims in Bengal".
Owaisi, meanwhile, called Mamata's statement "sheer arrogance and result of frustration".
Speaking to ThePrint, the MP said the party would contest the 2021 assembly polls in West Bengal, where the AIMIM has never been in the fray before.
"Talking about extremism in Muslim politics is an insult to the Muslims who have been voting for her for more than a decade now," he added.
"Neither Owasi nor MIM was there in the Lok Sabha election, but she lost 18 seats to the BJP. Was there any Muslim extremism then? Why did the BJP succeed in gaining ground in Bengal? We were not there then."
Mamata has lost much ground in the state on account of a BJP campaign that seeks to portray her as an appeaser of Muslims.
"Most importantly, where did her non-Muslim votes go?" Owaisi said. "Why did Mausam Noor lose in Malda? Clearly, TMC votes shifted to the BJP. Will she blame us for that also?"
The BJP has been equally dismissive of Mamata's statement about a secret pact between the party and the AIMIM.
Mamata, BJP national general secretary Kailash Vijayvargiya said, is "infamous" for making such "false claims".
"She never speaks the truth. The most dangerous thing about her is her ability to lie with confidence," he added.
"People have seen her real face. When she is feeling scared of vote erosion, she brings some party's name and connects the BJP's name with that," he added. "These things will not work."
A senior Trinamool Congress leader, however, reiterated her claim. "Everybody knows how MIM works. They almost work like BJP's plant and split Muslim votes," the leader said. "In Jharkhand, too, they will do similar things. They are misleading Muslims and, in turn, facilitating the BJP."
According to political observers, Mamata has a reason to worry about the arrival of the MIM in Bengal.
"Owaisi is a real threat to Mamata Banerjee. With the rise of the BJP, Muslim votes consolidated in favour of Mamata's Trinamool Congress and we have figures to prove that," said Professor Biswanath Chakraborty, a noted political analyst.
"Of 130 Muslim-dominated assembly segments, Trinamool got a lead in 98 in the 2019 (Lok Sabha) elections. In this circumstance, Muslims are crucial to Mamata's existence as chief minister in Bengal," he added.
"In fact, Trinamool's return to power also depends on which side the Muslim vote swings. For her, it will be difficult to get a third term if Muslim votes split in 2021. Naturally, she is concerned and cautious about MIM's presence in Bengal," he said.
'A sign of worry'
Speaking of his plans for Bengal, Owaisi said the most relevant issue for him is likely to be the "under-development" of local Muslims.
"In social and economic parameters, Muslims are the most backward and under-developed in West Bengal. Why could the state not uplift the community so far?" he added.
"They have one of the worst human development indicators of any minority. In fact, of the 50 aspirational districts of PM (identified as requiring extra focus for development), Bengal has five," Owaisi said. "And all these five districts are dominated by Muslims."
Owaisi claimed Banerjee's statement was a sign the party is gaining ground in Bengal.
"I am grateful to the people of Bengal to make us such a formidable force… that Mamata didi is feeling insecure and frustrated," he said.
---
Also read: Sonia, Mamata, Mayawati era receding. India is only grooming men as gen-next politicians
---