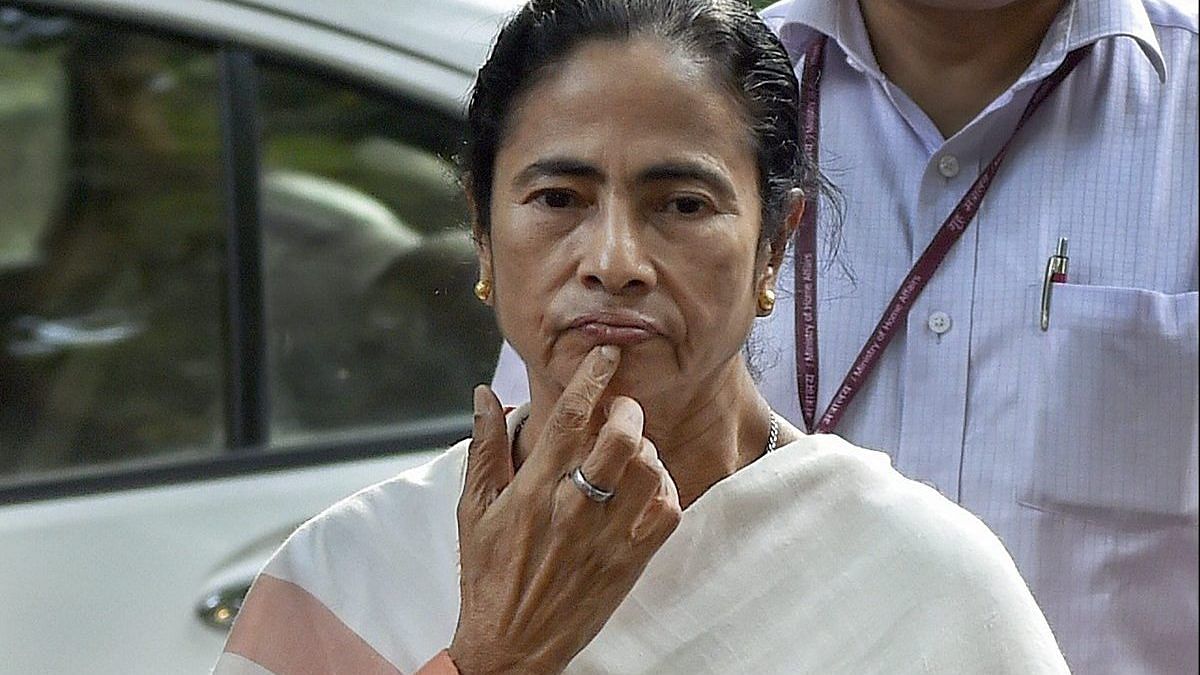 Kolkata: West Bengal Chief Minister Mamata Banerjee has a history of accusing her opponents' governments of snooping on her — from the Left Front government that preceded her in the state to the Manmohan Singh-led UPA government, and now the Narendra Modi-led NDA government.
But as the country witnesses allegations of WhatsApp snooping through Pegasus spyware, opposition parties in West Bengal as well as Governor Jagdeep Dhankhar have attacked Banerjee's own government, alleging "unauthorised electronic surveillance" on many civil servants, activists, journalists, political leaders and party workers.
Last Saturday, Banerjee alleged that the Modi government had been snooping on her phones for a long time, and demanded an investigation into this "illegal surveillance" at the highest level. Banerjee further hinted that these acts were being sponsored by the central government and two other state governments, one of which is a BJP government.
Governor Dhankhar reacted sharply, saying he was told by many officers, politicians, businessmen and other individuals in the last two months that their privacy has been "compromised", hinting at snooping by the state government. He added that he had no clue what evidence of tapping Banerjee possessed.
These allegations and counter-allegations have opened up a Pandora's box. Now, top leaders of the BJP and the Congress claim they have filed complaints with the Union Ministry of Home Affairs against snooping by the Trinamool Congress government in West Bengal.
---
Also read: Priyanka Gandhi's phone possibly hacked, received message from WhatsApp: Congress
---
Allegations galore
Within a week of coming to power in 2011, Banerjee accused the Left Front government of snooping on journalists, politicians and civil servants. She held a meeting with top bureaucrats, including the then chief secretary, home secretary, director general of police and the commissioner of the Kolkata Police, and then ordered a probe.
However, a top civil servant confirmed to ThePrint that the notification for the probe was never issued.
A year later, after pulling out of the UPA-II, Banerjee again claimed that her phone was being tapped by the central government. Then Union home minister Sushil Kumar Shinde denied snooping on her ever, but Banerjee said she had lodged a police complaint in this matter.
Two years later, Justice Pratap Kumar Roy, a former acting chief justice of the Calcutta High Court, who was then serving as the head of the Central Administrative Tribunal's (CAT) Calcutta Bench, alleged that his phone was being tapped.
Even though politicians kept on bringing up at public meetings the issue of phone tapping and accused Banerjee's government of running a surveillance state, the next formal complaint was lodged by Mukul Roy, former Trinamool general secretary, within a month of joining the BJP in 2017. Roy filed a petition in the Delhi High Court, claiming his phones were tapped. The case was admitted and the court asked the central and state governments to respond to the allegation. The then Union home minister, Rajnath Singh, promised a probe.
In October 2018, two audio tapes of purported conversations between Roy and BJP's national general secretary Kailash Vijayvargiya went viral. In the first clip, the leaders were heard discussing ways to break Trinamool's hold over the Matuas, a religious community in the North 24 Parganas district, while the other was about transferring money to a person who claimed to have documents to "finish" Trinamool. They were also heard discussing ways to intimidate four IPS officers.
Following the 'leak', two complaints of snooping were lodged against the police administration. Roy again accused the state government of tapping all his phones and intercepting his private conversations. He said he would approach the court again. BJP's state president Dilip Ghosh also made similar allegations against Banerjee's government.
'Mamata has made snooping an art'
Berhampore MP and Congress' leader in the Lok Sabha Adhir Ranjan Chowdhury told ThePrint that "Mamata Banerjee has made snooping an art".
"Her officers have become masters at this. Not only senior politicians, but phones of ground-level political workers are also being tapped. This starts at the district level, and in a very systematic way," Chowdhury said. "Many police officers have confided in me saying that they keep tapping so many phones. I lodged a complaint with the Ministry of Home Affairs in this regard. The ministry is looking into it."
BJP's Vijayvargiya, meanwhile, said: "Mamata Banerjee should, for once, introspect before levelling allegations against the Modi government. She is the one who has turned this state into a surveillance state. I lodged a written complaint against her a few months ago."
Mukul Roy added: "What Israeli spyware and WhatsApp snooping is she talking about? She got equipment from Israel to snoop on people. I have been fighting a case against phone tapping in the court."
Air sniffing and other techniques
Sources in the central security agencies allege that 'air sniffing' — the process of installing a small transmitter near the target, i.e. the office or residence of the individual — is rampant in West Bengal.
"There can be two types of snooping. 'Air sniffing' can be done in case of regular phone calls, which we call 'open' and not encrypted. In case of WhatsApp-type softwares, the data that enters the internet becomes encrypted. Decrypting the data is very complicated and it cannot be intercepted so easily. That's where spyware or malware is used, to intercept the data before it enters the encrypted internet flow," said a senior officer of a central agency, who did not wish to be named.
The officer said a top Bengal police officer had travelled to Israel thrice in the last three years to get some sophisticated instruments commonly used to spy on people, and added that the district police administration has got additional capacity of voice-loggers that can take 250 connections at a time.
Trinamool denies charges
Trinamool Congress leaders, however, denied the allegations, with party general secretary Partha Chatterjee saying Governor Dhankhar comments on every statement the CM makes.
Asked about the claims of people's privacy being compromised, Chatterjee said: "These are all political statements. He (the governor) is making comments like BJP leaders. We would request him to make the names of people, who alleged that their privacy was compromised, public."
Urban Development Minister and Kolkata Mayor Firhad Hakim added: "Opposition leaders are making conjectures. What our chief minister said is based on the official document provided by the international organisation WhatsApp."
---
Also read: BJP isn't the first to 'politicise' deaths in Bengal. Trinamool did same during Left rule
---