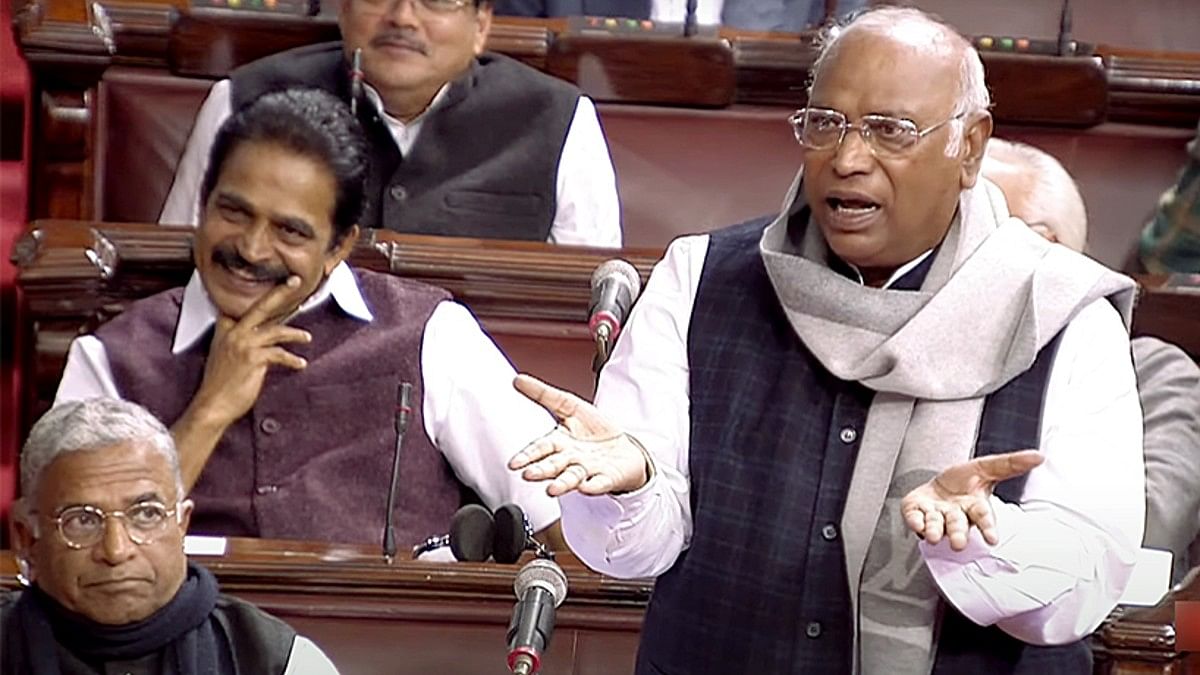 New Delhi: Congress president Mallikarjun Kharge trained his guns on the ruling Bharatiya Janata Party (BJP) and Prime Minister Narendra Modi during the ongoing Budget Session of Parliament. Kharge — who is leader of the opposition in the Rajya Sabha — accused the BJP of fanning communal tension and deemed PM Modi "Mauni Baba" (silent saint) over his silence on provocative remarks by members of the ruling party, including ministers. 
He also accused the BJP-led National Democratic Alliance (NDA) government of colluding with Adani Group chairman Gautam Adani, a day after Congress leader Rahul Gandhi raised the issue in the Lok Sabha. Without naming Adani, Kharge said that the wealth of a "close friend of the prime minister increased 13-fold in two-and-a-half years".
As the Congress president's remarks triggered a ruckus, Rajya Sabha Chairman Jagdeep Dhankhar rose to intervene and asked him to maintain decorum as leader of the opposition to which Kharge retorted, "Don't teach me how to speak; give suggestions to both sides, not just the opposition."
In his nearly 88-minute speech, Kharge asked why "ministers" were widening the divide between Hindus and Muslims. "Don't they have anything else to talk about," he asked. He also pointed out that caste atrocities are still prevalent in parts of India.
देश के कई सासंद-मंत्री सिर्फ हिंदू मुस्लिम करते हैं, क्या कोई और मुद्दा नहीं है?

दूसरी तरफ जब अनुसूचित जाति के लोग मंदिर जाते हैं तो उन्हें मारते हैं, उनकी सुनवाई नहीं होती है।

अगर हम अनुसूचित जाति को हिंदू मानते हैं तो उन्हें मंदिर जाने क्यों नहीं देते?

: @kharge जी pic.twitter.com/ppFXgsaR5e

— Congress (@INCIndia) February 8, 2023
"Today, hatred is spreading everywhere which is being promoted by public representatives. In such a situation, why is PM Modi silent? He scares all of you (BJP leaders), why is he not scaring them (those who fan communal tension). If you (PM Modi) address this issue, they will embrace silence over fear of losing their ticket. But you are sitting like a 'Mauni Baba' (silent saint)," he said.
देश के कई सासंद-मंत्री सिर्फ हिंदू मुस्लिम करते हैं, क्या कोई और मुद्दा नहीं है?

दूसरी तरफ जब अनुसूचित जाति के लोग मंदिर जाते हैं तो उन्हें मारते हैं, उनकी सुनवाई नहीं होती है।

अगर हम अनुसूचित जाति को हिंदू मानते हैं तो उन्हें मंदिर जाने क्यों नहीं देते?

: @kharge जी pic.twitter.com/ppFXgsaR5e

— Congress (@INCIndia) February 8, 2023
Reiterating the opposition's charge against the government of "facilitating" the growth of the Adani Group, Kharge said, "LIC, SBI have given loans up to Rs 82,000 crore to Adani. In Gujarat, a farmer was not given a 'No Dues Certificate' because of dues of 31 paise."
Chairman Dhankhar then asked Kharge to table relevant documents to authenticate his allegations.
Kharge added, "In 2014, it (Adani's net worth) was Rs 50,000 crore which in 2019 became Rs 1 lakh crore. What magic is this that in two years (by 2022) he accumulated assets of Rs 12 lakh crores? Was it because of friendly favours?"
---
Also Read: Agnipath scheme 'imposed' on Army, says Rahul Gandhi in 1st Parliament speech since Bharat Jodo
---
'What message are we sending the world?'
Responding to Kharge's charge, Union Finance minister Nirmala Sitharaman said, "It is very smart to say we are giving data, we will corroborate it but it is completely infused with insinuation against PM Modi and that is what we are objecting to. They are overtly insinuating."
Union minister and leader of BJP parliamentary party in the upper house, Piyush Goyal asked Kharge not to make unsubstantiated allegations. "Government has no role in this. Regulator has to decide and Kharge's statement about the wealth of the conglomerate is without any basis. Share value of his (Adani's) company can't be declared as his wealth," he said.
Goyal also alleged that former Congress president Rahul Gandhi's wealth rose "16-fold".
On Kharge's charges pertaining to the Hindenburg Research report on Adani, Chairman Dhankhar asked, "Are we supposed to believe any random report from any corner of the world? My suggestion is to let us believe in ourselves, our strengths and our institutions. India has a robust system of awarding contracts. What message are we sending the world, the impression is that the largest democracy is giving contracts like this."
Kharge responded, "If I speak the truth, am I anti-national? I'm more patriotic than any of you, I'm a bhumi putra (son of the soil), mool-Bharatiya (native Indian). You (BJP) are looting the country and telling me I am anti-national."
अगर मैं सच बोलता हूं, तो क्या यह Anti-National है?

मैं Anti-National नहीं हूं, मैं यहां किसी से भी ज्यादा देशभक्त हूं।

मैं 'भूमि-पुत्र' हूं… मैं अफगानिस्तान या जर्मनी से नहीं आया, मैं मूल भारतीय हूं।

: नेता प्रतिपक्ष श्री @kharge pic.twitter.com/QQJ6IKYEiE

— Congress (@INCIndia) February 8, 2023
Raising the demand for a joint parliamentary committee (JPC) probe into allegations against the Adani Group, Kharge said he would "go to Adani's home to garland" the businessman if the JPC probe gives him a clean chit.
Piyush Goyal responded, "JPC is only constituted when facts emerge after investigation as was the case when Congress was accused of corruption in the 2G, Commonwealth scams. We can't constitute JPC to probe the source of money of Mallikarjun Kharge who is wearing a Louis Vuitton scarf."
BJP MPs disrupted the Congress president after his remark that the "prime minister has a washing machine for people with tainted backgrounds to come out clean".
Kharge also targeted the central government for imposing a ban on the BBC documentary examining Modi's handling of the 2002 Gujarat riots as then chief minister of the state. "You banned the BBC documentary…Why should the documentary affect you? You can give your reply. You are a strong party with a large majority. This has become like Pathaan, like the Shah Rukh Khan movie, the more you ban, the more people see," he said.
Referring to the PM's visits to poll-bound Karnataka in the last few months, he said, "The current government is in election mode throughout the year. While proceedings are underway in Parliament, ministers are being seen in my constituency of Gulbarga (Kalaburagi) in Karnataka."
(Edited by Amrtansh Arora)
---
Also Read: 'PM's favourite & favoured,' Sonia questions govt policies at expense of poor, middle class
---