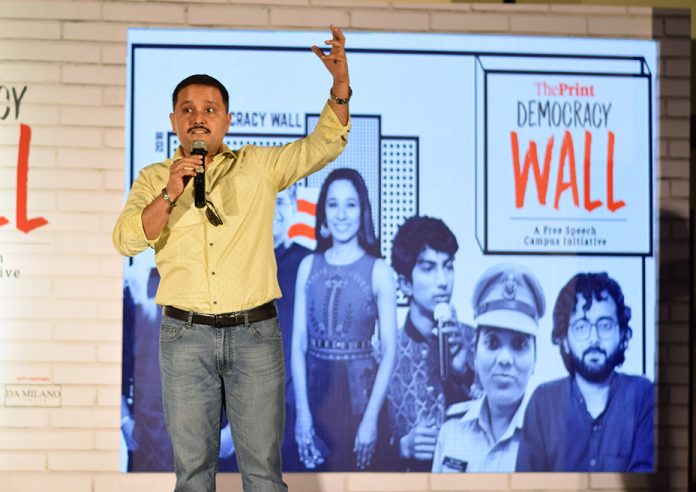 Text Size:
The author of the bestselling Shiva Trilogy said that Indian scriptures are far more liberal than we think, but society has forgotten what they stood for.
New Delhi: Being liberal doesn't mean being Leftist, and is more about a state of openness, acclaimed author Amish Tripathi said Monday.
"What does being liberal mean? It means being open, correct? There are so many things that we think are a part of our culture, when they really aren't," he said in conversation with journalist Priyamvada Grover at Democracy Wall.
According to Tripathi, things that are old aren't necessarily orthodox, and the 'Indian way' has always been progressive and open to interpretation. However, many of us have forgotten that, he said.
Democracy Wall is a monthly free speech campus initiative organised by ThePrint in collaboration with Facebook. The third edition of the event at Somaiya Vidyavihar in Mumbai featured Tripathi, BJD MP Baijayant Panda, actor Tannishtha Chatterjee, RPF sub-inspector Rekha Mishra, comedian Shyam Rangeela, and political commentator Meghnad.
A former banker, Tripathi shot to fame with his Shiva Trilogy of books, which told mythological tales in an accessible manner.
On the importance of freedom of speech
"Freedom of expression is at the heart of all rights. If we don't have that then nothing exists," Tripathi said.
He explained that the Sankrit that was spoken in ancient times, called Vedic Sanskrit, did not even have a word for blasphemy because the concept didn't even exist.
"Our ancestors were pretty cool," he said.
"No one was beyond question in the ancient Indian way, no one. Which meant freedom of expression wasn't thought of as something to fight for, it was obvious, everyone had to have it," Tripathi said.
On liberalism and ideology
Tripathi said he is a proud Indian and that nationalism does not have to be in conflict with progressivness.
"I'm a very patriotic person, I'm not like one those bharat ki barbadi type jackasses," he said.
"But patriotism does not mean that we do not question things that need questioning. If you truly love your country, then you'll want it to improve," he said.
"One of the things that is important to me, and I think desperately needs questioning is the way that we treat women," he said.
Get the PrintEssential to make sense of the day's key developments